Last year's anniversary celebration
By J.A. Jones, Staff Writer
ST. PETERSBURG – This Sunday, March 25, Annie's Beauty Supply celebrates its fifth year anniversary and owner Annie Tyrell couldn't be more excited.
"It's another milestone in my life to say that we have reached five years for Annie's Beauty Supply," said Tyrell, adding that they've been located on the Deuces for two years after moving the shop from 34th Street South.
"I was at a crossroads and it was either close the door or relocate. We're truly glad that we were able to relocate and relocating to the Deuces has been a true blessing for us."
Tyrell noted that it is very special to be in the heart of the St. Pete community, where the shop's target customer is able to "pretty much walk up to the store" and find the products they need.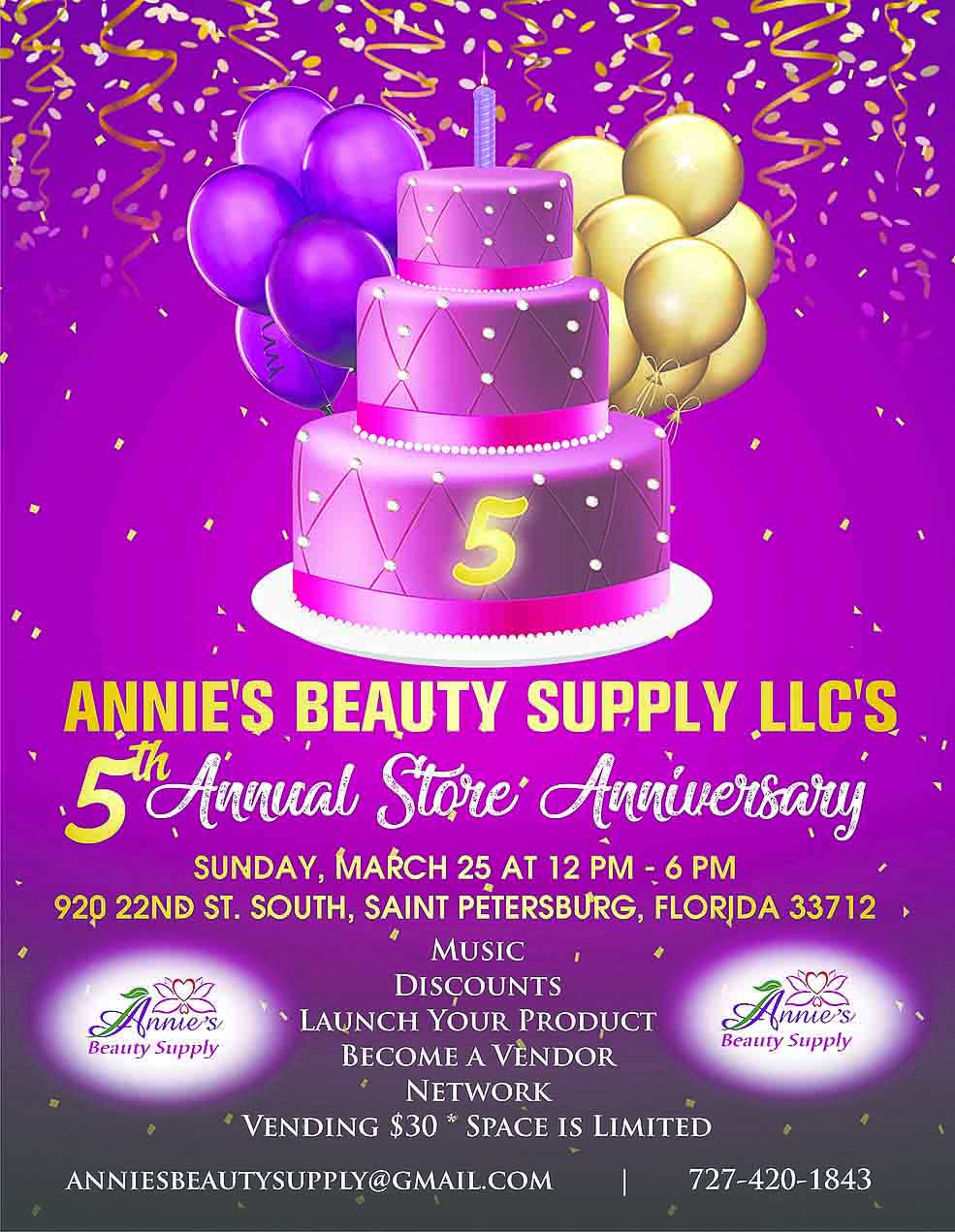 She also discussed the power of community for African-American business owners.
"My motto is if we support each other we will all grow together. We feel that we've we found our purpose being there as well—and that purpose is supporting local entrepreneurs."
As well supporting other businesses, she was also proud to offer their products on her shelves.
Some of her best-selling products include Danae Organics, an awesome line of shampoos, conditioners and hair moisturizers for natural hair and Skin Kandii, created by entrepreneur and clinical researcher Renee Edwards.
The popular St. Pete community "shero" also verbalized gratitude that black women have begun to increasingly support each other, care for themselves and revel in the natural beauty within—and she feels the popular catchphrase "black girl magic" expresses all of it.
"It is a form of empowerment; it's also a way in which black women are beginning to realize and beginning to say that they are comfortable with who they are within themselves," she said. "They're comfortable with the way God made them, that we're beautiful just the way we are."
A registered nurse, Tyrell touts the medical benefits of the growing natural-products movement.
"In the long run, it's much healthier. If you look at society, we see that cancer is on the increase and if we ask ourselves why it's because of all the chemicals being used."
Tyrell harkened back to the more natural way our ancestors treated various illnesses and feel traditional, non-chemical treatments kept humans healthier on a whole. For these reasons, she is convinced that the natural trend will continue.
A member of the St. Pete Business League (formerly the Black Chamber), she also discussed bringing her "can do" attitude to that organization.  She's been a part of the league since 2013 and now serves as the secretary.
The mission of the St Pete Business League is to support and help black businesses become self-sustaining, contributing members of the community. Tyrell is passionate about the organization because she truly believes in supporting all black businesses.
Anyone interested in business ownership is encouraged to attend the next general meeting being held April 10 at 5 p.m. at the St. Petersburg campus of Pinellas Technical College, 901 34th St S.
And as far as Annie's Beauty Supply's anniversary celebration, she said visitors can expect a variety of vendors and discounts on purchases made between noon and 6 p.m. There will also be food provided by Irene Olive "Ms. Tasties" Cates and a DJ.
For more information, visit anniesbeautysupply.com or call 727-343-9582.