By Allen A. Buchanan, Staff Writer
CLEARWATER – The Miracle 4 Michael second annual Back 2 School Bash for special needs families went off without a hitch Aug. 4 at the Kingdom Bible Christian Church.
"Last year we had about 15 families sign up for special needs services," said Monique Whitaker, the founder of Miracle 4 Michael, a 501(c)(3) non-profit organization.
The organization's mission is to be a resource for single parents within the Tampa Bay area with special needs children. They provide utility assistance, emergency food assistance, school supplies, toiletries, household items and hearing aid batteries for low-income special need families.
Miracle 4 Michael also holds at least three family fun day events a year, allowing special needs families bonding time with their children and other families.
This year's Back 2 School Bash saw 123 families pre-registry. Not just a school supplies giveaway, families attended workshops on understanding Individualized Education Programs and 504 Plans; they learned how to become a parent advocate and received help with understanding the Individuals with Disabilities Education Act.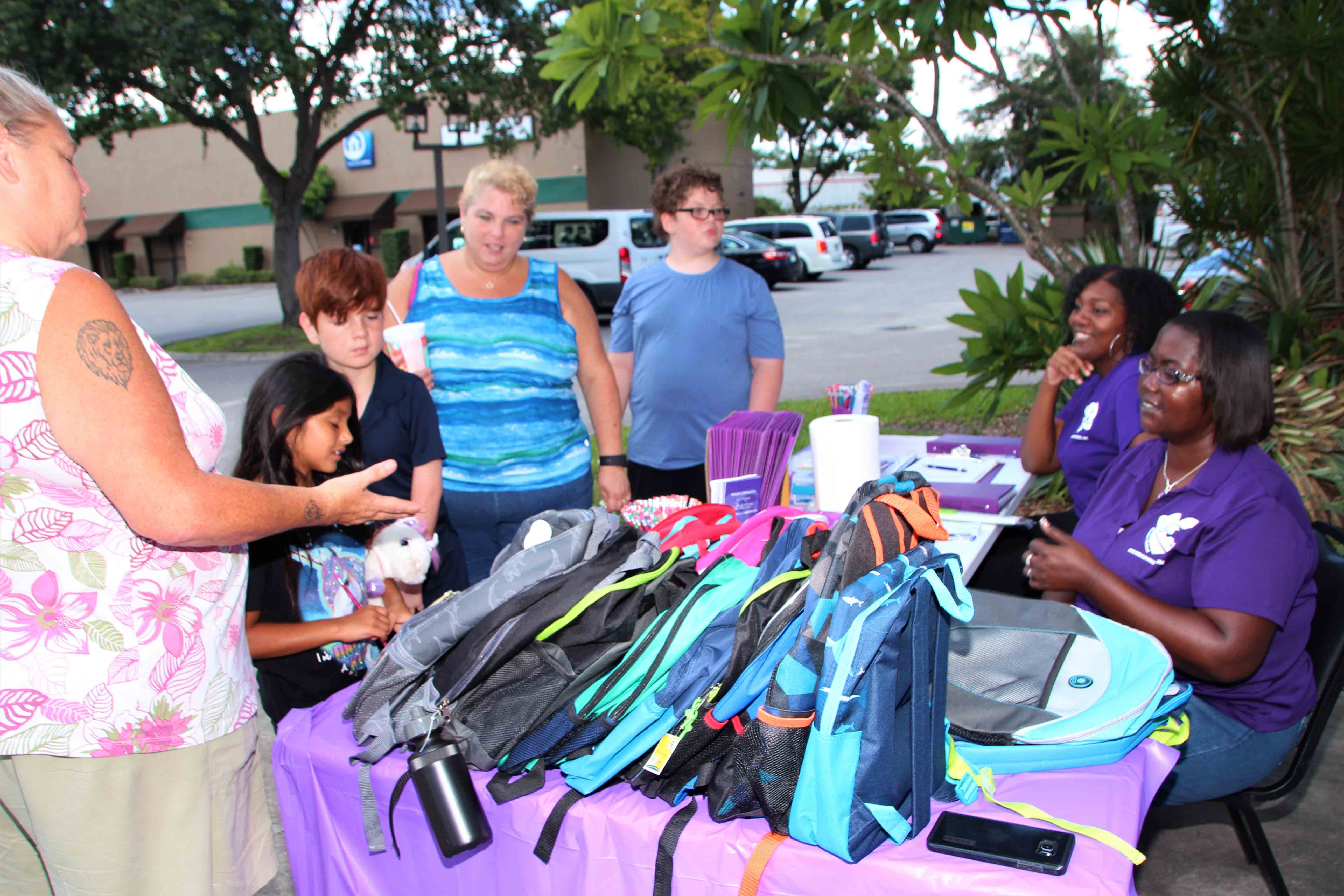 Lunch was provided along with physical and sensory activities.
Whitaker created the nonprofit to help families cope with children with disabilities. She understands the trials these families go through because her son was diagnosed with Mucopolysaccharidosis type II (MPS II), also known as Hunter syndrome.
Doctors told Whitaker that if her son,

Michael Whitaker-Russell

, did not receive a bone marrow transplant before the age of two, he wouldn't live to see the age of five.
MPS II mainly affects boys, and it develops when an X-linked defective chromosome is inherited. This x-linked recessive trait results in the body not being able to break down a specific sugar that builds bones, skin, tendons and other tissue.
As a result, victims could experience joint problems, numbness, weakness and tingling in the hands, respiratory infections and inflammation, sleep apnea, hearing loss, week muscles and trouble walking.
Michael is developmentally delayed, but unlike many children with the disease, he can walk and talk. He also suffers from an enlarged heart, scoliosis, chronic asthma, glaucoma in both eyes, and must have thickened liquids due to aspiration.
Through the grace of God, Michael will be turning 12 years old in Dec. He is blessed to have an advocate mother who makes sure that he will have the best quality of life possible given his situation. Whitaker has also taken on the task of helping other parents become disability advocates in the Tampa Bay area.
Laquanda Whitaker is Ernestine Monique's sister. She is in awe of her sister's inner strength not only to take care of Michael but to also advocate for other parents who are in tough situations caring for their special needs children.
"She's awesome," exclaimed Laquanda Whitaker. "I try to give her a break every one or two months or so and keep Michael at the house. I commend her because what she's doing every day for him, it takes strength because he is a lot to care for."
Linda Duart from God's Special Friends was on hand giving away school supplies and reaching out to families. Inspired by Whitaker's tenacity, she has participated in the giveaway both years.
GTE Financial is a new participant in the Miracle 4 Michael event and offered financial advice to families. They participated in the back-to-school bash to offer the community and their families an opportunity to become members of GTE Financial Federal Credit Union.
Misti Pollaro is a parent resource specialist at Family Network on Disabilities and an Exceptional Student Education (ESE) parent and professional caregiver/trainer. She shared some of her woes of having a special needs adult child.
Before she became a special needs parent trainer, she was in the dark about guardianship options for her son. When her son reached 18, he signed himself out of high school.
"From ages 18 to 25, he slept on my couch with no job, no education," she said. "I could not let that happen to my other children, so I started doing what I had to do! Learn to advocate, learn the law, and that is the Individuals with Disabilities Education Act."
Pollaro has helped open the information door for parents to learn to advocate effectively for their special needs children from kindergarten through young adulthood.
If you have a child with a disability, please contact Pollaro at (727) 523-1130, ext. 211, or

misti@fndfl.org

.
For more information on the Miracle 4 Michael non-profit organization, please visit

miracle4michael.org

, or call (727)-692-2679.
To reach Allen Buchanan, email abuchanan@theweeklychallenger.com