The Banyan Tree's AIDS Memorial quilts will be on view to the public on Wednesday, June 28, from 11-3 p.m. at the James B. Sanderlin Center's courtyard, 2335 22nd Ave. S.
BY J.A. JONES, Staff Writer
ST. PETERSBURG — Banyan Tree Project has created 16 quilts as part of the "Change the Pattern" panel-making project to add more names of Black AIDS victims to the National AIDS Memorial Quilt.
The Banyan Tree's quilts will be on view to the public on Wednesday, June 28, from 11-3 p.m. at the James B. Sanderlin Center's courtyard, 2335 22nd Ave. S.
Earlier this year, DeVine shared that only the equivalent of two miles was dedicated to Black people who died of the disease on the National AIDS quilt's 57-mile-long array of nearly 110,000 names on over 50,000 panels.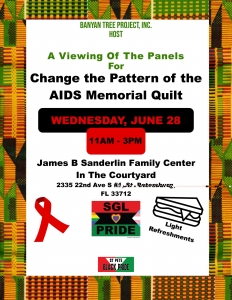 The Banyan Tree took part in the action to add more panels sharing names of Black loved ones, friends and family members who died of the disease (originally called the "Call My Name" panel-making project; read more about it here).
Banyan Tree Executive Director J. Carl DeVine said in his gut he knew it was vital to be part of the effort to add more Black names to the quilt.
"We needed to be included because a lot of times we're not at the table when decisions are made," he shared, adding that stigma and shame around AIDS is an ongoing problem that needs to be addressed. This opportunity was a chance to address the problem and "do something different."
The activist said the experience was very emotional; he included his brother, best friend, and many others he had worked with over the years in the quilts. "My sister and I saw the results [of the completed quilts], and we both got very emotional because not only do we miss him, but we still love him."
DeVine asserted that people's fear and ignorance often led them to judge people with AIDS as being reckless or sexually irresponsible. However, he said, many may have died of sharing needles or may have been very sexually responsible but had simply had the misfortune of sleeping with someone who had unknowingly had the disease.
The quilting project was also a way to add view the topic in a new way – the beauty of the quilts, he noted, was a powerful way to honor loved ones, focusing on the joy, elegance, and energy of people who "didn't lead drab lives."
"They lived beautiful lives," said DeVine, "and so we wanted to remember that."
DeVine worked on the project with several other Banyan Tree members, including artist Arte'vus "Te" Nettles, owner of Miraculous Impressions custom design. Nettles, who often works with heat press design, admitted he was a bit overwhelmed seeing all the names that had to be added to the 16 panels.
But bringing his expertise to the project was invaluable, allowing the team to produce the number of panels more efficiently while adding touches that would have been difficult to produce without the heat press.
Nettles noted, "It was something that I needed to do. I was intimidated because I didn't know what to expect. But it was a wonderful thing. And I'm glad that I did it."
Gilead and the Southern AIDS Coalition supported the project; each quilt is designed with a kente cloth border to symbolize "changing the pattern" and featuring Black loved ones who died of AIDS.
To learn more about the quilt-making project, contact The Banyan Tree Project at (727) 273-1120, or follow them on Facebook at facebook.com/thetreestpete.