The Banyan Tree Project will honor those who have died of AIDS during National Black HIV/AIDS Awareness Day on Tuesday, Feb. 7, with a candlelight vigil at the James B. Sanderlin Center, 2335 22nd Ave. S, St. Petersburg.
BY J.A. JONES, Staff Writer
ST. PETERSBURG — The Banyan Tree Project will honor those who have died of AIDS during National Black HIV/AIDS Awareness Day on Tuesday, Feb. 7, with a candlelight vigil at the James B. Sanderlin Center, 2335 22nd Ave. S, St. Petersburg.
The vigil will allow the community to come together and remember family, friends and co-workers who have succumbed to AIDS.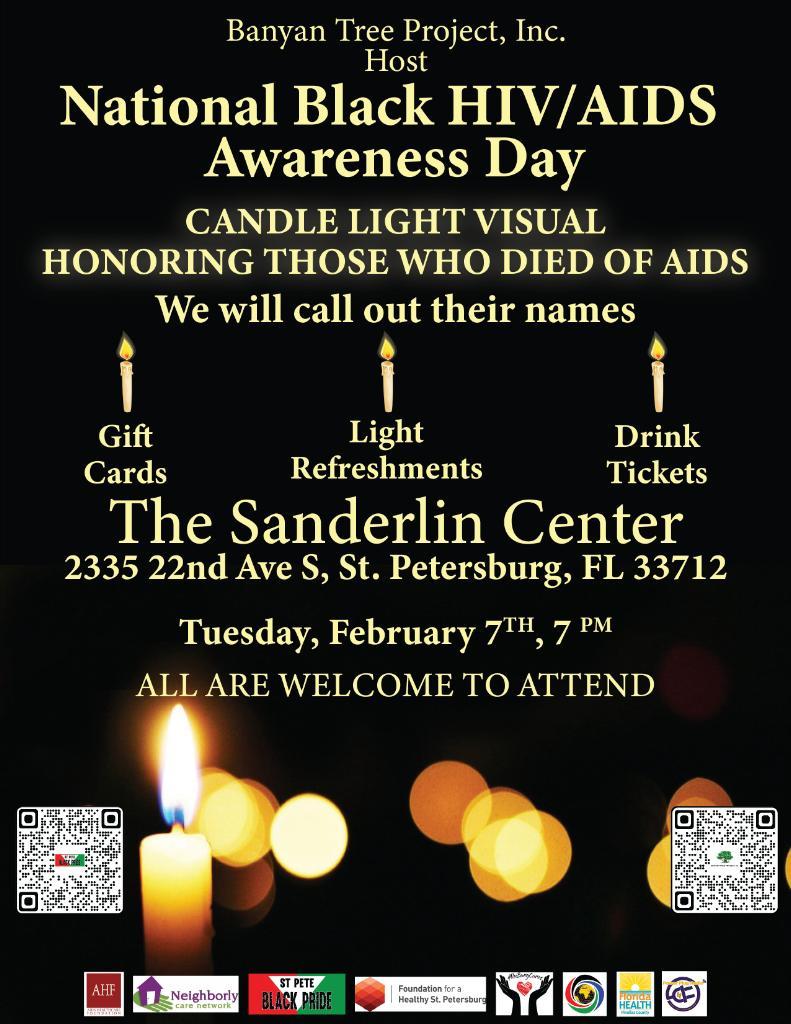 Long-time HIV/AIDS activist and director of the Banyan Tree Project, Dr. J. Carl DeVine, said it's long past due to honor those in our community who have died from the disease.
He hopes that a public and communal event will bring much-need attention to a conversation still impacting hundreds of people in our county, with numbers continuing to increase.
"One of the issues we have in our communities is that we are not honoring the people who have died of AIDS and HIV; we have not done that. We have not called their names. We have been ashamed," said DeVine.
That shame, he added, comes from the stigma still attached to the disease and the negative feelings associated with even being diagnosed with HIV. It is a shame, asserted DeVine, that has caused family members in the community to lie about how their loved ones got sick.
"In most cases, they say they died of cancer; they won't even discuss the fact that they died of AIDS. A lot of families around here don't want people to know that their relatives died of AIDS," he noted. "One of the things that we're trying to do is to break that stigma. No, they didn't have cancer — they had AIDS."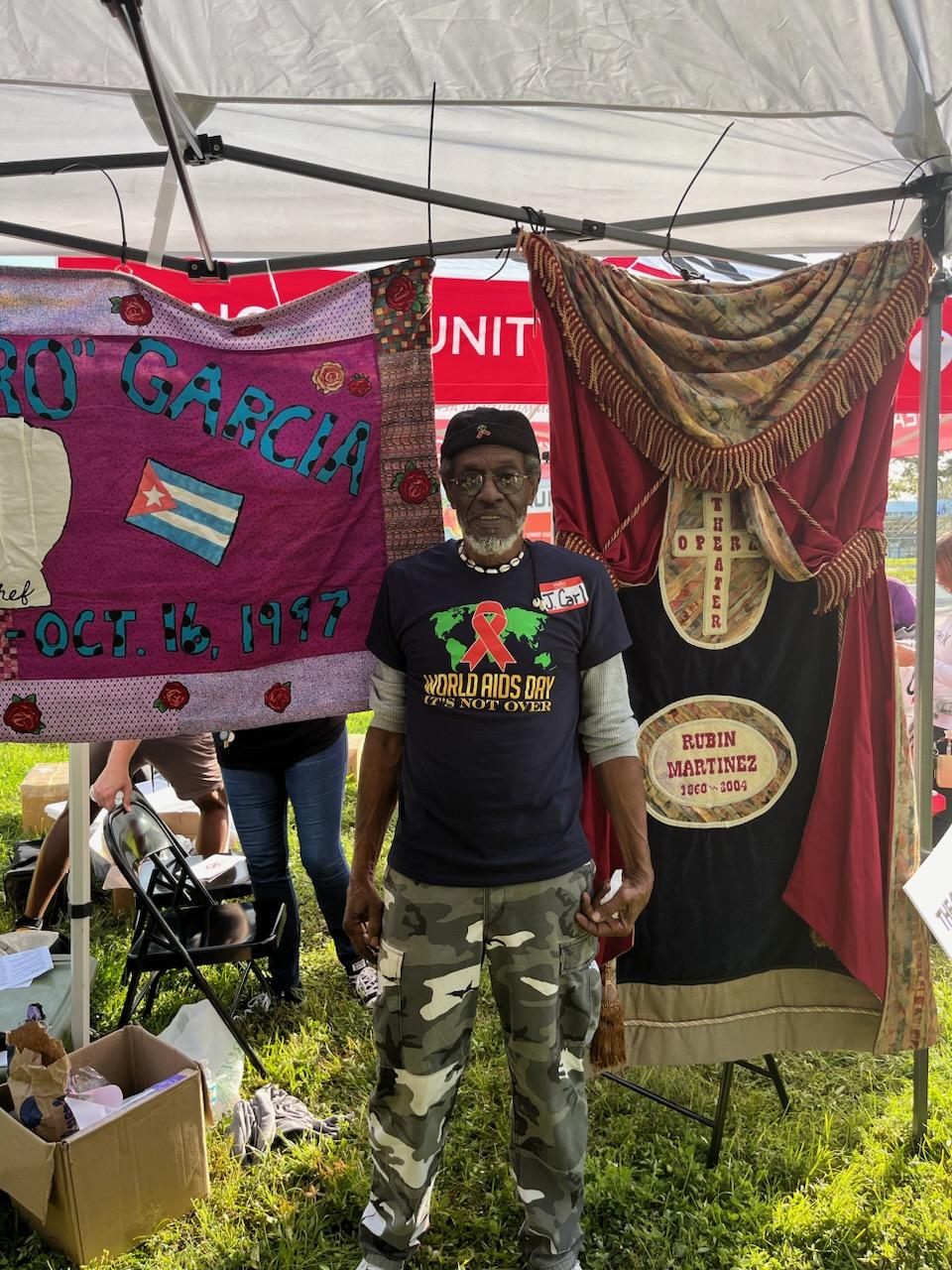 Shame and stigma are directly related to the behavior and denial that has contributed to the ongoing high rates of HIV and AIDS in Black communities throughout the country — and in Florida, where at least seven counties, including Pinellas, are leading the nation in new HIV diagnoses and AID cases.
In Pinellas, the rates are highest in the five zip codes where Black St. Pete residents are battling the crisis.
"We are trying to break the stigma still causing us to get infected and die from this disease. After 30, 40 years, we shouldn't be getting HIV," said the long-time activist.
While the federal government instituted the Ending the HIV Epidemic in 2018, and recent data from Florida Health Charts show a decrease in the number of people diagnosed with the virus, among Blacks and Latinos, the numbers of new diagnoses are still high. Whatever is being accomplished to eradicate HIV and AIDS has primarily been among whites.
DeVine feels that whatever work is happening is not touching Black communities as successfully as it should – and he's concerned that the work being done isn't impacting the rates of disease for a variety of reasons. One reason, he believes, is the pharmaceutical industry which profits off of HIV and AIDS. "There's no money in a cure," he wryly mused.
But he also believes issues closer to home need to be addressed and that conversations around safe sex and disease prevention aren't reaching the greater community.
"This conversation is still not had in our communities In a healthy manner; we are still getting new infections in our area," noted DeVine.
And it's not just HIV rates among same-gender-loving men that continue to increase. "When we look at the syphilis rate, who's getting syphilis in our area, it's Black men, and they're giving it to women, but they won't wear a condom."
Basic prevention like wearing a condom could eradicate the spread of sexually transmitted diseases in our community. Unfortunately, DeVine noted, it seems "we don't want to change our behavior. I had to learn to change my behavior. When I grew up, it was about getting the clap, and I had to change the way I was thinking in order to survive."
DeVine and the Banyan Tree Project hope the vigil will be one way of continuing to raise awareness and conversation around HIV/AIDS. Acknowledging this attempt as "addressing things ourselves — our way," the passionate AIDS warrior said, "when we can get people to come together and say okay, we're going to address this, we get change."
But, he noted, the issue must continue to be discussed, and if "we don't keep it in people's faces, nothing is gonna change." Having lost dear friends, co-laborers in the field of AIDS activism, and his youngest brother to AIDS, DeVine asserted, "I will be calling out those names. Just putting it out there."
The SGL activists are also embarking on another educational project to bring the names of those community loved ones who died of AIDS to the forefront.
Banyan Tree Project will participate in the "Call My Name" panel-making project to add more names of Black AIDS victims to the 57-mile-long National AIDS Memorial Quilt. A colorful array of nearly 110,000 names on over 50,000 panels, DeVine said there is only the equivalent of two of the 57 miles dedicated to Blacks (you can see names included on the quilt through the searchable database of names).
Organizations can request panels be sent for viewing and discussion, and at a recent Banyan Tree Project event, Metro shared several panels they had on loan.
DeVine hopes community members will come out to add their names to the 16 panels they have been tasked with creating quilts upon.
To learn more about the quilt-making project, reach out to The Banyan Tree Project at (727) 273-1120, or follow them on Facebook at facebook.com/thetreestpete.