Trevor Mallory
BY FRANK DROUZAS, Staff Writer
PETERSBURG — As a former professional ballplayer, Trevor Mallory knows a thing or two about our national pastime.
Through the Baseball Legacy Protocol, Mallory aims to give pointers and enhance the playing skills of 25 boys and girls on the baseball diamond for his MLK Day of Service project. He plans to cover all the fundamentals: hitting, pitching, throwing, base running and fielding.
"We're going to do a two-day minicamp with skills training and a little education on the game of baseball in the minority community," said Mallory, now president of the Gulfport Little League.
Mallory, a St. Pete native, has been a part of the game since he was a youngster, and in his Little League days, his team fell just short of reaching the Little League World Series in 1983.
He went on to excel as a ballplayer at Lakewood High, and his prowess on the field grabbed the attention of the Toronto Blue Jays, who wound up drafting Mallory in the second round right out of high school. He played for a few years in the team's minor league system before going to play in a Canadian professional league in Saskatchewan for a couple more years.
Eighteen years, one wife and four daughters later, Mallory wants to give back to the community through the game he loves. He is responsible for restarting the Gulfport Little League after it closed down and now looks to instruct eager youngsters in the fundamentals of our pastime and do his part for MLK Day.
The 25 participating kids have already signed up, and will attend the first day of the minicamp on Saturday, Jan. 19 from 9-2 p.m. and Sunday, Jan. 20 from noon to 4 p.m. Mallory hopes to secure a speaker for the second day of camp to talk about baseball and its connection to the minority community.
Everyone who participates will also have the opportunity to walk in the MLK parade on Monday, Jan. 21, and head over to Family Fun Day at Tropicana Field where they will receive brand new baseball bats, helmets, hats, shirts, baseball pants, cleats, belts and socks.
Mallory admits that since baseball is a game that can get expensive for kids and parents, some of the children whose families can't afford the equipment might lose interest in the game. In providing some of these essential tools with the MLK Day of Service award, Mallory hopes to keep kids in the minority community interested in the sport.
"So they will have everything they need to start the spring season," he said, "wherever they decide to play Little League baseball."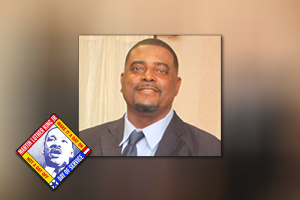 Mallory oversees the combined Gulfport and Bay Point Little Leagues, which are comprised of kids in the 5-16-year-old age group, and he would like to see more African-American children have the opportunity to take an interest in the game.
"The earlier we can teach these kids how fun and how good of a game baseball is, and are able to supply them with the proper tools and skills," he said, "we'll see that number rise."