The City of St. Petersburg honored the late Ben Shirley Sr. on Saturday, Nov. 13, when they dedicated the sanitation department building in his memory — the Ben F. Shirley Administration Building.
BY FRANK DROUZAS, Staff Writer
ST. PETERSBURG — A fixture in St. Pete for nearly five decades, Ben Shirley Sr., will be missed by many, but his name will live on as the city dedicated the Ben F. Shirley Administration Building in his memory.
Known affectionately as "Uncle Ben," he received many accolades for his tireless work in the city's sanitation department, where he worked from 1970 until he died in 2018 in a car accident at the age of 68.
Local dignitaries, friends, and family of Shirley Sr. gathered for the Nov. 13 dedication while others watched virtually. Pastor Kelvin L. Jackson Sr. served as emcee and opened the ceremony with his rendition of "Amazing Grace," which he and Shirley Sr. would sometimes sing together during emotional moments, the pastor confided.
Willie Joseph, the city's current sanitation director who worked with Shirley Sr.  for 23 years, thanked the entire Shirley family for "sharing Ben with us."
"And what I mean by 'with us,' I'm talking about the sanitation department, the industry, the community. We just want to say, 'Thank you!'" he said.
Joseph noted that Shirley Sr. was the first city employee to receive a key to the city and, in 2006, became the first Black City of St. Petersburg sanitation director.
"His strong leadership and innovation in the solid waste industry advanced the city and his colleagues that worked with him," he recalled fondly, adding that there was nothing about the industry that Shirley Sr. didn't know.
"Ben was like the Google of solid waste," he chuckled. "There was no question you could ask Ben that he didn't know."
Joseph said Shirley Sr. freely passed on his knowledge, but with a catch.
"When you asked him a question, you got a story behind it," Joseph laughed. "He would never answer that question directly. Ben would give you the history of how it started and how it finished."
Ben Shirley, Jr. echoed Joseph's sentiment about his father being Google.
"Unfortunately, we didn't have fact check back then; we just had to believe him," Shirley, Jr. expressed. Shirley Sr.'s children are still trying to verify if he actually lost colleagues from falling off the back of the sanitation truck because they were too cold to hold on or if he really did walk 50 miles to school every day.
"One thing we do know is how strong he was, how committed he was, and how dedicated he was to not only his job, his staff, but to the City of Pete," stated Shirley, Jr.
Mayor Rick Kriseman noted that mayors from around the state and even the country knew Shirley Sr. and his work and were watching the ceremony virtually.
"It was a tradition of excellence that defined Ben Shirley," Kriseman said. "For 48 years, he was a part of the City of St. Petersburg's family. A part of and a leader of the sanitation department family," adding that many would say Shirley Sr. made the sanitation department what it is today.
Deputy Mayor and City Administrator Dr. Kanika Tomalin called Shirley Sr. an "amazing trailblazer" who set the standard for his department and the city overall.
"He paved the way, set the standard that excellence is not an option but a requirement," she said. "He was so proud of this department, so proud of this city."
Tomalin recalled one of the first conversations she had with Shirley Sr. when she first came to work for the city. He came to her office and told her to see him if she needed anything at all.
"He said, 'Do you understand?' and I said, 'Yes, sir," Tomalin recalled, through tears. "And he meant that not only to me, he meant that to anybody who was seeking opportunity, trying to navigate a system, trying to understand their way. He made a difference for so many people in so many ways on levels seen and unseen."
Shirley Sr. was a leader in the National Forum for Black Public Administrators, defining excellence for the African-American community, and helped create a chapter locally.
"For years, long before he carried the title of director of sanitation," Tomalin said, "he carried the title of 'godfather' of those people of color who were looking to make a way for themselves, take care of their families, advance their careers, and understand opportunity."
Abdul Karim Ali — son of Joseph Savage, who fought for the rights of sanitation workers in 1968 — said Shirley Sr. and his father had much in common, as they were African-American men working alongside one another to improve the department.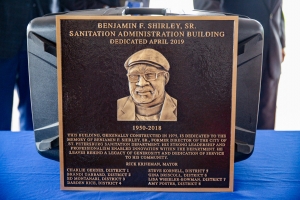 "We believe that today my father and his good friend Mr. Benjamin F. Shirley are smiling and looking down on this wonderful event," he said.
City Council Chair Ed Montanari noted that the city holds a special place in its heart for Shirley Sr., citing his strong, compassionate leadership and all his strong work ethic.
"He cared about others and made sure his team did the same," he said. "From now on, anyone who enters this building will think about Ben Shirley and what he means to our city."
Surrounded by Shirley's family, Kriseman formally unveiled the building's dedication plaques, which bear Shirley's likeness.
Joseph summed up the day's sentiment: "He will greatly and truly be missed, but he will never be forgotten."
To reach Frank Drouzas, email fdrouzas@theweeklychallenger.com