The New Roots Art Collective is a collective of artists who have shown in multiple galleries and have curatorial experience, and the goal of this group is to expand the African American voice within public and private art projects.
By J. S. Cooper, Contributor
TAMPA — Gallery 221 at Hillsborough Community College showcased young Black visual creators during an online talk and reception with the New Roots Art Collective last month. New Roots Art Collective (NRAC) is made up of four Tampa-based artists committed to expanding the African-American voice within public and private art spaces.
Last summer, the collective was founded amidst a national groundswell of calls for racial justice and consists of artists Melvin "LANGSTN" Halsey Jr., Indie Reece, Ron Simmons, and Briauna Walker.
LANGSTN, an illustrator, graphic designer, and mixed-media artist, creates work influenced by his love for fashion, African cultures and traditions, cyberpunk, and anime.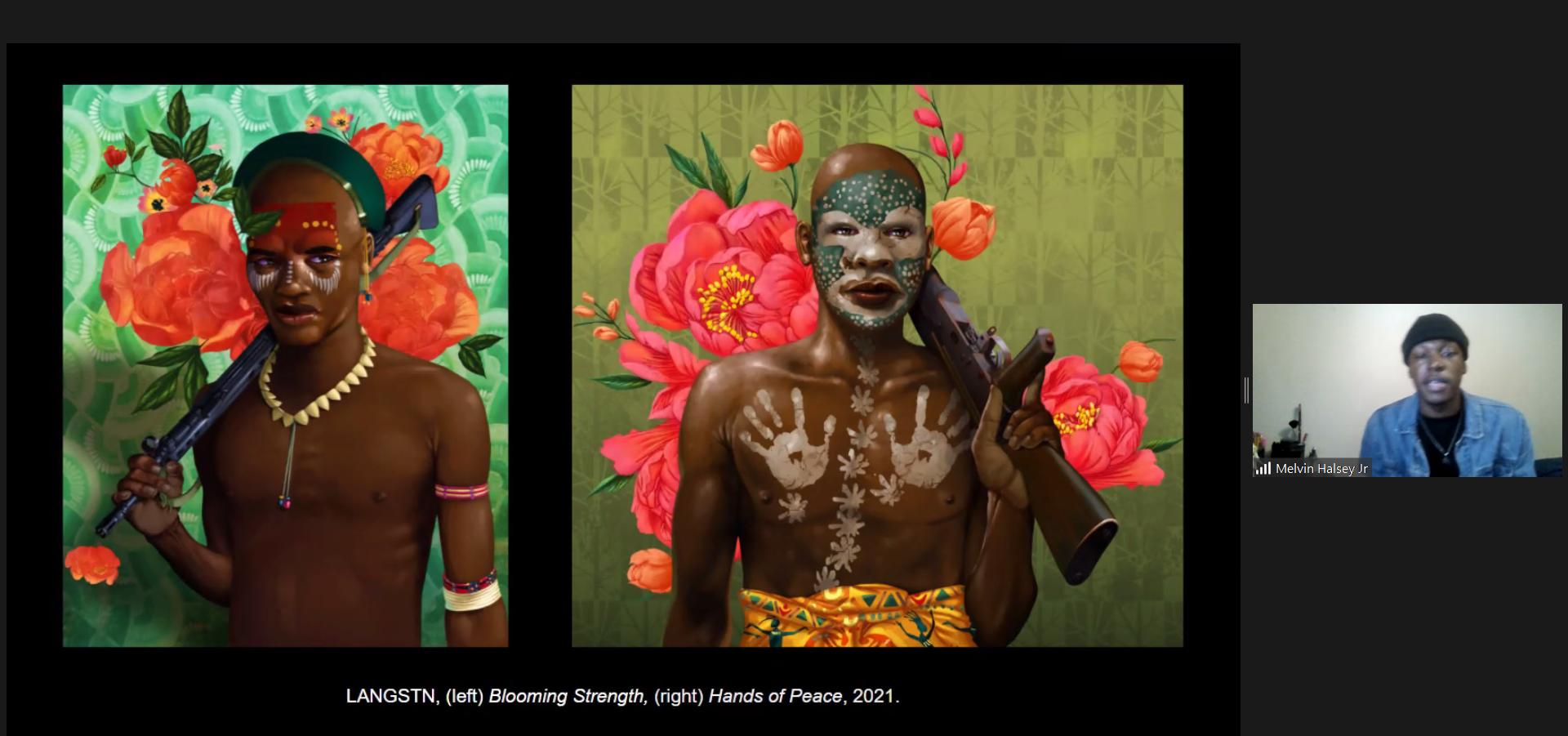 Indie Reece is a self-taught painter, digital artist, and muralist. His work ranges from geometric abstraction to figurative art, influenced by Africa's tribal cultures and masks.
Ron Simmons is a self-taught visual artist born and raised in Tampa. Inspired by the world around him, he creates characters from different backgrounds who wear gas masks as a sign of resilience.
Briauna Walker is a self-taught artist whose work includes paintings on canvas as well as large-scale murals. Her art is inspired by the beauty of black women, the sky, and hues within the Black community.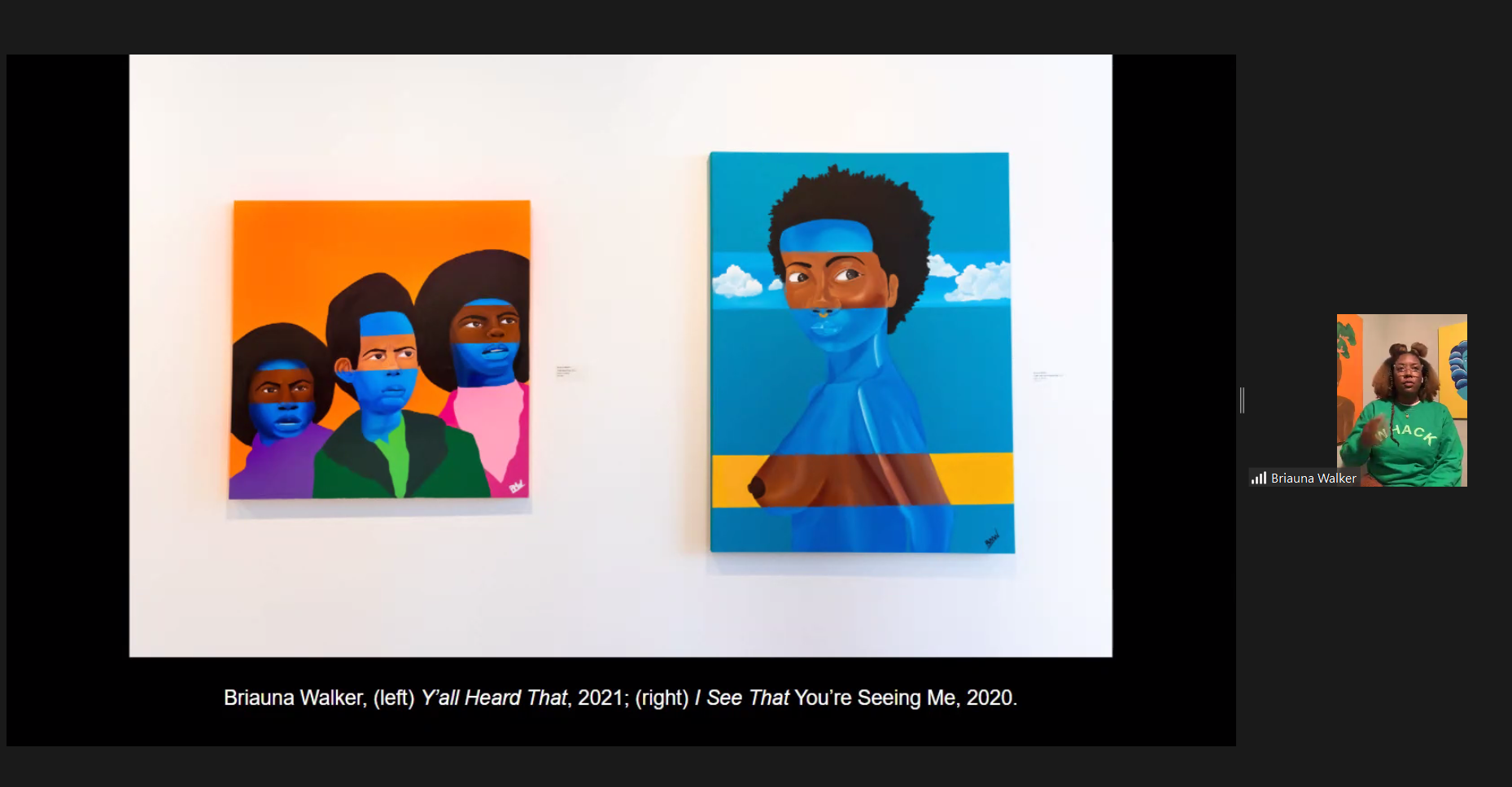 The artists chose the name "Root'd" because "each of us are rooted in our own way of creativity, and how we choose to show our creativity to the world," Walker explained.
Though all four artists have their own individual styles, they also share similarities in pieces featured in "Root'd." Afrofuturism and vivid colors link the different styles together to create a thought-provoking exhibition.
"All of us think beyond what our present time is… pieces that we would like to see in real life in our future," said Walker, who described her artwork as revealing "Black identity with the eyes looking forward to the future."
She said that her cultural influences began with her grandfather, Thermal Abilene, a poet, painter, and creative. Growing up, she was also exposed to different kinds of music due to her family's love for the art. Walker's pieces revealed various hues of blue; the painter noted that the different hues of blue represented the different hues in the Black community. "We're not one shade; we come in so many different shades," she shared.
"Shea Butter Baby" was a portrait of singer Ari Lennox – who Walker chose because her music is "very sensual, in a sense, when it comes to Black femininity." She noted that she uses the emotions she gets from the music and puts them into her work.
Simmons' work is most identifiable by his trademark gas masks. He began the gas mask concept about five years ago by creating different masks that evolved into the gas mask concept. The concept symbolizes oppression, based on the history of gas masks as weapons of mass destruction.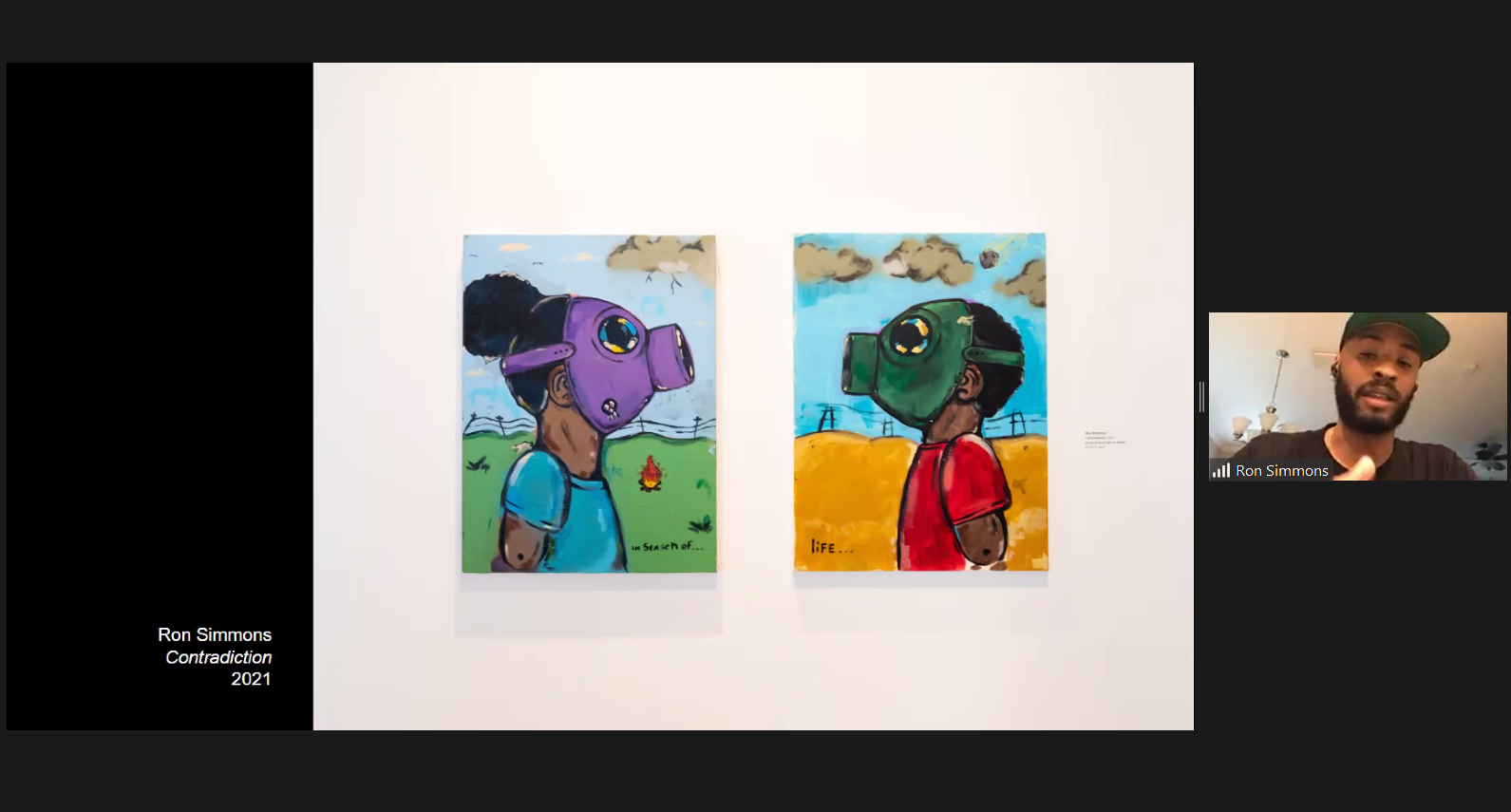 Simmons has always had a passion for the arts and starting out drawing before beginning to paint. Ten years ago, Simmons went on a hiatus due to the passing of his grandmother — who was his inspiration for creating and encouraged him to create art freely. It was not until his son was born that Simmons picked up his craft once more.
"My son was born, and that kind of inspired me to start creating again," said Simmons.
This exhibition revealed the first time LANGSTN incorporated male figures into his work; the artist shared that in the past, he solely depicted women in some shape or form, with the figures often dressed in traditional African garments.
For this show, he channeled his love for Black culture using subtle symbolism in his pieces – such as the hands on the man's chest in his "Hands of Peace," which also referred to the slogan #HandsUpDontShoot. "I wanted to incorporate that in a tribal way because it's a message that can be understood on both ends," said LANGSTN.
When creating "Be Free," prostate cancer awareness was important to him; the blue ribbon on the figure's sweater signifies the importance of finding a cure.
Another theme in the artist's work is Black male vulnerability. "As Black men, we are taught that we're supposed to cry," said LANGSTN. His own personal feelings around this issue inspired him to incorporate this idea into his artwork.
Reece's love for nature, lines, shapes, and texture is shown throughout his artwork. He combines all these elements to create vivid Afrofuturistic pieces for this exhibition.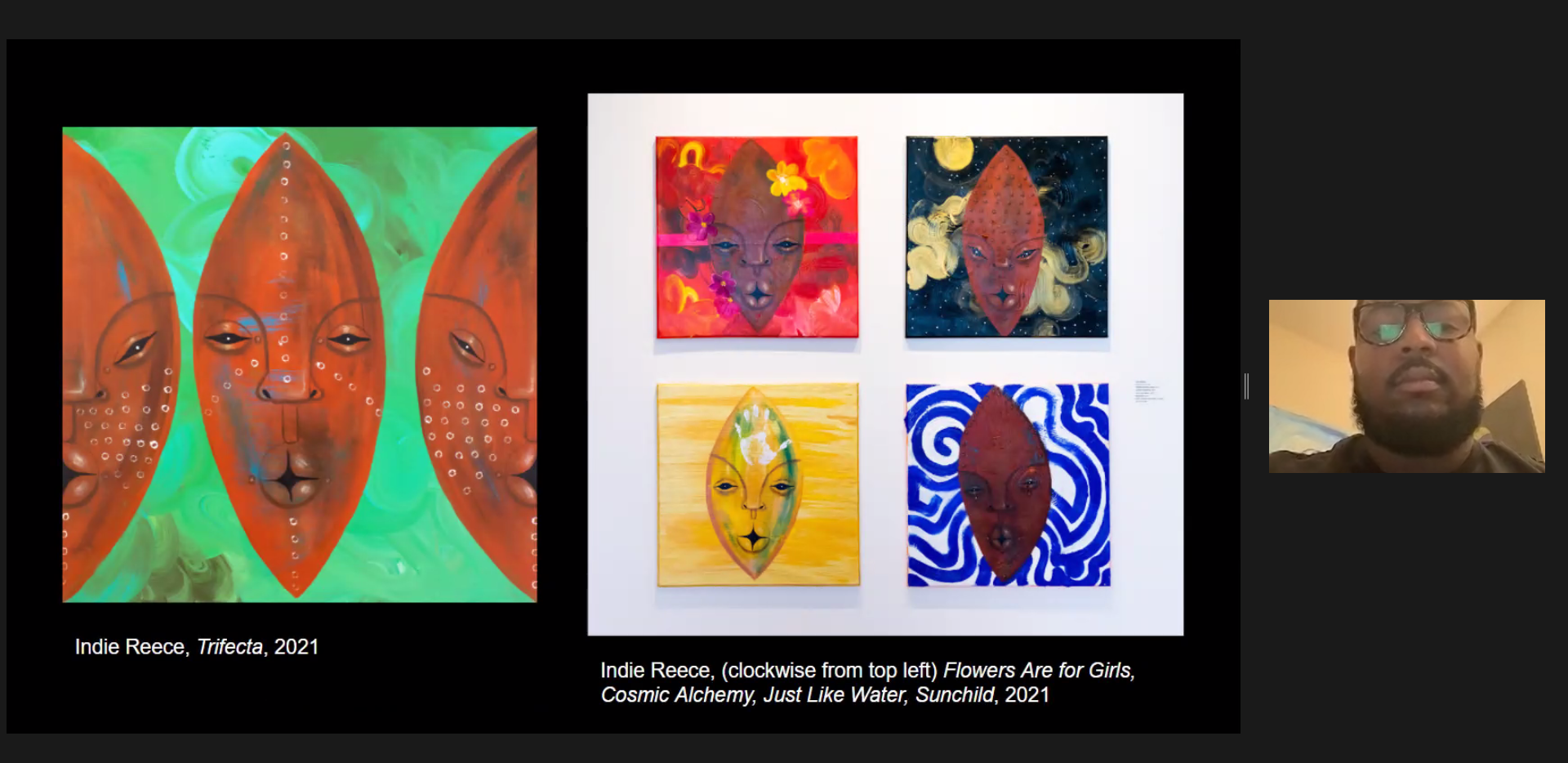 "I wanted to represent the power, constraint, and celebration of our ancestors," said Reece.
The mask in "Flowers Are for Girls" is inspired by Ghanaian mask — but Reece put an alien twist to it that grabs the viewers' interest. He is also a writer and often creates poems or haikus to go along with most of his artwork.
The haiku for "Flowers Are for Girls" expresses that boys and girls can represent "the duality of feminine and masculine," said Reece, who shared the poem:
"Flowers are for girls
Pretty pink and delicate
And so are the boys."
For more information on NRAC, visit newrootsartcollective.com or contact them by email at committee@newrootsartcollective.com and follow them on Instagram.