BY KARIN DAVIS-THOMPSON, Staff Writer
ST. PETERSBURG — Shera Gray saw a different path when she started school to become a full specialist esthetician, but then she took a class that changed everything.
The course was all about the products professionals use in the industry.
"When I took that class, that was it for me," Gray said. "I wanted to know more and decided it was what I wanted for my career."
Gray, the owner of Body Polished, said she was fascinated by the idea that foods with all-natural ingredients could be used for everything from lotions to skincare.
"I started mixing things at home, and I was hooked," she said.
At first, Gray shared her creations with family and friends, asking them to try them out and give their honest feedback. She said the first year was definitely a learning curve.
"I knew nothing about mixing and making products," she said. "I had a lot to learn."
And she admits she not only had a lot to learn about how to make her products, but she needed to navigate what it meant to own a business.
After she thought she had a few products perfected, she tried her hand at being a vendor at the Saturday Shoppes. Looking back, Gray laughed and said she had no idea what she was doing. It wasn't until she enrolled in the Saturday Shoppes Vendor Academy that she began to feel like she had a handle or running her business.
"This is my third year in business, but it's only been since earlier this year that I really thought I could make a living doing this," said the 37-year-old.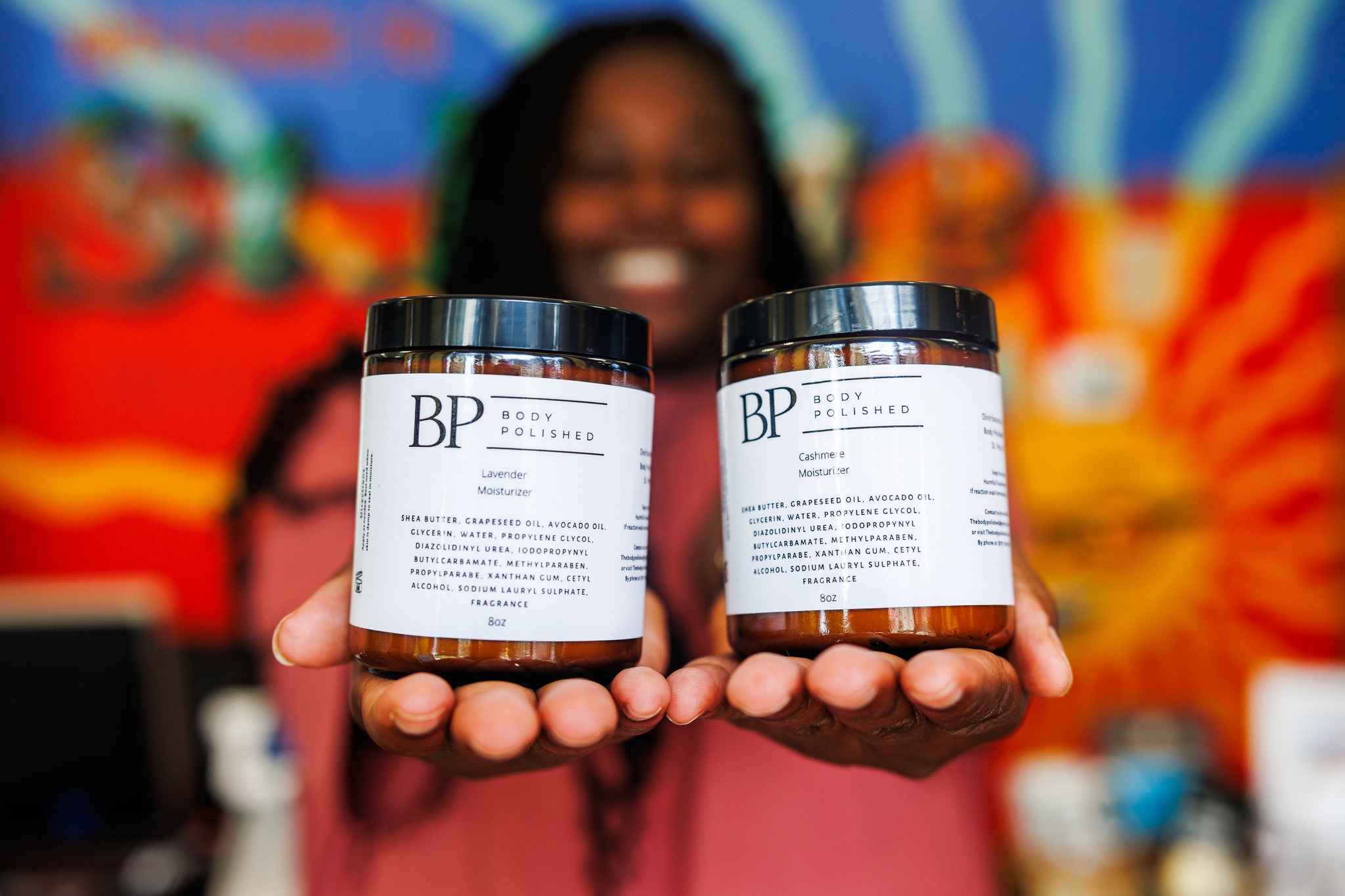 The academy is an interactive series of classes designed to teach vendors how to grow their business, from how to utilize social media to tactics to improve customer relations.
Gray said the classes were invaluable, giving her the confidence to increase her prices and have faith that her products are worth the value.
"I just jumped out there; it has been a blessing," she said.
Body Polished specializes in various beauty products, from oils to scrubs, body butter and lotions. Her most popular fragrances now include watermelon sugar, black raspberry vanilla, cheri and camellia.
Gray said the first time she made a sale, she was more excited than she's ever been. Customer feedback and compliments keep her going when she gets a little discouraged.
"I had a football coach stop by my booth. I was convinced he wouldn't buy anything," Gray recalled. "But he did! He loves my strawberry scent. Imagine this big football coach buying my product. And he told me that he hopes I don't stop here, that it's just the beginning for me. That meant so much to me."
The full-time entrepreneur said if she could advise anyone with a product or idea they want to turn into a business, it would be to take a leap of faith and go for it.
"Do it afraid," she said. "Do not let fear stop you. It's worth it. It's what I did, and I just love where God is taking me."
To learn more about Body Polished, visit thebodypolished.com. Also, drop by the Tropicana Field and Grand Villa Markets to pick up some body butter and visit the more than 1,000 vendors as they sell their wares.
Log on to saturdayshoppes.com to view all upcoming market events.
This story is part of a series highlighting small business owners who are a part of the Saturday Shoppes, an initiative creating economic development and opportunities for small business owners.