Barbershop Book Club SummerCuts Workshops and Dad's Treasure Chest Initiative could help combat reading loss during the summer. Antonio Brown is seen here advising a young man at  S.T.O.R.Y. 727/ Cross & Anvil day camp.
By J.A. Jones, Staff Writer
ST PETERSBURG — Barbershop Book Club (BSBC) SummerCuts Workshops and Dad's Treasure Chest Initiative will provide free books and positive adult role modeling/mentoring reading engagements to low-income Black and Brown youth in south St. Petersburg camps and neighborhoods throughout the summer.
Master Barber Antonio Brown, owner and operator of Central Station Barbershop & Grooming in the Grand Central District, launched the book club in 2016 to address St. Pete's literacy crisis and, in 2020, brought the project to other community barbers.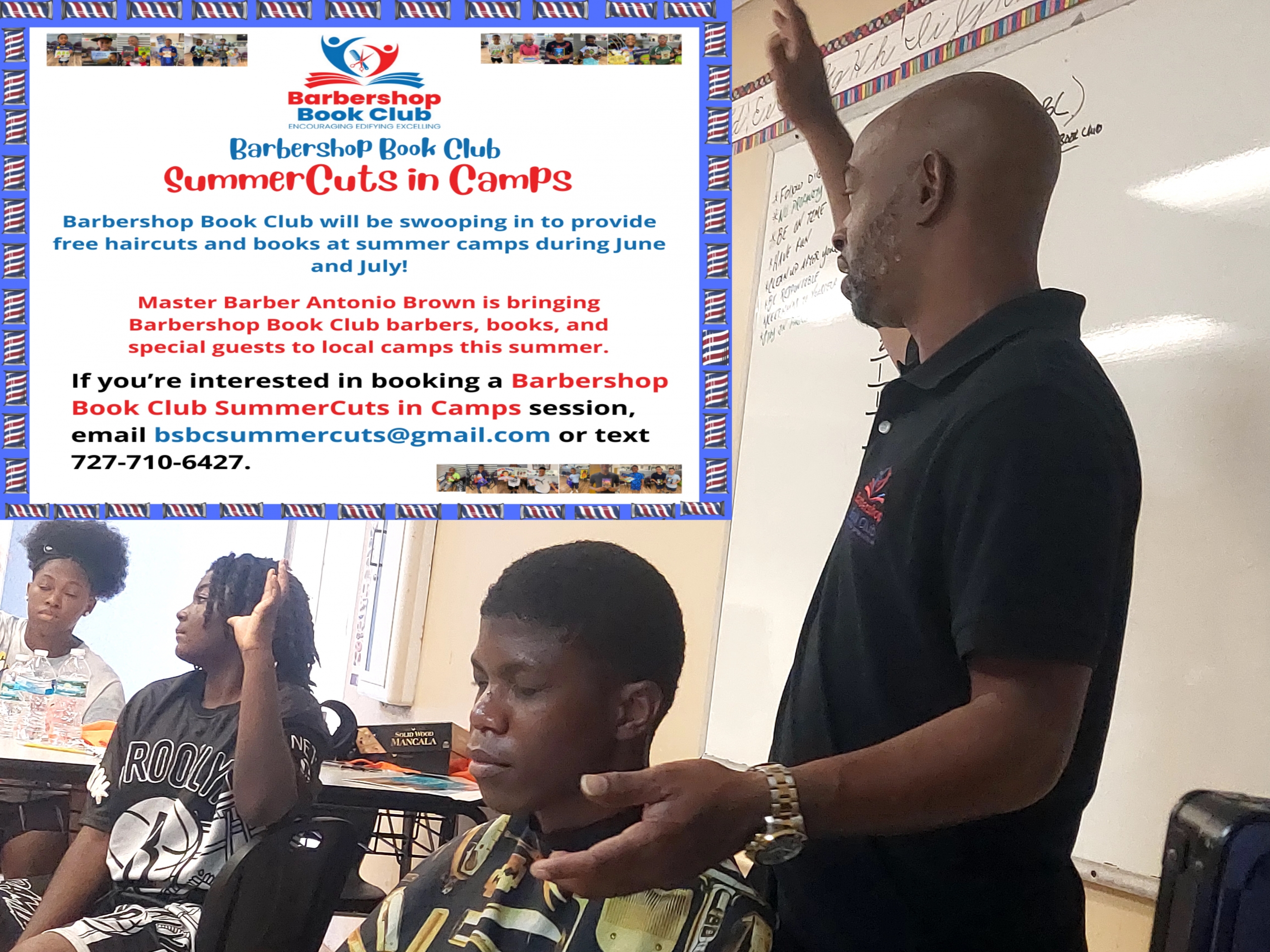 Youth ages 1 through 18 receive free haircuts and age-appropriate, culturally relevant books from barbers participating in the BSBC. The club's core values are the three Es: Encouraging, Edifying, and Excelling, to foster a lifelong love of literacy.
"This summer, we started the SummerCuts program where we go into camps that are already up and running, and we provide a service, and also provide free books to each and every child to help them build their own personal libraries at home," said Brown. "We encourage reading to all youth but predominantly young Black males, Brown boys, and children. Our goal is to help impact and help save lives with this initiative."
During the 2022 summer camp season, BSBC SummerCuts project will partner with camps to bring local artists, educators, and business professionals to engage children and youth in conversation, read books together, and enjoy related learning activities as the youth receive free books and haircuts.
Additionally, Dad's Treasure Chest Initiative provides fathers free books to bring home to their youth during June, July, and August. Participating barbers will offer books from their locations, and any father coming in for a haircut and has a child may take one to build their child's library.
Both programs could also help combat reading loss during the summer. Data shows that youth lose two months of reading skills during the summer, known as the "summer slide."
Experts note that the lack of culturally relevant reading material that Black and Brown boys can relate to contributes to low reading outcomes and is needed in low-income homes. Studies show reading culturally relevant books improves students' comprehension.
Research also indicates that Black mentors offer positive influences and challenge negative internalized feelings that underserved youth may have about their own race.
In a recent study from Milwaukee, Black male mentors and tutors worked with Black boys through a virtual schooling program during April, May, and June. The mentoring program kept the children's enthusiasm high; 87 percent reported to school daily, and all completed their reading work at grade level or higher.
Dreammakerz Productions' filmmakers Jabaar Edmond and Cranstan Cumberbatch will lend their expertise in literacy and film during one of the workshops.
Edmond noted, "Reading is fundamental, and comprehension is key. Reading opens up the imagination of our youth and adults." Cumberbatch agreed, adding, "We look forward to this opportunity and stand in full support of this amazing program."
Debraca Russell, MBA CPCC of Agape Career Counseling and author of "Navigating Life's Choices After High School," will be visiting camps during BSBC's sessions. Her experience at Barbershop Book Club has been positive as she's seen how the interaction with Brown and his young readers impact students.
"Antonio Brown found a formula of educating youth when they are ready to talk and listen, during a time where they could speak freely and feel comfortable," she said. "He has poured into my own child with encouragement about leaving for college."
Brown hopes by offering a combined experience of free haircuts and books, along with reading and engaging with local role models and mentors, students will be even more engaged.
Other guests this summer include filmmaker Robert Bruno, Sheena Qualles-De Freece, Founder/CEO of Kidzonomics, LLC, and independent music artist Reeves.
Dr. Jawanza Kunjufu, author of the seminal book on Black male education, "Countering the Conspiracy to Destroy Black Boys," believes the literacy crisis among Black boys is a civil rights issue.
He told The Menformation Project, "Can you fathom if we simply taught Black males how to read, we could reduce disproportionate number of Black males in special education, suspended, dropping out, unemployment, crime, drug addiction, incarceration and fatherlessness? That's why I believe literacy is the 21st century civil rights issue."
Kunjufu said another factor contributing to illiteracy is that Black boys have never fallen in love with reading. "They never were given a book they could not put down. They have only read books to pass a test," he said. Black boys need to love to read. They need books where they see themselves, their communities, their history, and culture."
As for the Dad's Treasure Chest initiative, Brown explained that when dad's come to the barbershop to get a haircut, they can pick up a book to take home and read to their child in the privacy and comfort of their home. He hopes the program will help build bonds between dad and child.
"These are awesome times to remember when you're doing stuff like this; this is something that these children will never forget."
If you are interested in having a SummerCuts in Camps presentation, email Brown at bsbcsummercuts@gmail.com or text 727-710-6427. For more information on how you can get involved or donate to Barbershop Book Club, visit barbershopbookclub.org.