Essie Hills, Robert "Skip" Jenkins and Mary Bogans
BY RAVEN JOY SHONEL, Staff Writer
ST. PETERSBURG – If you're 60 years old or older and tired of sitting at home, then there's a program out there with your name on it. Neighborly is a non-profit organization funded by the State of Florida that provides free Meals on Wheels, senior dining and transportation to and from their centers.
At seven locations around Pinellas County, seniors are invited to join the no-cost Senior Café program that provides a nutritious hot meal, a chance to socialize and make new friends and the opportunity to take part in fun activities such as going to museums, movies and sporting events.
The site located downtown at the Sunshine Center, 330 5th St. N, is carefully watched over by site coordinator Robert "Skip" Jenkins.  He's looking for more seniors to get out of the homes and come down and join the fun.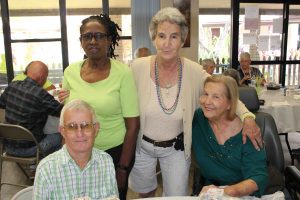 "Instead of sitting at home looking at the four walls or watching soap operas, come on over to the Sunshine Center or one of the other centers and mingle, make a few friends, get a nutritious meal and just enjoy yourself," said Jenkins, who has worked at the Sunshine Center site for more than nine years.
Meals are provided by GA Foods, a nutrition services provider, Monday-Friday. The meals provided are nutritionally balanced and comprised of restaurant-inspired recipes.
Shelf-stable meals are also provided for the days that the centers are closed. During hurricane season when the weather is too dangerous for travel, the center provides seniors with a box containing five shelf-stable meals to tide them over until conditions are more favorable.
For those without a way to one of the seven sites, Neighborly provides complimentary transportation for adults 60 and older to the Senior Café closes to their home.
Jenkins and his staff also package meals for home delivery (Meals on Wheels).  Individuals age 60 and older who are homebound for reasons of illness, disability or isolation and their spouse, regardless of age, and individuals at nutritional risk who have physical, emotional, or behavioral conditions are eligible.
The Meals on Wheels program allows seniors to be independent as long possible. Bonnie Douglass has volunteered with the program for close to 40 years. She said delivery drivers act like watchdogs for the seniors. With someone stopping by every day, they are sometimes the only people checking in on them.
Douglass delivers twice a week for about an hour to an hour and 15 minutes. Most routes are only one day a week.
"You're not giving up that much of your time, but you're making a great impact on your community," she said.  "It's a wonderful program. I wouldn't be committed to it for 40 years if I didn't feel strongly about it."
Besides not worrying about their next meal, seniors have an opportunity to socialize and exercise their minds with board games, cards, Bingo and educational activities.
"Anything that can manipulate their minds and keep their brains challenged like math quizzes," said Jenkins, who boasted about his site being the largest with anywhere from 60 to 70 seniors.
And if you think your parents or grandparents can't party, you are mistaken. There's a reason to party almost weekly, and these seniors are always ready. From holiday parties to plain old pizza parties, the young-at-heart golden agers have a chance to enjoy life.
Last month during their Spring Fling, members of the Tampa Bay Rays heard about the festivities and showed up to for the fun. With a carnival-like atmosphere, the party was moved outside with games, prizes, and of course, good food.
"Every day is a party," said food aid Mary Bogans, who has worked at the center for three years. "I look forward to it."
Bogans packages meals for the Meals on Wheels clients and helps coordinate activities. She said the seniors love to dance, especially when a live band makes an appearance.
"When that Bingo is over with, and they put on CDs, the party is on," said Jenkins. "We're not just sitting around here playing checkers. If I'm sitting in my seat, they'll come and get us and make us dance. They love it. It rejuvenates them."
Besides partying, Senior Café clients go on field trips to the movies, Rays games and local museums including the Carter G. Woodson, Holocaust and the Armed Forces Museums.
Essie Hills fills in at different sites wherever she's needed. Her favorite month is February, Black History Month. She enjoys teaching the seniors African-American history.
Every holiday is touted as a teachable moment. For St. Patrick's Day, they learn a little Irish history, and for Cinco de Mayo they learn about Mexican culture.
"Every holiday; every nationality," said Hills.
Guest speakers often make appearances to keep the seniors up-to-date on any changes with Medicaid, Medicare and the Old American Act of 1965, which is a federal level initiative aimed at providing comprehensive services for older adults. They also have an opportunity to learn about health and wellness and other important issues that pertain to the older population.
Pam O'Toole, a representative of CarePlus, stops by twice a month to answer any questions about the Medicare Advantage Program. When all questions are answered, she plays Bingo with the retirees.
"They love Bingo; I love Bingo. They look forward to it," she said. "We go to the Dollar Tree and pick up household items that they can actually use for prizes."
So, if you're tired of sitting at home every day and would like to get out and socialize and have a nutritious meal, call Neighborly at (727) 573-9444 to find out how to sign up for the free program. That number is also good if you'd like to volunteer with the home delivery service.