BY ALLEN A. BUCHANAN, Staff Writer
ST. PETERSBURG –The ribbon cutting ceremony for the new state-of-the-art

Regional Skate Park

took place Saturday, June 2 in

Campbell Park

. Hundreds of rippers, and those just curious, experienced not only the opening of the new sports facility but observed first-hand the thrill of three skateboard competitions: Skateboard Bowl (8 ft.) Best Trick, Skateboard Street Best Trick and Skateboard Vert Bowl Best Trick.
"Nothing makes me happier," said Leisure Services Administrator Mike Jeffries after the ribbon-cutting ceremony.
Two years ago, however, there were many in the community that didn't share his sentiments. At a design meeting, Maria L. Scruggs, president of the NAACP, St. Petersburg Branch, voiced her concerns with the construction of a skate park in an underserved African-American community.
"Why would the city invest in and support a skate park when there are other more pressing socio-economic issues in the community, she asked at a public meeting."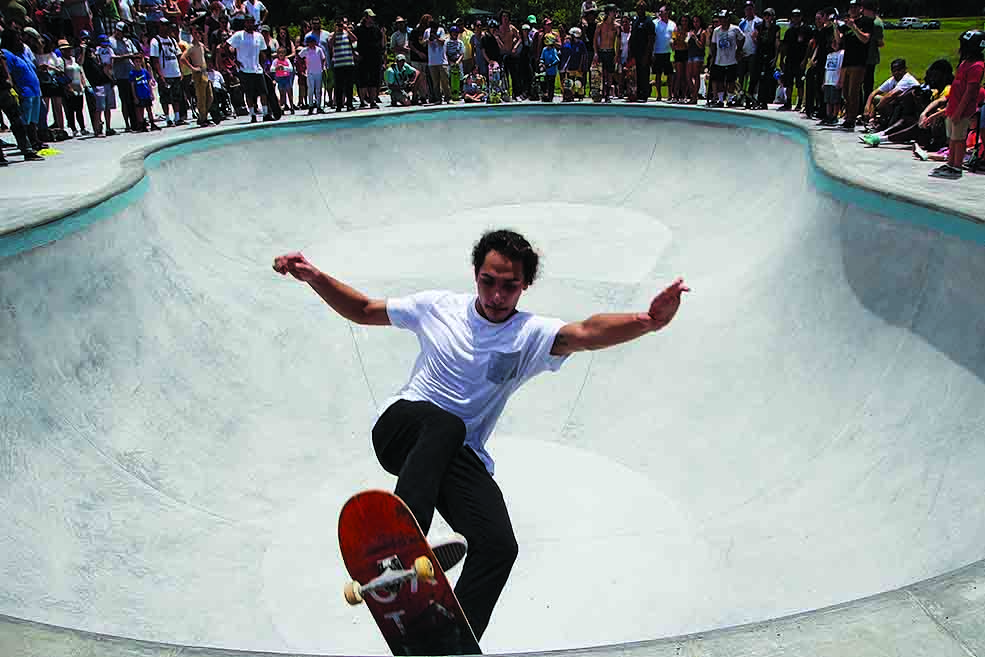 And although the area has more pressing economic needs, the money used to build the park came from the Weeki Wachee Fund, which can only be used for recreational projects.
And if you aren't into skateboarding, the new park has you covered.
"You can use your skateboard. You can use your BMX Bikes. You can use your inline skates. You can use your Razors," said Jefferies. "Whatever you use, this skate park is designed to accommodate everyone and every skill level."
Former City Council member Karl Nurse had championed the idea of building the facility since the early 90s when many people looked down on the idea.
"This would not have happened if the City Skateboard Alliance had not filled the city chambers over and over and over again," he said.
Many residents in the area felt that black children do not skateboard and that the money should have been used for a facility that catered more to the area's needs.
To answers those concerns, Michelle LeFleur-Box, executive director of

Boards For Bros

, a 501(c)3 non-profit organization fully committed to providing equipment, safe skate spots and youth mentoring in our community, said they have been working in the Campbell Park neighborhood for more than a year giving children skateboards to get them excited about the sport.
The new facility's three competitions gave not only St. Pete, but the entire Bay area a taste of future possibilities of the caliber of events that could be hosted there. Both those who have embraced the sport and those who are willing to step out of the box can showcase their skills in a safe environment.
Vert Bowl Best Trick
Steven Pineiro – Best Air
Steven McKaig – Longest Grind
Tyler Coffman – Best Lip Trick
BMX Street Best Trick
Dylan Carter – 1st place winner
Nick Carballo – 2nd place winner
Ryan Torrance – 3rd place winner
Skateboard Street Best Trick
Sly Sullivan – 1st place winner
Marse Farmer – 2nd place winner
Markus Jalaburr – 3rd place winner
Skateboard Bowl (8 ft.) Best Trick
Steven McKaig – 1st place winner
Keith Baldassare – 2nd place winner
Tyler Coffman – 3rd place winner