Atwater's Cafeteria was a mainstay in the African-American community, and Eric Atwater aims to continue his parent's legacy. 
By Gwendolyn Reese, Columnist 
Atwater's Cafeteria was a mainstay in the African-American community, serving up southern-style food for breakfast, lunch and dinner for more than three generations. We all remember the fresh-squeezed lemonade, homemade biscuits, fresh vegetables and we can't forget the peach cobbler.
Atwater's quickly became a favorite eating place in the community, and on any given day you would find both black and white customers. It was also a gathering place for community leaders, ministers and local elected officials could always be seen there. It was a meeting place for civic organizations and church groups.
In the 1980s U.S. Senator Bob Graham campaigned there while running for governor.  Don McRae, Goliath Davis, and some of "St. Pete's finest" police officers could be spotted having lunch there on almost any day of the week.
I would frequently meet my friend and mentor, Cleveland Johnson, for breakfast and if I needed to discuss an issue with Bishop John Copeland, chances are I would see him at Atwater's.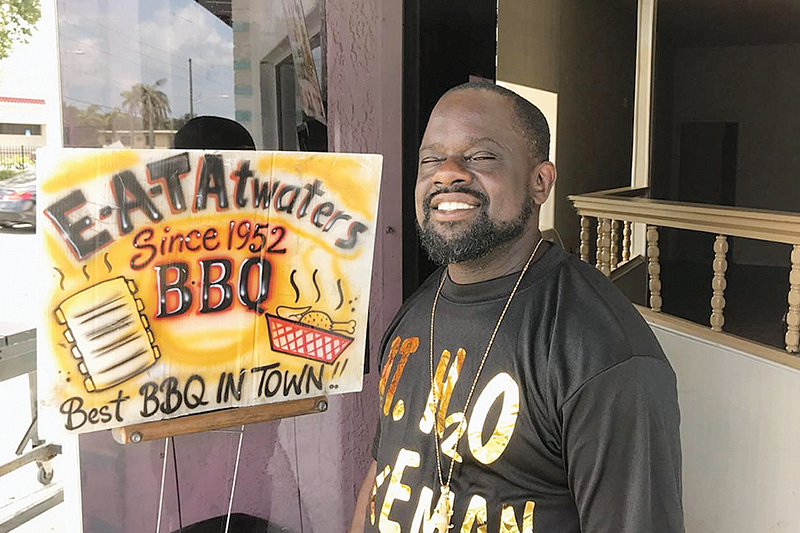 The Harlem Restaurant and Grill was opened in 1952 by Wilbert and Annie Wright. Located on Fairfield Avenue and 22nd Street South, it was the precursor to Atwater's Cafeteria. Elzo "Deac" Atwater Sr. bought the Harlem in 1964 and sold it in 1985. In 1977, he purchased Robert's Restaurant at 895 22nd Ave. S, changing the name to Atwater's.
For the next 25 years, Elzo and Mattie Atwater ran the cafeteria with the help of their nine children.  In 1981, Elzo Sr. opened his second restaurant, the 65-seat Harlem Cafeteria at 963 22nd St. S.
The family's matriarch died in 2003 preceded in death by her husband Elzo Sr. in October 1997. The cafeteria closed its doors on October 27, 1997, for the first time in its history, for a day of mourning following the death of the patriarch of the family.
Mrs. Atwater was once quoted saying: "I got into the restaurant business because I had a lot of mouths to feed at home. My husband would come home and say, 'Is this all you have?' And I said, 'If you want more, you're going to have to get a restaurant.'"
Atwater's was a family business with all nine children working there at some point.  Elzo Atwater, Jr. managed the cafeteria and operated the catering side of the business, Eric, known as "the CookE Man," took care of the baking sideline and Michael was cook and operator.
In 1982, tragedy struck when Elzo Jr. and Michael were shot during a robbery at the family's restaurant as they were returning from a catering job at the St. Petersburg Municipal Pier. Elzo, 26, was critically wounded when the bullet entered his chest and lodged in his heart and Michael, 15, was shot in the arm.
Elzo spent six weeks in the hospital and endured four heart operations. People from all over the community, including white people, donated blood. Many had never met Elzo Jr. A record 113 people donated blood. Both sons recovered.
In 1997, an article bearing the headline "Atwater's restaurant seeks site downtown" appeared in the St. Petersburg Times. Co-owner Michael outlined the family's plan to open a second cafeteria in downtown St. Petersburg, but it was made clear the current location would remain open.
In the fall of that year, Elzo Jr. took over operation of the Bayboro Café at the University of South Florida's St. Petersburg campus. Orange Blossom Catering had operated the café for the previous four years. He would also run the Atwater Hospitality Academy, a culinary training program, in connection with the café.
In December 2005, Atwater's closed briefly for renovations. It reopened several weeks later with Michael as cook and operator and with the help of three employees. Atwater's continued to offer up the southern fare we were accustomed to seven days a week from 7 a.m. to 7 p.m.
Atwater's closed in 2011 after 38 years of service. Eric Atwater opened Atwater's Best BBQ and Soul Food in the Skyway Mall in 2015. It closed in 2017 and since that time he has catered special events, continued to bar-be-que and smoke fish, and of course, he never stopped baking cookies. CookE Man cookies are slated to be in major supermarkets later this year.
Eric has been patiently waiting for a five-year lease to expire. When the lease expired this year, he immediately began to work to reopen the family business. The official opening is scheduled for July.
When I asked Eric why reopening Atwater's was so important to him, he said, "To preserve the family legacy and to motivate his siblings to come to work and join him in this effort."
Since he's been back in the building, Eric has opened the doors to church groups and community organizations for fundraisers and other activities He is also sponsoring St. Petersburg Skill Academy's basketball team, and very soon a fundraising event will be held in the building for brother Elzo who is on dialysis and needs a kidney transplant.
All of this is Eric's way of continuing the Atwater legacy of providing for the family and supporting the community.
"Atwater's, the best food in town, is back! It's back," exclaimed Eric.