BY KARIN DAVIS-THOMPSON, Staff Writer
ST. PETERSBURG –Concerned about the current state of race relations in the United States, community leaders recently held a town hall meeting to have what they hoped would be an open dialogue about race. After the violent protest in Charlottesville, Va., that left one woman dead and dozens injured, city leaders said they thought it was important to organize the forum and allow residents a chance to voice any concerns about the state of race relations in St. Petersburg.
The forum took place Friday, Aug. 18 at Mt. Zion Primitive Baptist Church on 22nd Avenue South.
U.S. Rep. Charlie Crist thanked the local branch of the NAACP for organizing the event. He opened his comments by soundly condemning what happened in Charlottesville and urged everyone to remember "we are all in this together."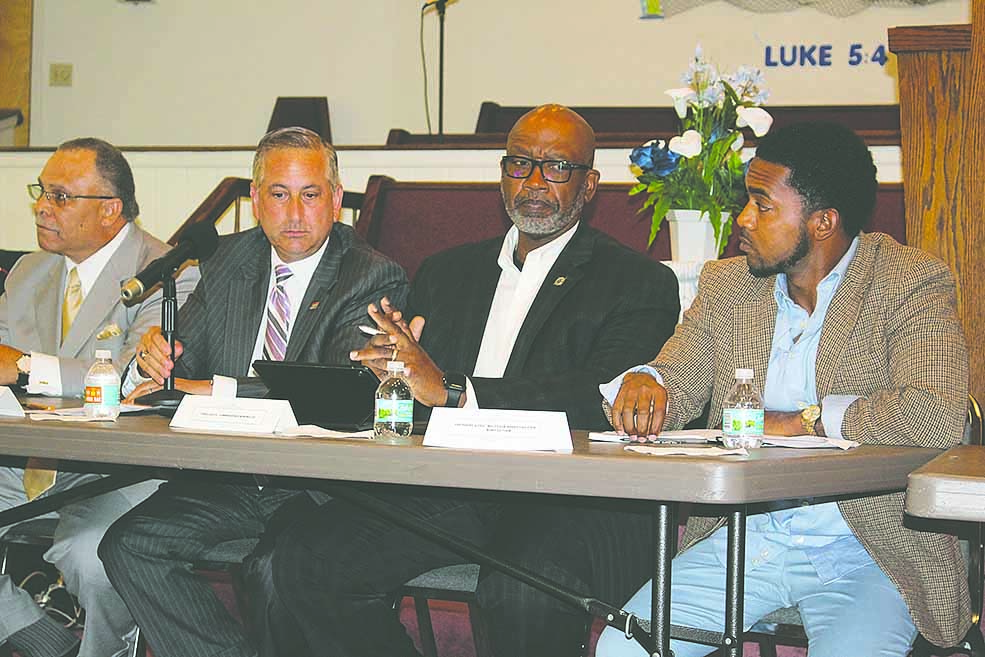 "We need to all respect one another, no matter where we come from, no matter what we look like, no matter who we pray to, no matter who we love," Crist said. "And if we get back to that, then America will continue to be an amazing place and will only get better."
Erik Smith served as moderator and told the audience that the forum's purpose was to provide authentic dialogue and open the door for healing within the community.
"I have lived here for six years and I still see how segregated our city is," Smith said.
He then posed the first question of the evening, asking the panel if they believed St. Pete might ever have to deal with a clash like the one in Charlottesville, Va. Protestors there clashed over the city's decision to remove a statue of Robert E. Lee, a Confederate general.
Rev. Clarence Williams, pastor of Greater Mt. Zion AME, said while he knows anything is possible, he believed that the city was more engaged politically as a community and with law enforcement.
"Hopefully we can be proactive in warding off those sorts of things," Williams stated.
Maria L. Scruggs, president of the St. Petersburg branch of the NAACP, said that while the city may not have to worry about a monument as the catalyst for unrest, there are several other factors it faces that could create a spark, such as poverty, joblessness and the perception that one neighborhood remains stagnant while another is thriving.
"What hate groups do is feed off of the unrest," Scruggs said. "We need to deal with those issues and get ahead of them."
Several on the panel believed that the popularity of social media and the internet has made it easier for hate groups to spread its message, remarking that many say things online that they would never dream of saying to someone face-to-face.
Pinellas County Commissioner Kenneth Welch said he believes communities haven't figured out how to combat the new use of the internet and social media.
"The internet is being used in ways it hasn't been used before," Welch said. "These groups can now be like ISIS, using the internet to get exposure worldwide to recruit and get funding."
Imam Abdul Karim Ali of the Islamic Society of St. Pete reminded the crowd that the city does have a history of race riots – referencing the riots after the death of Dr. Martin Luther King, Jr. in the 1960s as well as more recently the unrest after the death of Tyron Lewis 21 years ago.
"Racism does exist," he said. "It is not a question of if but when. When it will become more overt and how will we as a city respond to it. That's why this dialogue is so crucial."
G. Gregg Murray, pastor of Mt. Zion Primitive Baptist Church said what really worries him is institutional racism.
"What really worries me is not a group of racists idiots that lit some tiki torches and decided to have a rally, I worry that on Monday they went back to their jobs in Human Resources and decided who got hired and who got fired," he remarked. "They put their uniform back on and went back to boldly protecting and serving. They sit on a jury and decide the fate of a young person of color; they teach in kindergarten classes; they sit across a couple who came to this country, worked hard and saved and they have the power to approve or deny them a loan to purchase their first home…"
Dr. William Barnes of Barnes Holistic Counseling Institute stood to ask a question – wanting the panel to discuss whether the city planned to pass legislation to address the shootings of African-American children by law enforcement.
Mayor Rick Kriseman said the city is always concerned about the relationship between law enforcement and the community.
He applauded Police Chief Anthony Holloway for starting the Park, Walk, and Talk program, designed to allow police officers an opportunity to get to know the community they serve and foster a better relationship.
"We take the actions of our police department and how they respond to the community very seriously," the mayor said.  "You can't build a relationship with the community if there isn't trust and respect."
From there, the discussion took several turns, from opposition to confederate flags flying on government buildings to the responsibility of government entities to combat systemic racism and the negative impact the current White House administration has had on the state of race relations in the country.
Most agreed that the open discussion was necessary and although the forum was a good start, there was still a lot of work to be done.
"We can agree to come back and have town halls like this and talk about these sort of solutions," said Pastor Murray, remarking that the first step is to agree that there is systemic racism in St. Pete.