After 56 years of serving the community, Thomas "Jet" Jackson retired from the City of St. Petersburg.
BY DEXTER MCCREE, Feature Writer
ST. PETERSBURG — No one wants to hear that Thomas "Jet" Jackson will not be patrolling the hallways of the City of St. Petersburg Leisure Services building, being the voice of reason for the many employees he's groomed for decades.
For 56 years, Jackson has been a loyal servant to Pinellas County lifeguards and youth swimmers, organizer of parades, football official, neighborhood father-figure where he's developed family leaders. Throughout the years, he demonstrated morality in leadership and was instrumental in helping many African Americans find job opportunities in the city.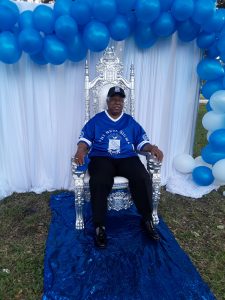 Jackson has dedicated his life to service, giving hope for a better day.
On Thursday, Oct. 1, the community participated in a drive-by parade to pay tribute and show their appreciation to a man who has mentored generations of youth.
He's iconic and yet humble, powerful, and graceful; he is a pillar of strength, yet compassionate. Jackson is an excellent example of what a community leader should be. Is he perfect? There are no nail prints in his hands, nor is there a crown of thorns on his head.  However, his life is one of loyalty and dedicated service.
"As a kid, I attended Wildwood Recreation Center, where I met Mr. Jet," said Sharon Joe. "I've never seen him angry, but I've seen him straighten some kids out. I've grown to know in my adulthood that he is an amazing man. This was my same thoughts as a child."
Early in his career, Jackson served as the supervisor for Wildwood Recreation Center, whereas a child he used to sneak into the Jennie Hall Pool without paying. In 2014, that same center, located at 1000 28th St. S, was officially named the Thomas "Jet" Jackson Recreation Center to recognize his unwavering commitment to the Parks and Recreation Department and the residents it serves.
The Phi Beta Sigma Fraternity member is a heroic example in the black community. Campbell Park Recreation Center has a wall statue of his likeness along with the center director, Verline Moore, and a youth playing volleyball.
"Jet helped to build this community," said Moore. "It is such an honor to have come under his tutelage. He has encouraged and given direction to so many people in this community."
He will always be remembered as an African-American pioneer who bulldozed the wall of segregation when separate meetings at the city were the norm. Jackson stuck to his morals and convictions, always rising above the situation and treating everyone with respect.
Following in his footsteps and working for the Parks and Recreation Department is his daughter, Marci Neal, who has 29 years of employment with the city. She started as a recreation aid during the summer and has climbed the ranks to supervisor at Lake Vista Recreation Center.
"It's such a blessing to see so many people share in his journey," said Neal. "He certainly will be missed as part of the city staff. You don't invest 56 years in a place without doing a lot of things right. I'm just thankful to have him as my daddy."
Natoya McMurray, another of Jackson's daughters who lives in Atlanta, surprised her father by leading him to believe that she would arrive in St. Pete a few days after the celebration.
"We talked two or three times a day, and I wanted him to feel loved and know that there's nothing that he can't have," said McMurray. "Nothing would have kept me from being here. I'm thankful for who he is as a man."
In his wisdom, Jackson shares that people must listen to one another for the community to make progress and then act accordingly. He points out having too many people from the same community running for office will only split the vote and imped forward progress. He suggests rallying around one person and using the gifts and talents of each person.
"When we come together, we can obtain unity," stated Jackson. "Where there is unity, then there is strength. It is the strength of unity that makes forward progress."
Jackson started his career as a lifeguard at South Mold Beach, now Demens Landing, with the help of three men: Ernest Fillyau, John B. Gore and Ray Lydon. Fifty-six years of impacting a community later, south St. Pete held a royal retirement celebration in his honor.
To reach Dexter McCree, email dmccree@theweeklychallenger.com