Family Resources, located at 3821 5th Ave. N, provides FREE youth shelter, outpatient therapeutic services, resources for homeless children, and resources for homeless young adults. Joseph Mabry, pictured here, is the St. Petersburg residential supervisor of the SafePlace2B shelter.
By Nicole Slaughter Graham, Staff Writer
ST. PETERSBURG — Fifty years ago, local radio DJs noticed an influx of children calling into the stations, looking for help in St. Petersburg. Some of them were having trouble at home; others were experimenting with drugs or were homeless. To help their community, a small group of these DJs started the "hotline," which was a fully volunteer-staffed phone line open from 5-11 p.m. daily.
The hotline grew and changed over the years, morphing into a full-service help center for children and their families, and is known today as Family Resources. 
The state-funded center provides services for at-risk children and their families in Pinellas (St. Petersburg and Clearwater) and Manatee counties. Most of the children and families who use the organization's services are referrals from the local police, schools or agencies that might be involved in child welfare.
However, said Andy Coble, vice president of Non-Residential Services, the resources are available to everyone in the community — not just referrals.
"A referral is not necessary," he said. "If someone needs our services, they have full access to them."
Family Resources' St. Petersburg location is situated at 3821 5th Ave. N. This particular location includes a youth shelter, outpatient therapeutic services and resources for homeless children. 
"We're the emotional emergency room of Pinellas County," said Coble.
The youth SafePlace2B shelters provide a safe and inclusive space for children ages 10 through 17 if they've run away from home or are seeking respite services.
"The children that come here have either run away from home, typically because it's not safe for them to be at home, or they might be children living at home that are experiencing problems."
When the local police refer children, it's typically because there's been a call to the home or school, but the police don't feel it necessary to escalate the situation to the Department of Children and Families.
The youth shelter, Coble said, is designed to serve as an option that prevents children from ending up in either the child welfare system or the juvenile justice system. It's a transitional space for children to come and for families to learn how to heal so that their children can go home.
While children are living at the youth shelter, Family Resources provides everything from food, toiletries, and clothing to transportation and therapeutic services. Typically, the organization also plans outings such as field trips or invites guest speakers and volunteers that teach yoga, painting, or meditation.
"We're not really doing outings right now because of the pandemic, and we want to make sure everyone is safe, but usually we would provide opportunities for the kids to go to Rays games or something like that."
Due to the ongoing pandemic, Family Resources is also making sure kids have access to online education and transportation to brick and mortar schools.
Outpatient therapy services for both youth and their families are also provided through the non-residential counseling program serving children ages 6-17, where licensed therapists offer mental health care on an appointment basis. Shelter services and outpatient counseling are also offered at the Clearwater and Manatee locations.
"If someone's in need of these services, all they have to do is call," said Coble.
He did clarify that Family Resources is not equipped to handle higher-level mental health issues where someone might need to be stabilized in a hospital setting. However, if someone in such a circumstance called Family Resources, professionals would help direct them to the right organization.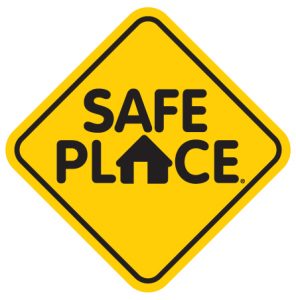 Licensed Safe Place agency
Safe Place is a national youth outreach and prevention program for immediate help and safety for youth. As a collaborative community prevention initiative, Safe Place designates businesses and organizations as Safe Place locations, making help readily available to youths in communities across the country. 
Safe Place locations include libraries, YMCAs, fire stations, public buses, recreation centers, various businesses and social service facilities.
Wherever there's a yellow Safe Place sign, a youth can ask for help. A site employee will find a comfortable place for them to wait while they call a licensed Safe Place Agency. All three Family Resources locations are Safe Place Agencies.  
"If a youth goes there saying they need a place to stay because they are afraid to go home or they are a runaway or have been out on the street for whatever reason, they will contact us and they will come here as a safe place," said Joseph Mabry, St. Petersburg residential supervisor.  We will go ahead and take them in no questions asked, but we will still have to make contact with their family."
Within 30 minutes, a qualified Safe Place agency staff member will arrive to talk with the youth and, if necessary, provide transportation to the agency. Once at the agency, counselors meet with the youth and provide support. Agency staff makes sure the youth and their families receive the help and professional services they need. 
Along with accessing Safe Place in person, youth may also TXT 4 HELP to receive information about the closest Safe Place location and chat with a professional for more help. TXT 4 HELP is a nationwide, 24-hour text-for-support service for youth in crisis.
Safe Connections
At the St. Petersburg location, the organization also provides resources to help homeless youth find the services they need through the Safe Connections Homeless Youth Resource Center. The program, which is partially funded by Pinellas County and the City of St. Petersburg, helps youth and young adults ages 16-24 find housing and job opportunities and provide food, clothing, and hygienic products.
Though they do not provide overnight stay options for homeless youth and young adults, the center is open during the day and provides a safe space.
"This is a drop-in style center," said Coble. "We provide games and food and activities. While they are here, our staff helps these young people gain access to what they might need."
Services include:

Clothing Closet

Emergency food relief

Comfortable space to relax

Referrals to other services

Access to caring, trustworthy adults

Laundry facilities

Hygiene items

Computer access

Charging stations

Free Wi-Fi



Coble reiterated that these services are entirely free and available to the public should someone need some help. The St. Petersburg location is right on the bus line, and if someone needs help but cannot make it to the building, Family Resources will coordinate transportation.
"These resources are there for them and paid through their tax dollars, so we want them to take advantage of this."
To learn more about Family Resources, visit familyresourcesinc.org, or call 727-552-1010 for St. Pete, 727-298-3900 for Clearwater or 941-741-3575 for Manatee County.