ST. PETERSBURG — Earlier this year, the Spirit of Tampa Bay Community Choir presented a $1,000 check to Campbell Park Elementary School as part of their commitment to the Tampa Bay community. These funds were collected from their annual sold-out fun/fundraiser held at Isla Del Sol Yacht and Country Club.
Yvonne Reed, president of the choir, emphasized the importance of education and the communities charge to assist in the education of young people by any means available as the reason for this donation to Campbell Park Elementary.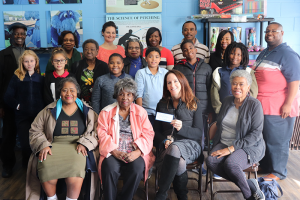 The choir consists of members throughout the Tampa Bay community who share a love of singing and a commitment to the constructive sustainability of our community through collaborative efforts.
Rehearsals are held each second and fourth Sunday afternoons for one hour. If you are interested in becoming a part of this movement or for inquiries related to bookings for your event, please contact Dr. Yvonne Williams at 727- 631-2385.
The choir is under the direction of Dr. John Frazier and Raymond Powell.