BY ALLEN A. BUCHANAN, Staff Writer
ST. PETERSBURG –  The Spirit of Tampa Bay Community Choir (STBCC) hosted their annual holiday gala at the Isla Del Sol Yacht & Country Club last Thursday, Dec 21 to help support Melrose Elementary School and local families.
"Beginning in 2018, we will be giving uniforms and supplies to Melrose starting in February," said STBCC founder Dr. Yvonne Williams, adding that choir members will be spearheading a new program where they will act as "secret kindness agents" for a local family once a month starting next year.
Members of the choir are active with other organizations, sororities and even hail from different denominations of churches in the city. Some participants may not even be affiliated with a local church, but all are welcome in the community choir and all who are willing to stand up and help out Melrose are welcomed with a smile.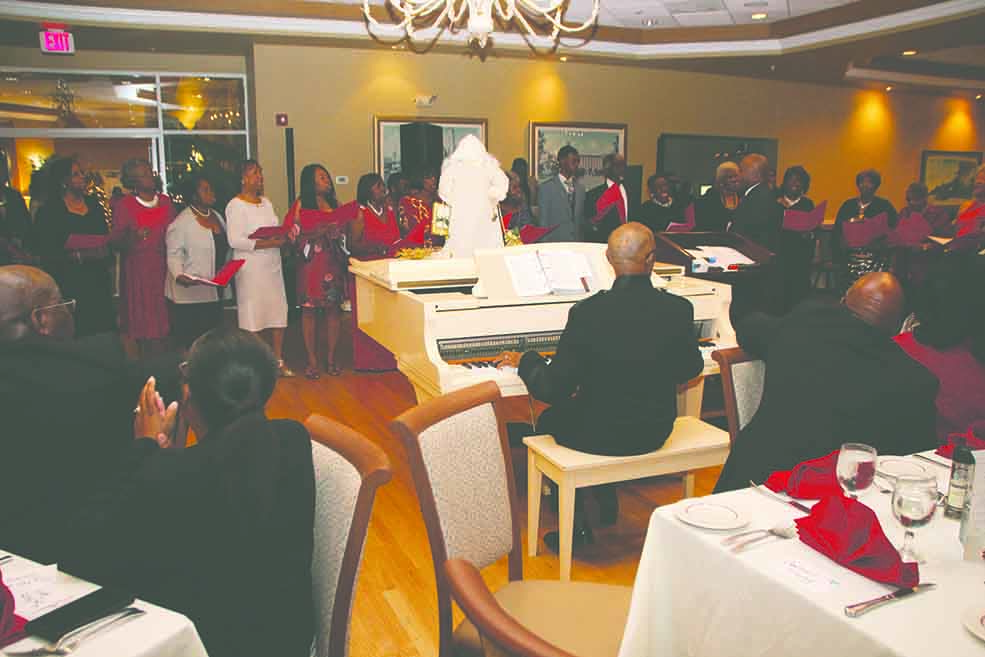 Williams hosted the event along with Dr. John Frazier, where close to 300 people packed the upstairs ballroom. Entertainment was provided by C2G Trio, local high school saxophonist Jordan Bolds, 1-Love Unlimited, Geoffrey Nugent and gospel comedian Pea Twinkle.
STBCC performed a medley of Christmas carols from "Come All Ye Faithful" to "Go Tell It On The Mountain." Five lucky attendees won a tabletop convection oven during the door prize drawings.
To book the choir for community events, Williams can be reached at (727) 631-2385 or Yvonne Clayton at (727) 895-3031.