By J.A. Jones, Staff Writer
ST. PETERSBURG — The

South St. Petersburg Community Redevelopment Area

(CRA), established by the city in 2015, held its first summit, a public meeting hosted by the Citizens Advisory Committee (CAC) at the Enoch Davis Center Tuesday, May 19.
The summit's goals were to offer an overview of activity in the CRA since its inception, give an update on key projects inside and around the targeted area and hear community concerns, suggestions and input for the new budget.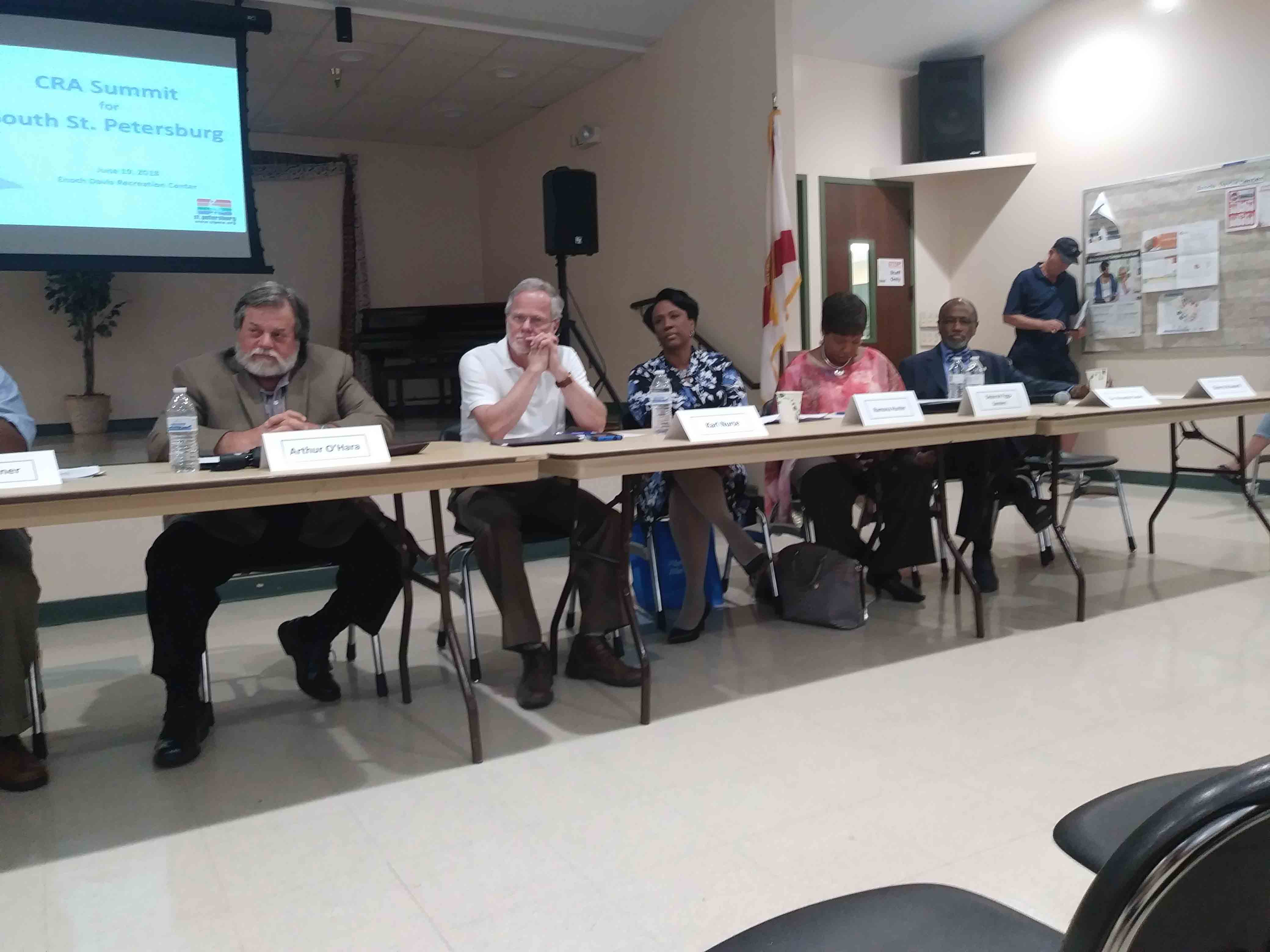 Some of the highlights of the presentation revealed the following findings regarding the CRA's effectiveness up to this point.
Major projects completed since 2015 include:
Callaloo's at Manhattan Casino

Deuces Live/I-275 Gateway Feature (Underpass Lighting and Mural project)

Workforce Contract Extension (extend/increase project with

Pinellas Ex-offender Re-entry Coalition

, expand support services for clients)
Major completed/ongoing revitalization projects include:
St. Petersburg Commerce Park site — Six employers projected beginning late summer; at least 65 jobs with incentives for hiring CRA and low-to-moderate income residents

Enoch Davis Youth Farm project — 36,0000 square feet site with a focus on STEM, entrepreneurial training for high school students

Full-service workforce development program to serve all residents of the CRA with educational, career certification and training opportunities, request for proposal to be released in Fall 2018
Assessment of Housing and Neighborhood Revitalization include:
Few multifamily applications

Focus more on affordable housing delivery, single-family renovation and new construction

Target market multifamily property owners and developers

Incentivize affordability in "Rebates for Residential Rehabilitation" program
Assessment of "CRAdle to Career" education and workforce training include:
Need to broaden workforce offering to hire entire CRA community, not just the "hard to hire"

Improve and expand daycare offerings for infants

Assist family daycare providers with training/facilities

Included teen workforce readiness & entrepreneurial training

Ensure full-time /permanent employment is the outcome of any "St. Pete Works!" program
After the initial presentation by city officials and CAC members, the floor was opened to residents who wanted to share comments and suggestions, facilitated by Bob Morrison.
Community response began with vehement sentiment from members of the Uhuru Solidarity Movement, who testified regarding the African-American population's need to assert control over the community's financial future and called on the city to address gentrification in the area.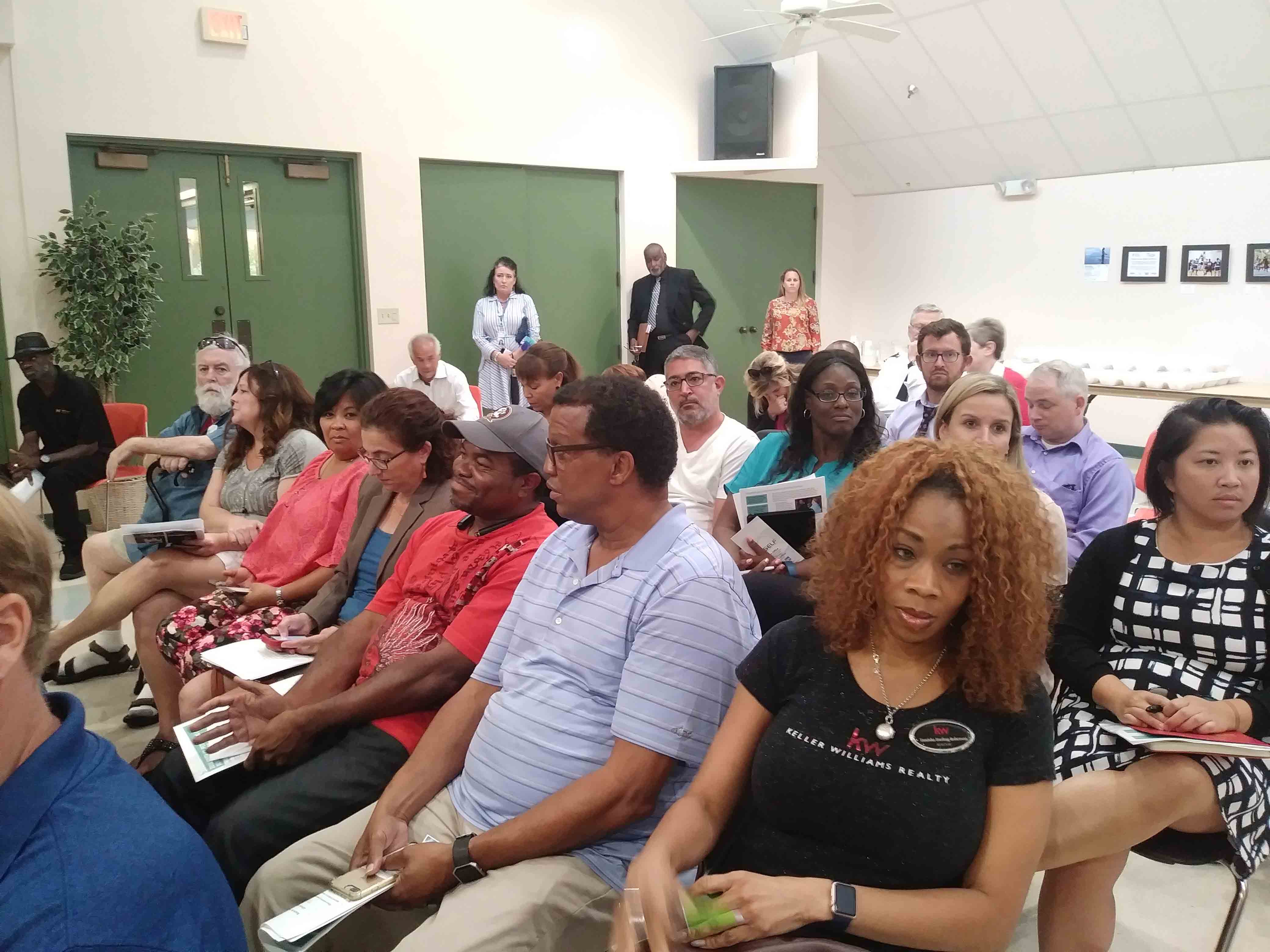 Daphne Lampley of

Operation PAR

agreed with members of the audience who spoke on the need to address daycare, which the assessment found wasn't well handled up to this point.
"I think you need to be able to support daycare providers with money to enhance their facilities and whatever they're providing for the children, as well as helping families be able to pay for the daycare," shared Lampley.
Jeffrey Shorter, founder and director of Second Chance Life Skills, articulated a concern regarding the city's unrealistic stipulations for what organizations needed to have in pocket before requesting help.
"In order to get $40,000, you have to bring $40,000 to the table. Now, even though you brought your $40,000, you have to spend $80,000 to even get that $40,000 from them. I think that's unfair. They don't make it easy to help nonprofits," asserted Shorter.
"I think the CRA should support cooperative business development," noted Judith Turner of

Florida Cooperative Empowered Economic Development Corp

(CEED). "The People's Budget Review and New Deal for St. Pete surveyed 6,000 people the first time and 1,400 people the second time and there was a clear voice that the community wants cooperative business development."
But according to Turner, the CRA so far has not supported those efforts. While Florida CEED contacted the CRA to apply for funds earlier in the year, Turner said she was never notified about any application process, and the funds were dispersed without the organization being able to apply.
"People are hungry for jobs and opportunities. Nothing happens until people get a job. How are they going to disperse the money? They must be open to new ideas," stated Faye Watson of Developing and Building Community Services.
Watson is also working with long-term educator Rohland Bryant on developing a

surveying field technician program

at the Public Works Academy housed at

Pinellas Technical College

(PTC). However, the CRA's report shows neither PTC nor

St. Petersburg College

received any money from the CRA for building workforce education programs.
Watson expressed a sentiment that many others in the room seemed to feel.
"So far, it's more of the same, more of the same, and that needs to change. We listen, and we listen, but they already seem to have their minds made up. There are too many conditions before funds can get to organizations; this community still gets crumbs."
For a full report on the summit, and information on the CRA, application periods and grants being offered, visit

stpete.org/CRA

.
To reach J.A. Jones, email jjones@theweeklychallenger.com.