BY FRANK DROUZAS, Staff Writer
ST. PETERSBURG — For artist Jonathan Madzinga, his entry into the art world came with an ultimatum when he was only six years old.
As a boy in Bulawayo, Zimbabwe, Africa, he was always curious about the art studio his father had in the house. A man who did many things to put food on the table like buying and selling cars, buying and selling vegetables and even painting houses, Madzinga's father turned to painting pictures whenever he wanted to escape from reality.
Son Jonathan was allowed into the art studio but only when his father was there too. When Madzinga's father left the house, he always took care to lock the room up.
But did that stop the inquisitive young boy from continually checking the door, just to make sure? Hardly. But it was always locked. One day when he turned the knob, he realized his father had forgotten to secure the studio. He excitedly pushed open the door and took his first real steps into the world of art.
"No one was watching me so I went in, closed the door and I tried to finish his unattended painting," Madzinga said with his laid back, lilting accent. "And I don't know what I'm doing, so the next thing I know the painting, which was almost finished, looked like an abstract painting!"
All out of canvas space but determined to make the most of this rare chance, Madzinga looked up and found what must have seemed to a small boy a whole universe of empty space to color.
"I thought, let me jump on the wall! And let me take the big brushes this time, so I can understand how paint works," he said, laughing.
So he began gleefully squeezing paint onto the palette and dipping in the brushes and applying generous strokes to the unadorned walls, in a hurry to slather as much of his art as he could.
"By the time my father had come back," Madzinga explained, "I had painted the whole studio, wherever I could reach. That got me in big trouble!"
One good turn deserves another, his father must have thought because just as his son was determined to leave his mark on the studio walls, the unamused parent was determined to leave a mark of his own on the budding artist's backside.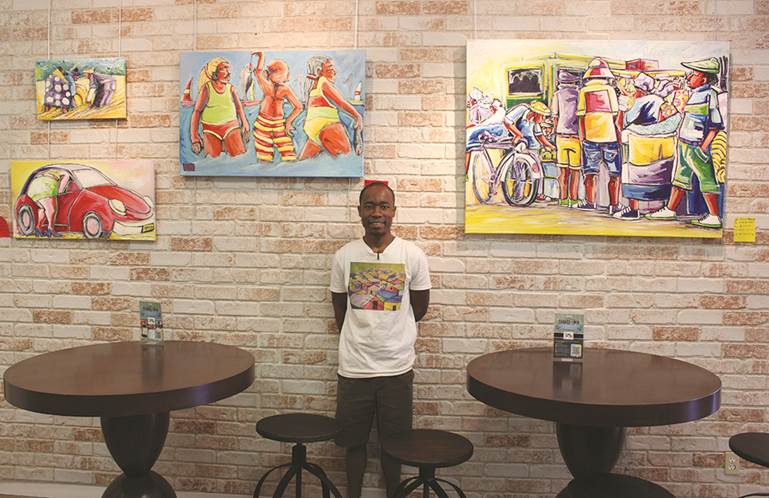 "Luckily enough, someone arrived just before I got the belt," Madzinga recalled. "So he sent me to the bedroom instead. I could hear them talking in the next room, and when they finished talking, this man said to my father, 'Why don't you give Jonathan an offer he can't refuse?'"
The offer was simple: if Jonathan didn't learn to paint or draw by the time of the next family reunion, everyone would take a turn giving him the belt.
"My father used to host big parties for his family and his workers," Madzinga remembered, "because in Africa everyone is your father and mother, so people who were not even related to me were going to smack me. That was my introduction to the art world!"
But Madzinga needed no further nudging, as he was already hooked. As a child he was exposed to the works of local artists, and every day after school he would go to the nearby gallery and spend hours drawing and painting, mostly with acrylics and oils.
By the time he finished high school, he attended a local art institute but left before finishing when he secured an artist-in-residence position at another gallery, where he got to spend time with many members of the art community.
From there he made the move to South Africa and ultimately a bigger move to Gold Coast, Australia, where he now resides. He attended the Gold Coast Art School and gives much credit to it for providing the ways and means for him to do what he loves.
His paintings typically portray everyday scenes like men fishing, women gossiping and children playing while some feature well-known locations such as Times Square and even St. Pete's Central Avenue. The pieces are visually striking with bold, vibrant brush strokes that are full of character, color and life.
"I've named my style of art Madzinga Art because this is me," he said confidently. "I have my mentors, like Monet, Picasso, Van Gogh, Da Vinci, and I've fused what they've taught us into one."
With the goal of expanding his market, he turned his artistic eye across the Pacific to America, and arrived in Arizona.
"I worked hard in Australia and I had an opportunity to get here," the 29 year old explained, "but things didn't work out as I had planned in Arizona. When I first arrived I made a lot of phone calls to galleries, over 250 calls a day, and I'd leave my name, number and website to anyone who sounded interested."
Two of those people were Rick Hamilton and Amy Pate, the husband and wife owners of Creative Soul Studio, an art gallery, coffee and wine bar at 2425 Central Ave. They were so impressed by Madzinga's stunningly unique style that they invited him to come to St. Pete.
His works hold many spots on the walls at the gallery, where Madzinga paints daily. Typically, it takes him two to four working days to begin and complete a painting, depending on its size. Using various brush strokes, he strives to give his work an energy and illusion of motion with what he calls the "language" of the brush.
"I try to make the painting flow," he said. "When you look at my paintings, there's movement. It looks like it's done in five minutes, but it's years of experience."
But he concedes that he still has much to absorb.
"I'm still learning, I'm still going through what every other artist goes through to learn every single day. Portraits are very, very tough. By the time I'm in my 60s I'll be a master, right now I'm still in grade five in portraiture," he quipped.
No matter what his subjects are, the process itself is a journey of sorts to Madzinga. He admits that he feels like he is transported when creating a world on the canvas.
"It's not like I hate reality but this takes me to my own planet," he said. "If I can use the word 'evolution,' I evolve to a different consciousness and there I get to see things which very few people can see. So I get to translate them onto the canvas so the viewer—the beholder—will get to experience that moment when I have finished."
Though he will go back home to Australia May 8, he looks forward to making a return trip to St. Pete in the fall.
"This has been an extraordinary time in my life," he mused about his time in Florida. "I've really enjoyed myself in St. Pete and I've made so many connections. Thank you so much to Creative Soul. It's been an amazing experience."
He encourages other artists to follow suit and get out there in the world to make themselves and their art known.
"Don't just think about your area, but the whole planet," Madzinga stressed. "If you think, one day I want to have my paintings in every singly continent of this planet, or music in every corner of this planet, or sculpture—whatever you do so long as you do it with your heart and focus on chasing your dream—you will be able to achieve it."
Before Madzinga makes his way back to Australia next week, stop by Creative Soul Studio located at 2425 Central Ave., St. Pete., have a cup of coffee or a glass of wine and chat with this amazing artist.
If you miss him this go around, log on to http://madzinga.com.au/ to view his art or contact him directly.