ST. PETERSBURG – The group exhibition entitled "d-railed," featuring graffiti model trains to commemorate the seventh anniversary of the SHINE® Mural Festival, will be hosted by d-gallerie on Friday, Oct. 22 at 6 p.m.
The annual SHINE® St. Petersburg Mural Festival illuminates the power of art in public spaces by revitalizing areas, inspiring dialogue, and uniting our community—while cultivating new standards of artistic excellence reflecting St. Petersburg's creative and vibrant spirit.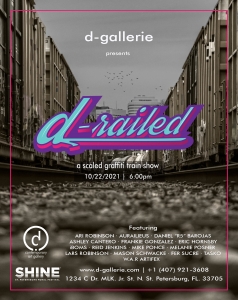 "d-railed" takes street art back to its roots, featuring artists using model trains as their medium to transport you back to late 20th-century metropolitan cities such as New York, Chicago and Los Angeles where train car graffiti was a prevalent part of street art and culture.
Each artist was asked to consider three themes when imagining their exhibition entries: Tampa Bay culture, their rendition of a classic train car wrapped in graffiti, and the artist's own personal stylistic elements.
Participating artists:
Aurailieus
Daniel "R5" Barojas
Ashley Cantero
Frankie Gonzalez
Eric Hornsby
iBOMS
Reid Jenkins
Mike Ponce
Melanie Posner
Lars Robinson
Mason Schwacke
Fer Sucre
Tasko
A.R. Artifex
d-gallerie will host one of two closing ceremonies for the festival on Friday, Oct. 22 from 6-9 p.m. | 1234 Dr. MLK. Jr. St. N. Unit C, St. Petersburg
Click here for more information.