BY DEXTER MCCREE, Feature Writer
ST. PETERSBURG – Davi Jones made a splash in the pool as a high school varsity swimming standout at Osceola High in 2015. She also swam competitively with the very accomplished St. Petersburg Aquatics team. Currently, she is a sophomore at Lenoir-Rhyne University in Hickory, N.C., actively competing as a multi-race swimmer.
What makes Jones' story so unique is her commitment to developing other young swimmers in south St. Petersburg, an area more known for little league football and basketball rather than for highly competitive swimming.
"This story shines a very hopeful and positive light on an often overlooked sector of south St. Petersburg," said her uncle Donnie Ali-McClendon. "It is an inspiring story, led by an inspirational young lady. A student, an athlete and a true community member, she is an African-American collegiate swimmer from south St. Petersburg who has helped to build an entire novel culture of swimming within a multi-cultural framework."
Jones coaches three swim teams at Lake Vista Recreation Center and St. Petersburg Aquatics that have performed spectacularly throughout Pinellas County. The teams are composed of south St. Pete swimmers, many of whom are the only ones in their families that know how to swim.
Moreover, there is a cadre of loyal parents and community members who support, travel with and actively participate with the swimmers. She sees herself as a mentor giving back to what was given to her. When the children she impacts smile, Jones can't help but beam herself.
"Davi is awesome. She's a great role model for the kids," said Destinee Lemos, a former coworker at Campbell Park Recreation Center's pool.
Lemos expressed how all the children looked up to her, and how great a coworker she was.
"She has a great sense of humor. She is funny and passionate about making a difference in the water," she said.
According to her mother, Donnika Jones, who is an assistant principal at Melrose Elementary, her daughter was a very energetic, four-month-old baby and she needed an activity to tucker her out. She signed them up for "mommy and me" swim classes at Lake Vista, and the rest is history.
The water brought about a calming effect and little Davi showed no fear. In fact, she enjoyed it! Jones continued swimming and became competitive at the age of four as part of the recreational program at the Childs Park pool with longtime aquatics coach Lynn Russ. She then continued on with the St. Petersburg Aquatics team.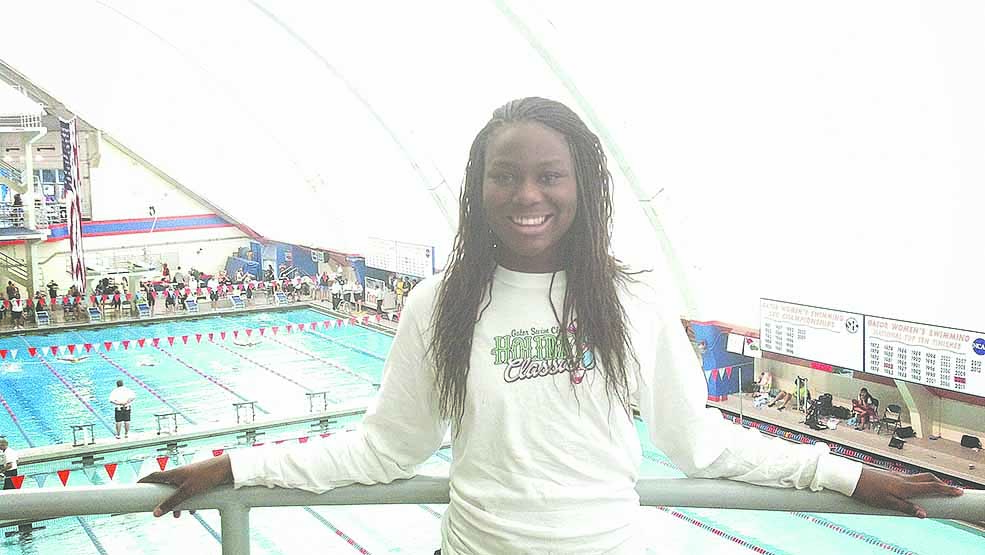 "Every child has a gift," said Jones' mother. "As parents and educators, we have to monitor their passions and foster their gifts. We then can watch them grow. As Davi's parents, we are proud of the hard work that she has put in. We see the best of who and what she is becoming."
Jones credits her water success before college to her humble beginnings with her mother and Coach Russ, then progressing to St. Petersburg Aquatics under the tutelage of Coach Fred Lewis. Now, taking over her development and shaping her at Lenoir-Rhyne is Coach Paul Schiffel.
After college, she sees herself helping children in the pool as a coach or in the classroom as a teacher. As long as the children are smiling, it doesn't really matter to her which job it is. She'll still be making a splash in the life of the youth that she's made a commitment to develop.
To reach Dexter McCree, email dmccree@theweeklychallenger.com