The Pinellas Eviction Diversion Program is an initiative of the Community Law Program designed to assist qualified tenants and landlords who have been financially affected by the COVID-19 pandemic.
BY MARK PARKER, Staff Writer
ST. PETERSBURG — Even with pandemic protections in place, 4,643 evictions have been filed in Pinellas County since April 2, 2020.
While the Biden administration has recently extended the eviction moratorium another 30 days, there will be no more enhanced eviction protections after July 31.
On June 24, the Community Development & Training Center held a Know Your Rights & Emergency Rental Assistance (ERA) town hall. Hosted by co-founder Brother John Muhammad, the town hall was designed to offer insight on how renters that have fallen behind can access resources to push them ahead.
"We wanted to bring in our partners and really provide information on what we can do to support tenants," said Muhammad.
While Muhammad listed the staggering number of evictions nationwide, William Kilgore of the St. Petersburg Tenants Union explained how this has affected Pinellas County. Kilgore said that of the 4,643 evictions in Pinellas County, 60 percent of evictions were filed by non-individual owners such as registered LLCs and property management companies.
"There's been kind of this myth that the so-called mom and pop landlords are suffering, and I'm sure there are cases of that, I'm sure that exists, but some of the most aggressive eviction filers have been in property management and corporations…," stated Kilgore.
Kilgore said that housing is a human right and a health issue in a pandemic. He added that since it's an election year in St. Pete, it's now a prime opportunity to pressure local leaders to "develop social housing" and "promote human rights over property rights."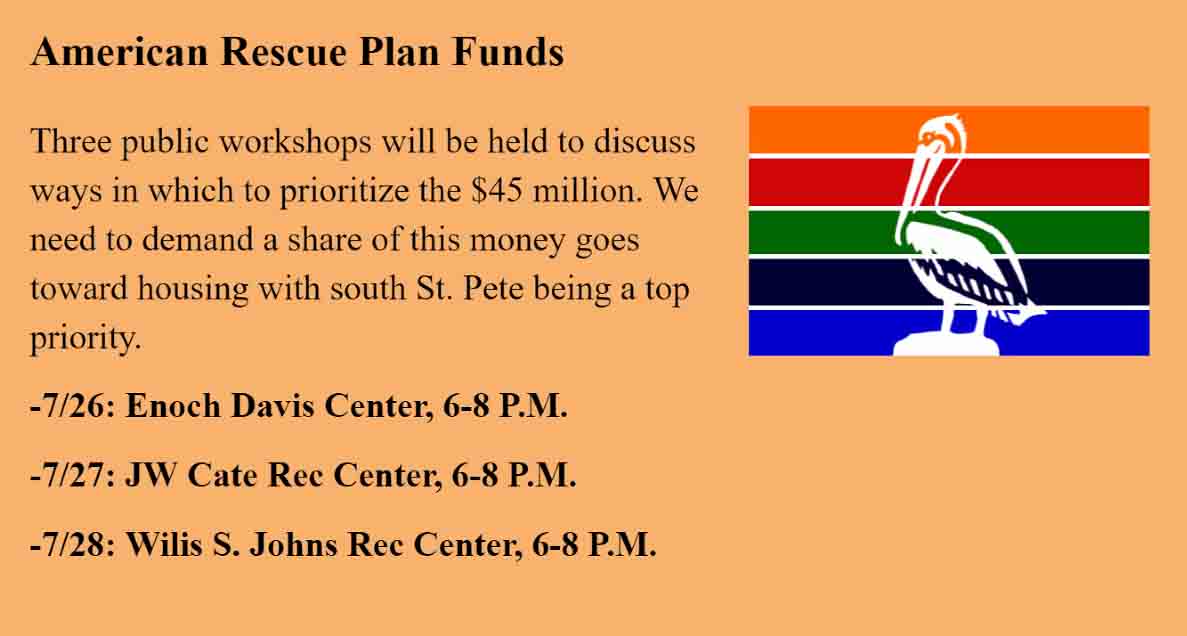 With St. Pete receiving $45 million in American Rescue Plan funds, Kilgore encourages citizens to demand a share of that money go towards housing – with south St. Pete having top priority. He also lists the next three workshops for community input towards that issue:
July 26: Enoch Davis Center, 6-8 p.m.
July 27: JW Cate Rec Center, 6-8 p.m.
July 28: Willis S. Johns Rec Center, 6-8 p.m.
Lastly, Kilgore points out that Blacks are being evicted at a higher rate on a national and local basis than their counterparts, with 33 percent of evictions coming from just three St. Petersburg zip codes, encompassing most of south St. Pete.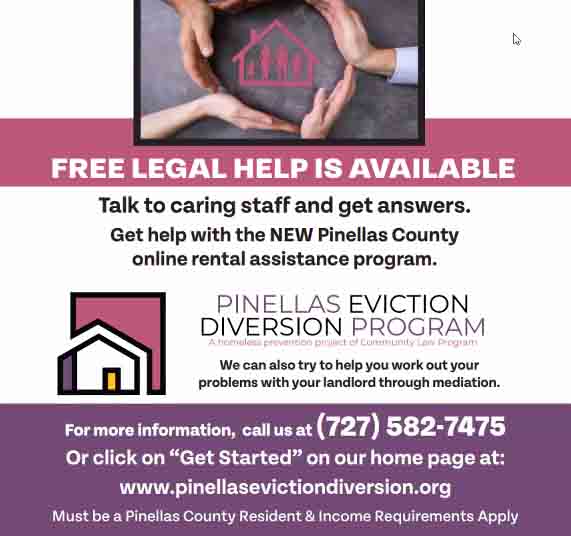 Attorney Kimberly Rogers, executive director of the Community Law Program, said her organization has been providing free legal help to tenants for years and "wholeheartedly agrees" with the portion of Kilgore's presentation stating that Blacks are disproportionately affected by evictions.
Rogers said that many people do not realize that there are phases to the eviction process, and the sooner that someone signs up for the Pinellas Eviction Diversion Program – which they will also assist with – the easier it will be for them to rectify the situation.
The main service Community Law Program provides is the opportunity to mediate in a virtual setting between the landlord and tenant to try and get the back rent paid before an eviction action is filed. If it is too late for that or the mediation is unsuccessful, they will provide litigation services if there has been an eviction filed.
In collaboration with the Homeless Leadership Alliance (HOA), the Community Law Program will help identify tenants that may need to move if the landlord isn't willing to work with them. They then will refer them to HOA to help find them a place to live.
One attendee asked if there were also services available for people that have fallen behind on their mortgage. Rogers said that while the ERA program does not assist homeowners, there are other opportunities out there.
Rogers said that calling 211 would be the best first step in finding those resources, and the Pinellas Opportunity Council can also point you in the right direction.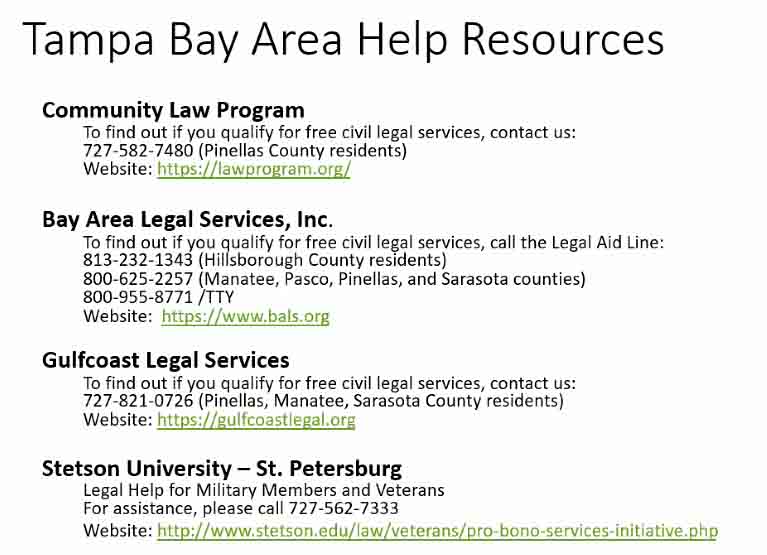 No matter what phase of the eviction process someone is in or the details of their situations, Rogers said the process takes time, and it is imperative that people reach out to her as soon as possible.
"Reach out to us and any other legal aid organizations as soon as you can," said Rogers. "Especially in light of the fact that there's been a 30-day extension, please reach out now. Don't wait for the wait until the moratorium has ended."
To learn more about the Pinellas Eviction Diversion program, please visit pinellasevictiondiversion.org, or call 727-582-7475.
To reach Mark Parker, email mparker@theweeklychallenger.com