L-R, Angela Rousson, Joanne Rainey and Thelma Bruce
BY RAVEN JOY SHONEL, Staff Writer
"It is the shoulders of our founders that we all stand on," declared mistress of ceremony and President of

St. Petersburg College Dr. Tonjua Williams

. "They stood up strong, proud and ready to step in shoes to help us walk the walk that we walk today."
The NCNW stands proudly on the shoulders of educator and activist Dr. Mary Jane McLeod Bethune, who founded the organization in 1935 to advocate for African-American women as they support their families and communities. She along with a countless number of women such as Dorothy Irene Height, Vivian Carter Mason and Dorothy Boulding Ferebee helped the organization thrive for more than eight decades.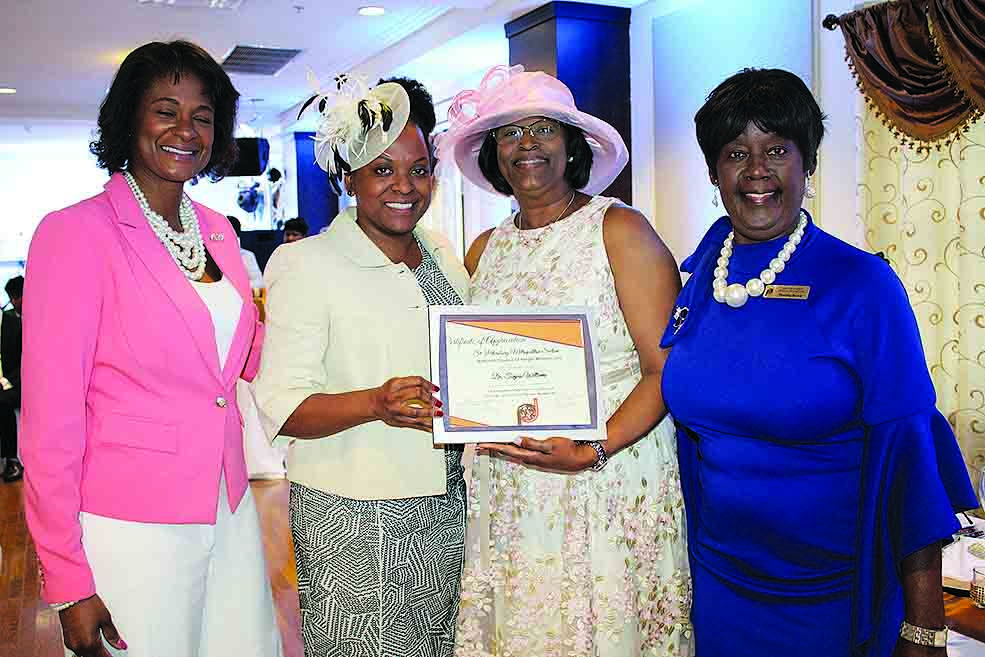 Locally, the St. Petersburg Metropolitan Section was organized in 1942 by Fannye Ayer Ponder. Dr. Bethune was close friends with the Ayer family and treated Fannye as a daughter. After returning from a trip to Washington, D.C., with Dr. Bethune, Ponder was inspired and started planting the seed for what would eventually become the local chapter by drawing together like-minded women such as O. B. McLin, Dorothy Blanton, Mary Louise McRae, Ethel Monroe Moten, Carolyn Stitts and Charlie Mae Grogran Newkirk.
"We are here to remember the shoulders that we stand on and to reboot our sense of pride…It's the girt; it's the grind; it's the movement; it's the passion; it's the vision," averred Williams.
Guest speaker and local historian Gwendolyn Reese was honored to share her memories Ponder and her enduring legacy. She is also the niece of McLin, one of the founding members of the St. Petersburg Metropolitan Section.
Growing up, Reese lived two doors down from the Ponders, which included Dr. James Maxie Ponder, wife Fannye, son Ernest, his wife Claire and their daughter Erna.
"I remember fondly the cherry bush hedges and the white wooden fence bordering the property," recalled Reese, who would remove the wooden slats from the Ponder's fence and feast on the sweet fruit.
Coming to the Sunshine City from her native Ocala with her husband in 1925, Ponder was an educator, organizer and a social and civic leader in St. Pete for more than 40 years.
A graduate of Florida A&M, Ponder taught at Gibbs High School for 20 years, organized the St. Petersburg Metropolitan Section of the NCNW as well as the City Federation of Colored Women's Clubs. She worked as a Republican committeewoman and helped build two community buildings in the black community: the Council House that bears her name and the Melrose Clubhouse.
Ponder directed her limitless energy toward the advancement of women on the local, state and national levels, working alongside such prominent activists as Dr. Bethune and First Lady of the United States Eleanor Roosevelt.
In 1972, in recognition of her accomplishments for more than 40 years of service to her community and the nation, then St. Pete Mayor Herman Goldner declared a day in June Fannye Ayer Ponder Day.
"She died nearly 36 years ago on May 31, 1982, but her legacy still lives. In fact, what she stood for, what she believed in and what she worked tirelessly to accomplish is exactly what is needed in such times as these," said Reese.
Ponder's legacy is that of someone who worked for women's rights, believed in equality and worked to change the lives of those less fortunate. She was politically astute, a patriotic and servant leader, once selling thousands of U.S. Savings Bonds during World War II, totaling $85,000 in one single night in Miami.
"A servant leader shares power, puts the needs of others first and helps people develop and perform as highly as possible," commented Reese.
Why must her legacy live on?
Many of the issues Ponder faced and worked to overcome still exist today. Progress has been made; however, there is still much work to be done.
Reese pointed out that Ponder fought for the advancement of women, yet the glass ceiling still exists.
"These hard-to-see informal barriers can make it difficult and sometimes impossible for women and people of color to get promotions, pay raises and further opportunities," she said, noting that women still make about 80 cents for every dollar a man earns, and the very existence of the Me Too movement shows "the magnitude of the problem of sexual assault and harassment especially in the workplace."
Ponder worked to eradicate racism, yet in 2018, Nazis and Klansmen march openly and proudly, and hate crimes appear to be on the rise. In fact, Reese stated, Florida has 50 documented hate groups followed by Texas with 36, Tennessee with 29 and Georgia with 28.
She believed in freedom and justice, however, police killings of people—especially black people—remain largely the same year to year, and the Justice Department has largely abdicated any federal responsibility in reducing brutality.
Citing startling statistics, Reese said the United States makes up only five percent of the world's population but accounts for 25 percent of the world's prisoners with the highest number being black and brown people, and the incarceration of women is growing twice as fast than that of men.
With the highest incarceration numbers in the world, the U.S. has nearly 7 million people incarcerated, on probation or parole.
Once a chairperson of the auxiliary to Mercy Hospital's Advisory Board, Ponder believed in equal access, yet an infant mortality crisis is tightening its grip on the most marginalized communities.
"Across many economic metrics — from evictions to generational wealth, to segregation —disparities are either stagnating or trending in the wrong direction," Reese stated.
Reese believes if Ponder were alive today, she would be a social justice warrior. She asked the room to consider some thought-provoking questions.
"Every single one of us wants to matter," she said. "We want our lives, our stories and the choices we made or didn't make to matter. How we live matters. How will you live? What will you be known for when you leave this earth? What will be your legacy?"