BY KARIN DAVIS-THOMPSON, Staff Writer
ST. PETERSBURG – Last Thursday, Deborah Figgs-Sanders made it official. Surrounded by family and friends on the steps of City Hall, the mother of three announced her candidacy for City Council District 5.
"After much prayer, mentoring, counseling and words of encouragement from many of you, it became clear that the change I wanted to see had to be the change that begins with me," Figgs-Sanders said.
During her announcement, she laid out her platform, which included youth empowerment, affordable housing, support for small businesses and fixing roads and the storm drainage system.
It was no surprise that programs for the city's youth would be a top priority for Figgs-Sanders. As the former executive director of the Childs Park YMCA, she was in charge of the organization's Y Achievers after school and summer academic programs, providing mentoring and educational assistance for elementary students.
"They are an untapped resource," she said. "Our downtown communities have thrived based on innovative ideas from the youth in our community. We have an obligation to preserve and expand their village."
She then went on to discuss the importance of affordable housing for the residents throughout the city and in her district.
"I believe that it is unacceptable to sit by and do nothing when you know our elders and the economically challenged are displaced from their homes," she said. "How can we stand by and watch the working poor lose housing because they cannot afford the average rental rate in our county?"
She went on to give statistics on the average price of rent in Tampa Bay, which she said is about $1,100 per month,  an impossibility for low-income families to pay with their minimum wage salary of only about $1,300 per month.
As her supporters cheered her on, Figgs-Sanders expressed her desire to provide new programs to help small, minority-owned and women-owned businesses. She said she believes that their success is vital to the success of the city.
"Small businesses revived Central Avenue, and I believe it can do the same for other corridors in my district," Figgs-Sanders said.
The final pledge from the candidate centered on the environment and her concern for the stormwater draining issues the city has struggled with in the past.
"We need to expedite the repair of our stormwater sewage system in order to ensure our residents that our water is safe," she said. "We need to focus on keeping our waterways pristine, those waterways that increase tourism to our city."
Figgs-Sanders said while she appreciates the work that has already been done on the issue, she believes that addressing the repairs quickly and utilizing the technology available will lead to a faster solution that the residents can have confidence in.
She's looking forward to working with the science programs at the local colleges and university to find available solutions to environmental issues like this one.
"I am confident that the next environmental discovery will be found in our own very backyard," she said.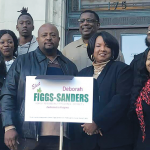 After laying out her platform and making a pledge to listen and work hard for the entire city, and especially the residents in District 5, Figgs-Sanders thanked her supporters and family, including her husband Daniel Sanders and their three sons, her mother and aunt.
Figgs-Sanders said she is grateful to everyone who has supported her and can't wait for the chance to enter City Hall as a member of the city council.
To reach Karin Davis-Thompson, email kdavis-thompson@theweeklychallenger.com