A Black psychologist's call to action addressing the trauma of racism, murder, injustice and death in America
By April M. Jackson-James, Ph.D., Licensed Psychologist
In the previous article, I mentioned the need for a movement to treat our community's trauma. We are asking you to be a part of this initiative — this coming together to heal. We are launching a pilot program in Tampa Bay that we expect to become a model for the rest of the nation.
Specifically, the movement has seven pillars of expanding mental health care access in our community:
1. You gotta learn
This means that we must increase the availability of "culturally competent," "trauma-informed" counselors in Tampa Bay. We need more. We need our graduate school training programs to produce more, and we need our professionals to learn these skills as continuing education. This will require training and retraining. This will likely require a mandate.
2. Stop forcing families to triage their mental health care
Ensuring that our community members have a way to pay for trauma care is very important. Mental health care is expensive. Our public health system is overwhelmed; our private providers have the same expenses with lower and lower reimbursement rates and higher and higher student loans.
As a community, we must develop creative ways to make sure that what is needed to effect real change can actually be paid for in the real world. This includes self-pay, sliding-fee scales, private insurance, Medicaid, Medicare, and private funds available to those who cannot access, lose access to, or qualify for any of the above.
3. Trauma is not tidy; it lashes out everywhere
Increasing awareness and referrals in various venues including but not limited to private practices, medical practices for adults and youth, public mental health, substance abuse programs, public school, churches, juvenile justice, adult corrections, and community member police interactions are absolutely necessary.
If everyone does not know trauma when they see it, then it still will not be effectively assessed, appropriate referrals will still not be made, and poor treatment outcomes, health disparities, and deaths will continue into our future as well as being our present fate.
4. Hey, doctor/counselor, this is on you
Once the referrals begin, in order to keep and effectively reach patients in this climate of distrust, we need providers who are willing to break through the difficulties presented by their clients and patients.
This means not using the word "resistant" or the term "non-compliant" about a patient or client, but instead taking personal and professional responsibility for engaging the population of patients and clients that obviously need care but do not yet trust us enough to seek it out.
These patients may not be friendly, they likely will not like or trust us upfront, they do not want to be labeled, and they do not believe that the mental health community and frequently the medical community can or wants to help them. So what? Be willing to prove yourself.
5. It is your responsibility, but you are not alone
Learning the skills to engage individuals fighting through trauma is not an easy endeavor. It may not even be readily available in the medical, psychological, or counseling world most of us know about. I am proposing that we make it more available, ubiquitous even.
Everyone in this struggle needs to learn how to overcome their personal biases and breakthrough their patient's mistrust, anger, rolling disclosure and white coat syndrome. That means that our fields must prioritize teaching trainees, physicians, and counselors evidenced-based, effective methods for engaging this population of patients and clients.
As a community of professionals, we can seek knowledge from various successful models. For example, Multi-System Family Therapy models such as Multidimensional Family Therapy and Functional Family Therapy to engage our patients, make the doctor-patient relationship primary and stop blaming the victim.
Let us show the traumatized patient that slowly over time, we care enough to stick with them and help them heal.
6. Guess who else has trauma
Providers, we know you are drained. Our community must create safe spaces and places of support for the providers of trauma care. This includes, but is not limited to, creating time and capacity for physicians, psychologists, counselors, clergy, teachers, reporters, police, and various other criminal justice professionals to receive unbiased, trauma-informed care themselves. Witnessing the repeated effects of trauma is traumatizing.
7. Mental health pain matters
Finally, as a community, we must ensure that we are making a consistent and public push to eliminate the significant STIGMA associated with needing to access mental health care.
Not only won't people of color, those struggling with internalized racist believes, those struggling with poverty, and those freezing in the face of overwhelming social injustice not seek care if we continue to pretend that there is a difference between mental health care and physical health care, but our providers and assessors of mental health care will also avoid treatment if their emotional reactions to on-going trauma exposure are deemed to be "crazy" or somehow out of the norm.
Our community has been traumatized. Black, white, Latin, Asian, and everyone in between carries America's traumatizing DNA.
We have a modest list of counselors ready to answer the call for our Tampa Bay pilot program. We want to continue adding to that list across Tampa Bay, and in the time of Coronavirus and telehealth technology, across Florida even.
If you know a good provider, send their contact information to Dominique@betteronpurpose.com.
We are asking you to help us by becoming a part of the healing process. When you get our call, and we ask you to become an active stakeholder and lend your expertise in your area of greatness to this "movement of care," will you answer YES? If so, feel free to call us even before we call you.
We are raising funds to help individuals and families pay for the care they need while our counselors are donating their time for assessing the needs of those who call. Once we complete our local pilot program, and determine the effectiveness of these efforts, look for us in a community near you.
This is a call to action. Together we can break the stigma of trauma treatment, address the needs of those traumatized by racial violence, and expand the access to care across our nation.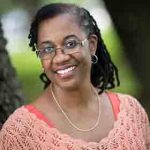 Founder of the Metamorphosis Life Revitalizing Center in Tampa, Dr. April M. Jackson-James is a highly-skilled, licensed psychologist with a passion for God, family, and family therapy. For more information, visit betteronpurpose.com.