L-R (seated), Jayvia Martin, Julianna Wardell, Michael Baffield, Karin McMillian, Natalie Fort, Kalla Priester, Miles Richardson and Sebastian Hasbun with parents standing behind and supporting them.
BY ALLEN A. BUCHANAN, Staff Writer
ST. PETERSBURG — An estimated 700 Tampa Bay area high school students and parents packed the Crisp Gymnasium at

Shorecrest Preparatory School

Sunday, Sept. 16 to speak with guidance counselors from 32 historically black colleges and universities (HBCU) from around the United States. The event was sponsored by the

Suncoast Chapter Teens of Jack and Jill of America

and Shorecrest.
The event kicked off in high-stepping fashion with the robust horns and spirited drums of the Lakewood High School marching band filing in one-by-one into the gymnasium. The facility filled rapidly as college and university representatives manned their tables where students were already waiting to ask questions.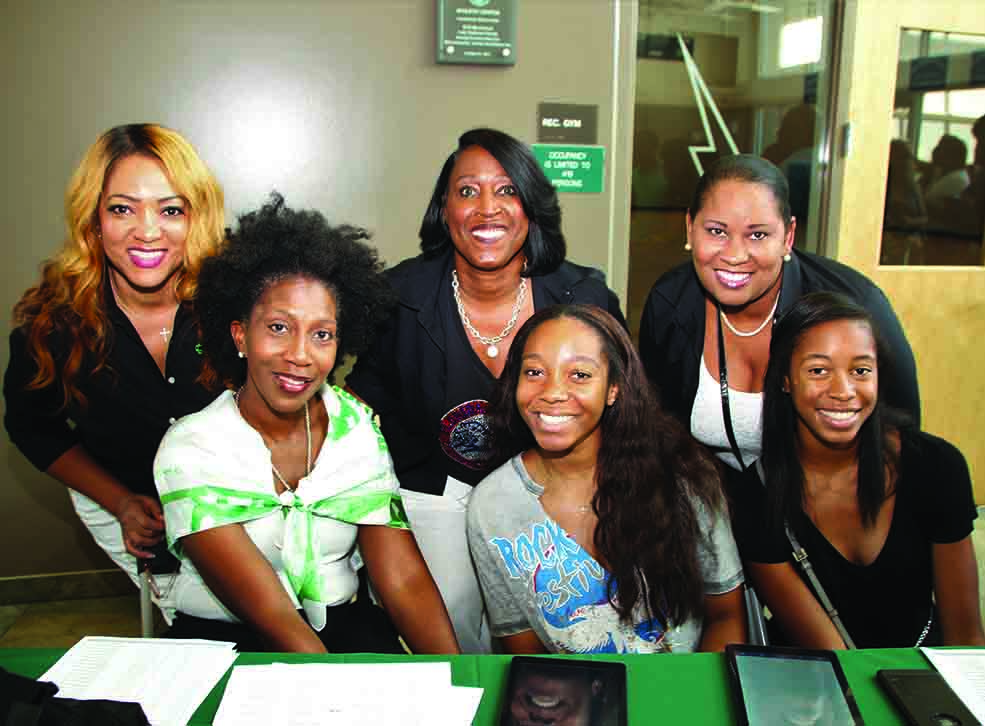 Many local professionals who have worked with area youths have first-hand HBCU experience. As a result, they have affirmed their purpose in life as scholars, community leaders and spiritual cheerleaders.
HBCUs such as

Wiley

,

Morehouse

,

Spelman

,

Howard

,

FAMU

and

Bethune-Cookman

were just a few schools on hand to recruit these top-notch scholars.
Spelman alum Dr. Kimberly Griffey Jackson praised thoroughly enjoyed her time away in college.
"HBCUs give our kids more inspiration that they cannot get from any other environment," said Jackson, who got more out of the HBCU experience than an education, she met her husband at Morehouse College.
Inspiration breeds scholarship and a hunger to contribute to lifting communities to a higher level of existence. Lifting up communities enriches the spirit of life, and it is that kind of nurturing that solidifies personal relationships that form unbreakable bonds right on a college campus.
Dr. Jackson's experience at Spelman solidified her path to career excellence, love of community and spiritual strength to stay the course and empower others.
For the students who attended the recruitment fair, they are at one of the most critical intersections in their young lives where they must decide which scholastic highway will take them to the academic success that they need to begin a fulfilling career.
This past Monday, eight Pinellas County high school students that attended the recruitment fair met up at Panera Bread on Fourth Street North to reflect on what they learned. Jack and Jill youth leaders Crystal Pruitt and Sonia King were responsible for inviting the young adults and their parents to the informal meeting.
The overarching discussion focused on three important ideas that HBCUs hold in high esteem: Scholarship, community and spirituality.
Four of the students want to enter the medical field after they complete college. Tarpon Springs High freshmen Jayvia Martin said that she would like to become an anesthesiologist.
"I found out that they [can] make more than what the doctor's make," said Jayvia, who has already started researching what the job entails.
According to the website Payscale, which conducts salary research, the average annual salary of a beginning anesthesiologist could start at approximately $240,000.00.
Countryside High School junior Julianna Wardell is also interested in pursuing a medical career, but she has not zeroed in on a particular field yet. Nevertheless, Julianna said that she is exploring courses that could eventually lead her to a career.
"I'd like to travel and learn about new diseases, do research and learn how to stop them," said Julianna.
Some young people are drawn to a career because they have been on the receiving end of what problem that career solved. Shorecrest senior Natalie Fort's passion for becoming an orthopedic surgeon grew out of her personal experience with scoliosis, or curvature of the spine.
"I was about eight or nine or ten, and I had to go see someone about it," said Natalie.
That someone was an orthopedic surgeon, and as a result of a successful operation to correct the curvature in her back, her passion for becoming an orthopedic surgeon still burns.
"I haven't done much internet research on my career because I really didn't have to because it kinda runs in my family," said Boca Ciega senior Miles Richardson, whose father, uncle and cousin are attorneys.
"So I just ask them a lot of questions about what they had to do to get to where they are, and I watch a lot of 'Law and Order' too."
Miles' wide smile revealed his acceptance and pride to carry on the family tradition of being guardians of justice. "And they won't let me veer off-track, really!" Miles chuckled.
Scholarship plus a community of like-minded individuals working together can breed success, according to Shorecrest Preparatory sophomore Sebastian Hasban.
"I thank my dad who is friends with a lot of people in information, so just talking to them helps me," said Sebastian, whose dream job is to become a chief information officer. He firmly believes that you are who you surround yourself with.
Lake Weir Marion County senior Jalisa Ricketts probably never imagined what was in store for her at the college fair. Because she accentuated scholarship, embodied community and illuminated spirituality, she was accepted to attend Florida Memorial University in Miami Gardens on the spot.
Part two of this story will focus on what happens when the powerful influences of community building and spirituality lock arms as demonstrated by HBCU alumni who rewrote the social contract for African Americans and other suppressed ethnic groups in America.
For more information about the Jack and Jill of America and Shorecrest Preparatory School annual HBCUs College Fair, you can contact Crystal L. Pruitt at (727) 637-8738 or email her at CSPRUITT@msn.com.
To reach Allen Buchanan, email abuchanan@theweeklychallenger.com