Senator Crist held a luncheon for pastors to discuss hot-button issues in the black community on Sept. 17.
BY RAVEN JOY SHONEL, Staff Writer
ST. PETERSBURG – Senator Charlie Crist met with local pastors to encourage them to get souls to the polls. Listening to and discussing issues on voting restoration rights, affordable housing and education, he stressed voter participation is a must in this mid-term election.
"Each of you have a big following; people look to you for guidance and comfort and insurance and kindness and compassion," Crist said.
Held at the Enoch Davis Center Monday, Sept. 17, the purpose of the meeting was to brainstorm and have a healthy dialogue on hot-button issues, and restoration of rights rose to the top.
On the Florida ballot this election is a constitutional amendment to automatically restore the rights to former felons with the exception of murderers or those convicted of felony sex crimes. If Amendment 4 passes, these rights will be embedded in the constitution of the state so that the legislature cannot take it away without amending the constitution.
 "It's on all of us to vote," he said, noting that when he was governor, more than 155,000 people got their rights restored under an executive order he signed. However, when Rick Scott took office, he reversed the order.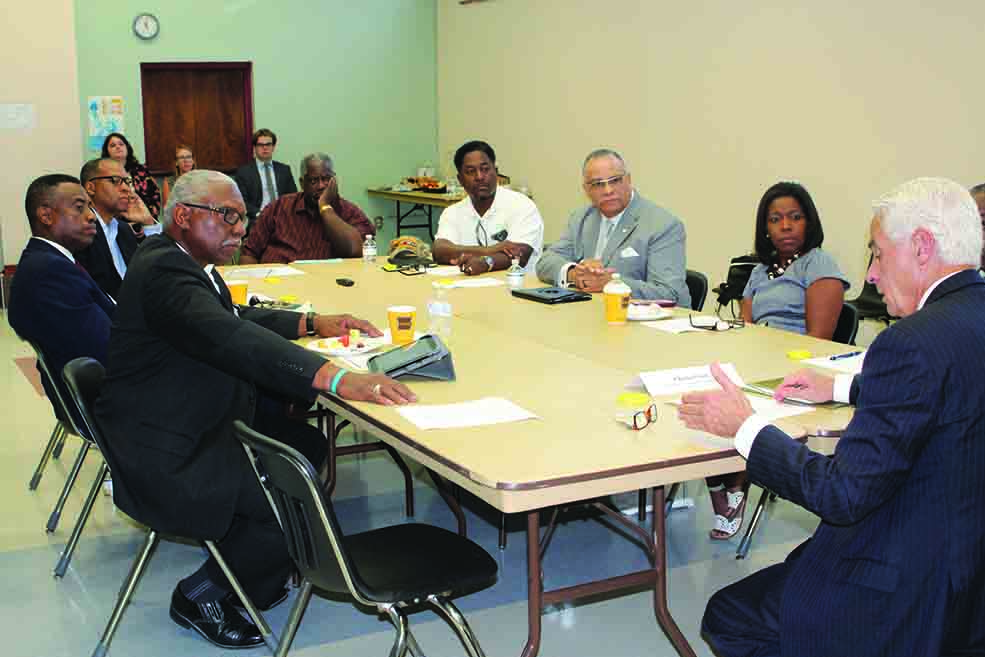 "That's why the constitution is so important so that it isn't left to the whims of every new administration that comes along. Its bedrock; it's in there forever," he said.
Rev. Clearance Williams, senior pastor of Greater Mt. Zion AME, believes that many voters are not competent on the issues and feels that as pastors they need to be in a position to make voters more aware of ballot amendments and candidates.
This year's ballot is long, and both Crist and Williams feel that is deliberate so voters will either not get through the whole ballot or will be confused on the issues.
"The way it's worded becomes very convoluted so that no means yes and yes means no," stated Williams.
With Andrew Gillum being the first African-American gubernatorial nominee in the state of Florida, Rev. Frank Peterman, senior pastor of The Rock of Jesus Missionary Baptist Church, did not mince his words when it came to energizing black voters.
"You say you have your first black candidate, come out and vote for him," Peterman said. "If we go out and say it and make it very clear, that's how we get African-American voters excited; otherwise it's apathy."
Williams believes Gillum is the candidate to not only energize the Democratic base but to also garner the Independent vote.
"There are a lot of Independent voters and if he captures that group that Obama won twice, we can really change the lay of the land in Tallahassee."
Rev. J.C. Pritchett of Faith Church is looking ahead to the 2020 election. He said by restoring the rights of the roughly 1.4 million people who are currently disenfranchised back on the voting role in 2020, we will help choose the next president.
On the issue of drugs in the African-American community, Rev. Basha Jordan wanted to know what could be done about the monies that have been appropriated to the opioid epidemic reaching minority communities. He said black people have been dying in untold numbers for years from cocaine, heroin and alcohol, but when whites starting dying of opioid addiction, there are now federal funds available.
Since these funds are divvied out in federal grants, Crist said he and another senator are looking into making sure that there is a separate allocation of federal funds that will be appropriated to the African-American community that won't require "some fancy grant writing ability."
But Williams said the symptom and not the problem is being treating. He said drugs are reaching communities by legal means such as pain management clinics, which are being funded by people whose sole purpose is to make money off an addicted public.
"Medicare and Medicaid are running the bulk of the money that is being spent. The money that is being spent is legal money that was intended for people with real illness, but because of these quirks in the legislative system, you have legal drug dealers hiding behind pain management signs."
Jordan added that drugs have become a means of economic preservation in the African-American community because black people are disproportionately incarcerated over drug offenses and are unable to find work once released.
"It's amazing how former felons can't get jobs; however, the federal government is making millions of dollars on the backs of the incarcerated. If they can work while incarcerated, they need to be provided jobs when they are not incarcerated."
Crist said the answer to that is voting for Amendment 4.
"This is how you get people the opportunity to have gainful employment and take away the economic problem we are dealing with of addiction because they have a job that is legit."
The Governor's Clemency Board studies have shown that recidivism rates drop about 30 percent if a person has their voting rights restored. Another study shows that with a lower recidivism rate, costs of incarceration go down, employment goes up and that the positive impact on the Florida economy is $365 million per year.
To learn more about the 2018 Constitutional Amendments on the ballot this Nov., log on to www.lwvfl.org/amendments/.
Early voting begins Monday, Oct. 22 – Sunday, Nov. 4. Deadline to request a mail-in ballot is by 5 p.m. on Oct. 31. Log on to www.votepinellas.com to find your polling place.