Bay News 9 reporter/anchor, Erica Riggins, had only intended on adopting one child but fell in love with three siblings. Riggins said she was "blessed" to have her three children come into her life.
MARK PARKER, Staff Writer
ST. PETERSBURG — According to One Church One Child of Florida, on any given day, there are around 750 children in foster care in Florida; of those, more than 40 percent are African American, while making up only 17 percent of the state's population.
Patsy Stills, executive director for Heart Gallery of Pinellas & Pasco, said these numbers hold true locally. It is even worse if you are a teenager. Out of the last 10 Heart Gallery Children adopted, just three were teens.
Stills said that coming from a big family with nine siblings gave her a passion for helping those growing up without that same sense of companionship.
"I just think how it would be awful if I was a 20-year-old kid and I had no family to go home to for the holidays," said Stills. "So that's my personal 'why.'"
Heart Gallery began in 2001 when a professional photographer and adoption recruiter in New Mexico got the idea to use inspiring portraits of older children and sibling groups to help aid in their chances of finding a forever family. It quickly spread and became a national organization to pool resources, share best practices, seek grants, and create corporate partnerships.
Stills said that the children referred to Heart Gallery have been in foster care for a while, many of them from two to five years. This is also after efforts to find a natural connection to adopt them have been exhausted. She said that most kids get put into temporary foster care and then return to their parents after meeting the court's requirements.
While temporary foster care is supposed to last for 12 months or less, sometimes a judge will give the parents up to two years to get their life together. Sometimes that is still not enough.
"Substance abuse with parents and domestic violence are the hardest things to kind of come back and help the families with to get their children back," said Stills, noting that many times they wind up getting their rights terminated as parents.
Once those children get referred to Heart Gallery, they have their pictures taken with local professional photographers who donate their time and talent. The photos are displayed throughout galleries in the community and on their website and social media sites. Small biographies of the children are written, and Stills said that she likes to get a video of the kids so that their personalities can better shine through.
"They're our kids; they're our community," remarked Stills. "They need a home, and they don't have one. It's not their fault they're in foster care, and they're living in foster care until they are adopted or age-out."
Stills said that she has a particular issue watching teenagers of color linger in foster care and that Heart Gallery does not get a lot of interest or inquiries into these children. She believes there is a general stigma surrounding teens that they are hard to manage, and when a child is traumatized, they will often put up a wall or test potential parents to see if they will just let them go or leave them.
At the end of the day, she said they are mainly just teens being teens in the same way everyone once was. Stills adds that once they find their forever homes, parents are surprised at how well they were able to work through it and are happy they did.
"They want to spend time with you; they want that parent figure," said Stills. "They want to have that connection when they go off to college; they want that advice."
"I just don't want to see any more kids age out of foster care with no family to call home."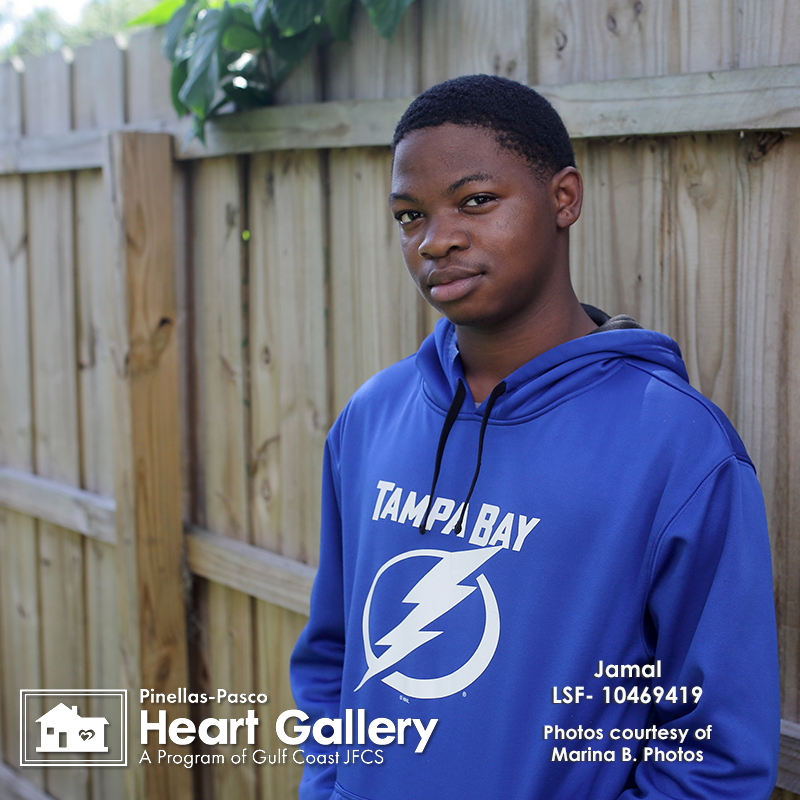 Help Jamal find a forever home
Jamal, 17, is in the 10th grade and describes himself as very chill. That is also what he is looking for in a family – to just be chill.
He thinks the best family would be a mom and dad, with an older sister and younger brother. He said that having an older sister seems normal, and he has always wanted to be a big brother. A single mom would be ok too, as Jamal would embrace being the man of the house.
Any race or ethnicity is fine, and he does not mind doing chores. He would like a family that will hang out with him – play video games, shoot hoops with, or even just a game of monopoly would make him happy.
Adopting a child under 18 is state-sponsored, meaning that potential parents do not have to pay for training, certifications, background checks, or court costs up to $1,000. Their college education is also paid for, potentially saving their forever families tens of thousands of dollars. If someone adopts a child over 16 years old, their health insurance is covered for a more extended period than someone younger.
Stills said that the state tries to set these kids up for success, but success is fleeting when they do not have a family to support them as they make their way into adulthood.
On average, Heart Gallery also features four of five sets of siblings. They present their own set of challenges, as they can be in different age groups, and when many people consider adopting, they do not anticipate bringing home more than one child.
These children want and need to be adopted together, as losing the only family they still have would be devastating for them.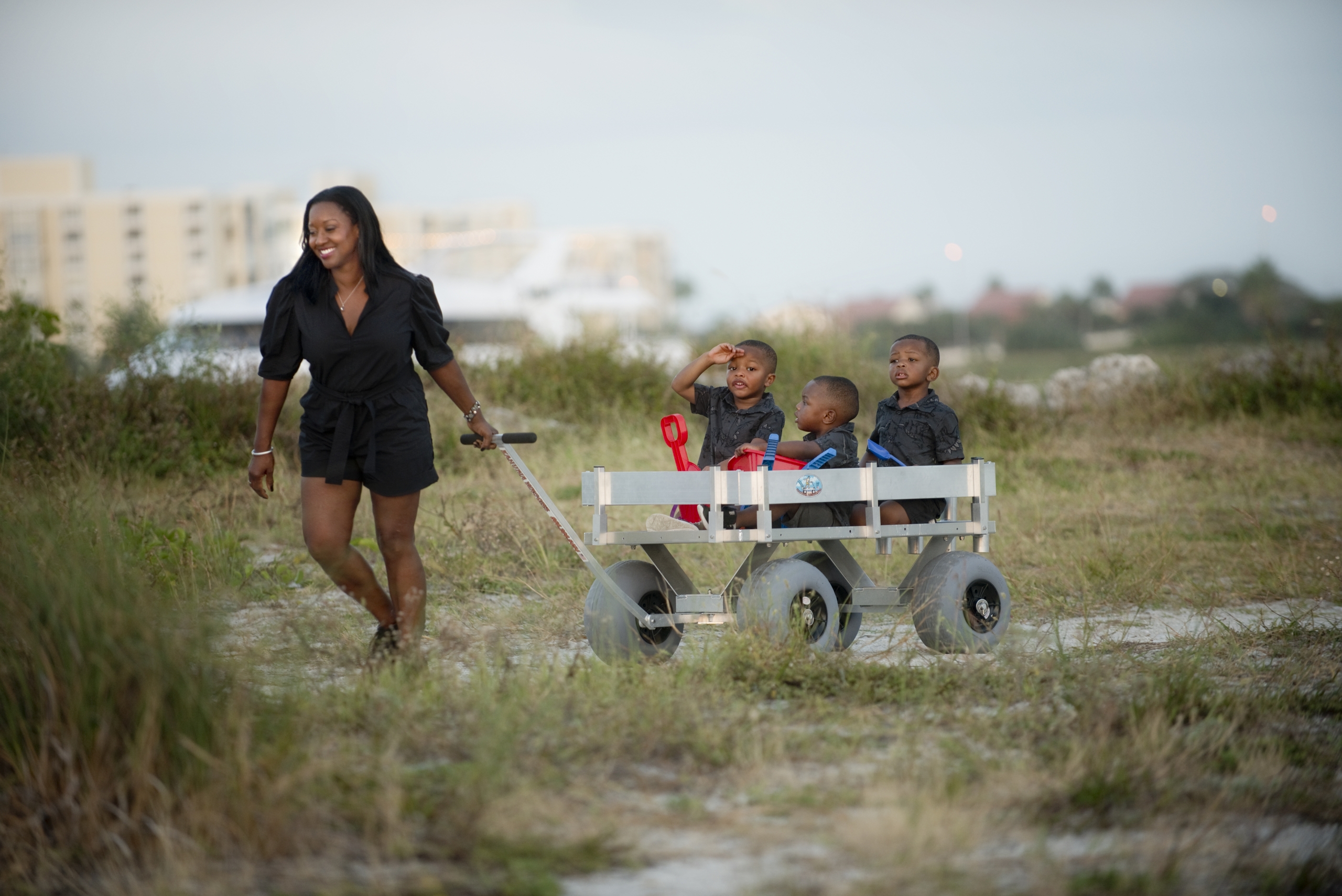 Bay News 9 reporter/anchor Erica Riggins is a recent success story.
As a single mother, when she started the adoption process, Riggins had only intended on adopting one child but fell in love with three siblings. The boys, ages 3, 4, and 5, were adopted last June. They recently went on their first airplane ride to Texas to visit extended members of their forever family.
"If a single mom…who works full-time can do it, anyone can do it," said Stills. "She found room in her heart and home for these children, and their lives are forever changed because of it."
Just as Stills keeps in touch with and offers support to Riggins, all the families who adopt through Heart Gallery are provided with an extensive network of people to help along the way. Corporate sponsorships also lend a helping hand, such as the Tampa Bay Rays. A special suite is dedicated to these adopted families at Tropicana Field, which provides them with a free, fun night out at a baseball game.
The process for adopting a child through Heart Gallery takes time so case managers can make sure the family and child are a good match for each other. After all, the idea is to find them a forever home.
Once someone shows interest in a child from the website, more background information is given. Case managers will then ask both the child and potential parent if they would like to meet for a short introduction. From there, it goes to supervised visits, unsupervised visits, and then to overnight stays. Finally, there is a 90 day period where they will live together in the same house.
"The last thing we want to see is someone make a quick decision, and it wasn't a good one," said Stills.
Most of all, Stills wants people to visit the website, see the kids, read their biographies, and see their lives without any preconceived notions of what it means to adopt a teenager, a kid with special needs, or a child of a different race.
"We want people to look and say, 'Hey, the state pays for everything.' It costs you your heart and a little bit of your soul," said Stills with a chuckle. "But it's like anything else worth loving, you put your heart and soul into it, and you get back way more than you put in."
The Heart Gallery is always looking for professional photographers and videographers to donate their time and service. Businesses and high-traffic locations can also help by hosting a gallery, asking representatives to speak at peer and civic groups, and helping to raise money and spread the word that families are needed for the community's most vulnerable children.
For more information on adoption or to aid in Heart Gallery's mission, please visit HeartGalleryKids.org.
To reach Mark Parker, email mparker@theweeklychallenger.com