BY RAVEN JOY SHONEL, Staff Writer
ST. PETERSBURG – "I can't think of a better way to recognize her distinguish service than to name a road so many of us travel on in her honor," stated Mayor Rick Kriseman as he helped unveil I-375 in Pinellas County as C. Bette Wimbish Highway Sunday, Oct. 29.
As the new sign was revealed alongside the historic Coliseum, Mrs. Wimbish's friends, family, sorority sisters and elected officials celebrated her for blazing new trails for women and African Americans all across Florida.
Senator Darryl Rouson said he stopped counting at 17 when naming buildings in St. Petersburg named after African-American men, but could only count three named after black women.
Rouson championed the renaming of I-375 to the C. Bette Wimbish Highway, which is the portion of I-75 that runs north of Tropicana Field and ends down by the Coliseum.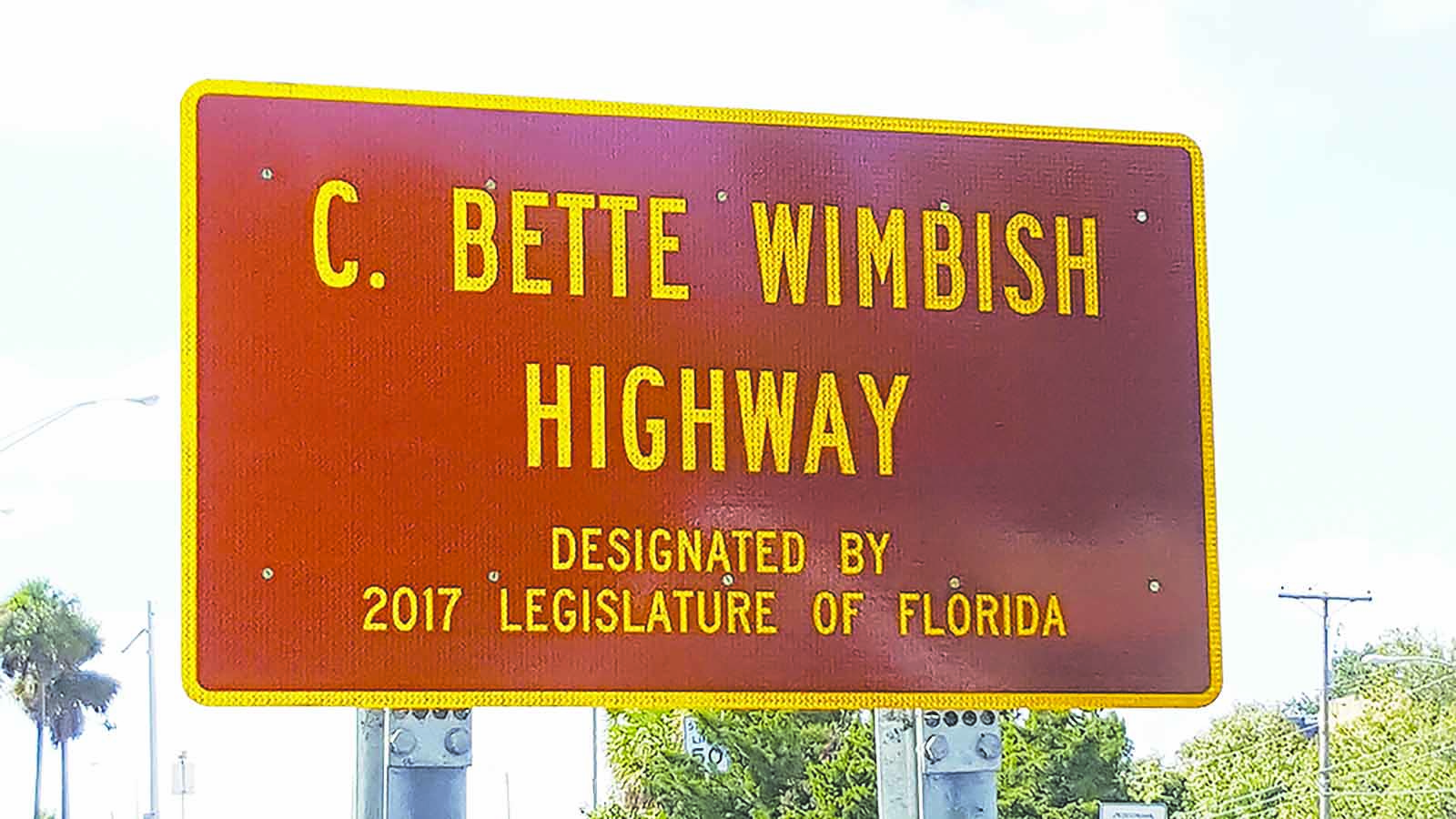 "My black women, we will catch up to the black men," he exclaimed. "We know that women have played significant roles and contributed to the improvement of this community, so we will continue to find ways and honor those contributions."
Kriseman said that even if a highway was not being named after her, he thinks it's fair to say that she certainly built her own road, "a road that had its own twists and potholes before it straighten out."
Mrs. Wimbish was the first African American to hold modern elected office in the Tampa Bay area, the first black female lawyer in Pinellas County, the third in the state of Florida and the first black vice mayor for the City of St. Petersburg. She was truly a trailblazer.
Carrie Elizabeth Davis was born in Perry in 1924. She was a very intelligent and athletic student who matriculated from Booker T. Washington High School in Tampa into Florida Agricultural and Mechanical College for Negroes, now known as Florida Agricultural and Mechanical University (FAMU) at age 16.
She had hopes of becoming a doctor and applied to the University of Pennsylvania for medical school. With not enough money for tuition, she relocated back to Tampa.
While at FAMU, she met her future husband and aspiring physician Ralph Wimbish. The two were wed in 1945 and moved St. Pete in 1953 after their Tampa home they built in a white neighborhood was burned down the night before they were to move in.
Dr. Wimbish set up a medical office on 16th Street South, and in 1965 Mrs. Wimbish enrolled in law school at FAMU after being denied entry into Stetson University because of her race. With her children in tow, she finished her studies and two weeks before graduation, her husband died of a heart attack at age 45.
A week later, Mrs. Wimbish returned to law school and passed her exams. She turned her late husband's medical office into a law office and began her career in law.
Together, the Wimbishs were a power couple. She was by his side when Dr. Wimbish took on Major League Baseball for hotel discrimination. The two, along with other community leaders, opened their home to board players during spring training because Jim Crow laws prohibited black players from staying in hotels with the rest of the team.
The Wimbishs also housed the Freedom Riders in 1961 and were involved in numerous attempts to desegregate schools, beaches, golf courses and lunch counters.
In 1969, she won the city council seat, but racism made the job frustrating. Just about every initiative she made was blocked.  Finally, in 1971 new blood entered the council and she was made vice mayor.
In 1973, Mrs. Wimbish was appointed the deputy secretary of commerce by then Gov. Reubin Askew, where she became the second-highest ranking woman in Florida government. Before retiring in 2003, she was the local counsel for the Florida Department of Social Services.
Law school classmate and former Senator Arthenia Joyner said Mrs. Wimbish "epitomized grace."
In her 20s while Mrs. Wimbish was in her 40s, Joyner said she sat at her feet every day and learned from her.
"That is one of the legacies that she left; it's so important for us to mentor those who come behind us…That is what she did for me," said Joyner, who feels blessed because God gave her the opportunity to attend FAMU at the same time as Mrs. Wimbish.
Evelyn Cutler, an attorney at the oldest continuing law practice in the city, applied to Stetson the same week as Mrs. Wimbish.
"They took this white woman and discarded her," said Cutler.
Three years later, Johnnie Ruth Clarke called Cutler and asked her to tutor Mrs. Wimbish for the bar exam.
"I found out that separate was not equal, not even near equal."
Cutler said there was a great discrepancy in the information she received at Stetson and the information Mrs. Wimbish received at FAMU.
"She'd come to my house, and all summer, I poured into her what I perceived what was missing, and she passed," stated Cutler. "It's a blessing that I could be a part of her story."
Granddaughter Jennifer Griffin gave a glimpse into Mr. Wimbish's life as a grandmother. She said Mrs. Wimbish was the outdoors type. She owned a camper, loved to fish, and would take the grandchildren tubing and crabbing.
Griffin said her grandmother could cook anything from coon and rabbit to a gourmet meal and everything in between, such as fried chicken, collard greens and all kinds of cakes.
"Cooking was kind of a relaxing exercise for her."
Griffin thanked her grandmother for the life lessons she gave. She taught her to be independent and to never have to rely on anyone.
"When my grandfather died at age 45, she had to take on a different role in the family, and I think it was that experience that caused her to impart upon me the importance of being an independent woman who can support herself," she said.
Griffin also revealed that her grandmother had a led foot.
"The cops knew her car and her name because she got so many tickets going across the Howard Franklin Bridge."
Mrs. Wimbish was a member of many notable organizations during her lifetime, such as the National Council of Negro Women, the NAACP, the Links, the National Bar Association and Delta Sigma Theta Sorority, where she was a charter member of the St. Petersburg Chapter and once served as president.
Although Mrs. Wimbish died in 2009 at the age of 85, her legacy as a trailblazer will live on through generations of people she influenced and with a stretch of highway in her honor.