BY RAVEN JOY SHONEL, Staff Writer
ST. PETERSBURG – Fifty years of local African-American life was celebrated last Friday night at The Weekly Challenger's 50th anniversary. The community showed up and out for this momentous occasion in Pinellas County history and to honor the legacy of its founder, Cleveland Johnson, Jr.
"How many of you remember the first time that you saw your photo in The Weekly Challenger or your child's," asked Nikki Gaskin-Capehart, director of Urban Affairs, as she and Congressman Charlie Crist gave the welcome.
For Gaskin-Capehart, her first time in the Challenger was for winning an oratorical contest as a teen for the Elks Lodge. No doubt, she was one of the hundreds in the room who could recall their first time in the paper.
Emmy Award-winning broadcast journalist Trevor Pettiford served as Master of Ceremonies. He introduced videos from the incomparable actress Angela Bassett and actor and comedian Justin Hires, who fronted the television series Rush Hour and now stars in the hit series MacGyver. Both entertainers grew up in St. Pete and wanted to congratulate the Challenger for 50 years of serving the community.
Mayor Rick Kriseman was on hand to bring greetings from the City of St. Petersburg and a video presentation featuring community members speaking on the legacy and importance of preserving the Challenger was shown courtesy of the University of South Florida, St. Petersburg.
Once Rev. Dr. Wayne Thompson gave the invocation and blessed the food, dinner was served. However, this was no ordinary dinner. Not only was the audience treated to Floribbean soul food by Callaloo Catering, but they were also dazzled by the sounds of Cleo Heart, the Mt. Zion Progressive Main Sanctuary Choir and a spiritual dance performance by the Mt. Zion Progressive Pure Expressions Dance Ministry.
Instead of a keynote speaker, the planning committee decided to present, through a collage of pictures from the archives of The Weekly Challenger, a few of the community ancestors who played a major role in the shaping of the history of St. Petersburg. The segment was voiced by Senator Darryl Rouson, Gwen Reece, Daniel Sanders and Angelina Fletcher.
Titled "I AM," this portion of the program was so popular that Reece, who researched and wrote the segment, has decided to do a weekly column highlighting local historical figures.
I AM Don McRae, retired U.S lieutenant colonel, helicopter pilot and one of the most formidable and controversial black leaders in St. Pete history. I was St. Petersburg's first African-American city manager and the highest-ranking African-American official in city government at that time. I presided during a period of racial unrest in the city and I did what I thought was best for the future of this city by firing Police Chief Curt Curtsinger amid allegations of racial insensitivity and poor management.
For the first time in the history of St. Petersburg, a city official had been fired for implementing discriminatory actions against African Americans. Moreover, this action was carried out by a black man. The following year voters decided to abolish the city manager form of government.
I AM Johnnie Ruth Clarke, educator and community worker. I was the first African American in St. Petersburg to attain a doctoral degree. I received my Ph.D. in education from the University of Florida and became an Associate Dean of Academic Affairs at St. Petersburg Junior College. The Johnnie Ruth Clark Health Center, at the historic Mercy Hospital, immortalizes my insatiable desire to help people.
I AM Ralph Wimbish, physician, civic leader, president of the St. Petersburg NAACP and founding president of the Ambassadors, a men's service organization. As president of the NAACP, I led efforts to desegregate lunch counter, theaters, hotels, golf courses, the Spa Beach and other downtown swimming spots.
I was probably the first African American to integrate a Howard Johnson's lunch counter on U.S. 19. In 1960, I led a boycott and legal action against Webb's City to force the store to serve African Americans at the lunch counter. The boycott lasted nine months. On January 3, 1961, 14 lunch counters in St. Petersburg quietly integrated, ending weeks of sit-ins and picketing.
I AM David T. Welch, educator, businessman and elected official. My election to the St. Petersburg City Council in 1981 made me the second African-American council member in the city's history and I served for more than three terms. I was also a longtime educator and an administrator at what is now Pinellas Technical College. I served in an Army Airborne Division during the Korean War, one of the many toughening experiences that prepared me for arguing forcefully for unpopular positions during my era on city council.
Entrepreneurship flourished in segregated communities from the 1920s to the 1960s. By 1940, a local chapter of the Negro Business League had formed in St. Petersburg. Methodist Town documented 68 businesses and 22nd Street "the Deuces" boasted 110 thriving businesses during this time. There were also businesses in the Gas Plant area.
These businesses reduced the need for African Americans to shop downtown where many times they were not allowed to try on the shoes or apparel they were purchasing. Some successful black businesses were harassed, attacked, and sometimes put out of business by white competitors, yet black businesses continued to grow and thrive.
I AM James B. Sanderlin, attorney and judge. I became the first Pinellas County African-American judge in 1972 and the first African-American circuit court judge in 1976. In 1985, I was appointed to the Second District Court of Appeals by then Governor Bob Graham.
I successfully sued Pinellas County School system to desegregate the schools, making integration a reality in Hillsborough and Sarasota Counties as well. In 1965, I waged a successful suit for the 12 black police officers, who were relegated to serving only the black community, to serve the entire city and in 1968, I defended the sanitation workers striking for increased wages and better working conditions when they were fired by the City.
The James B. Sanderlin Neighborhood Family Center and James B. Sanderlin Preschool, Elementary and Middle School are named in my honor.
I AM Fannye Ayer Ponder, educator and community worker. I directed my limitless energy toward the advancement of women on the local, state and national levels working alongside such nationally prominent activists as Mary McLeod Bethune and Eleanor Roosevelt. When the call came in 1942 from founder Mary McLeod Bethune, I organized the St. Petersburg Metropolitan Section of the National Council of Negro Women and provided its home at 1845 Ninth Avenue South. It bears my name.
I AM James Maxie Ponder. I was a physician in WWI and received a Presidential Citation for "meritorious service in the field of epidemic medicine" that prepared me to lead almost single-handedly a fight against a smallpox epidemic in south St. Petersburg during the late 1920s.
In 1926, I was appointed city physician for the African-American community and I spearheaded the creation of Mercy Hospital and a prenatal clinic to serve its residents. It is said that I wrote the first prescription for Webb's Drug Store.
When I died in 1958, the flag at City Hall was flown at half-staff during my funeral and a bronze plaque rests in my memory in the new wing of Bayfront Medical Center.
I AM Morris W. Milton, attorney and political activist. I worked tirelessly to repeal the "fleeing felon" law, which allowed the police to shoot an unarmed running person in the back, even if there was not a life-threatening situation and also in seeking relief from police brutality.
My most significant achievement was the creation of single-member districts that allowed candidates to be elected from their own district rather than the entire community. This led to the election of the first African American from Pinellas County to the Florida State Legislature. The post office on Sixteenth Street is named in my honor.
I AM Peggy Mitchell Peterman, a minister, civil right activist and a ground-breaking reporter, columnist and editorial writer at the St. Pete Times for 31 years. At the Times, I first wrote for, and a few years later called for, the demise of the "Negro news" page, which was distributed only to black neighborhoods.
In my earliest days at the newspaper, starting in 1965, I would receive letters laced with the racial epithet "nigger" and more than 30 years later, just a few months before my retirement in 1996, I received a letter that also used that word. After 20 years, I became a columnist and joined the editorial board. In 1999, I received the International Women's Media Foundation's Lifetime Achievement Award. I founded the Annual Black History Pageant in 1978 and served as organizer, writer and director for more than 25 years.
Though I graduated with a law degree, I passed up the courtroom for the newsroom, arguing my case for justice from the perspective of a black female journalist.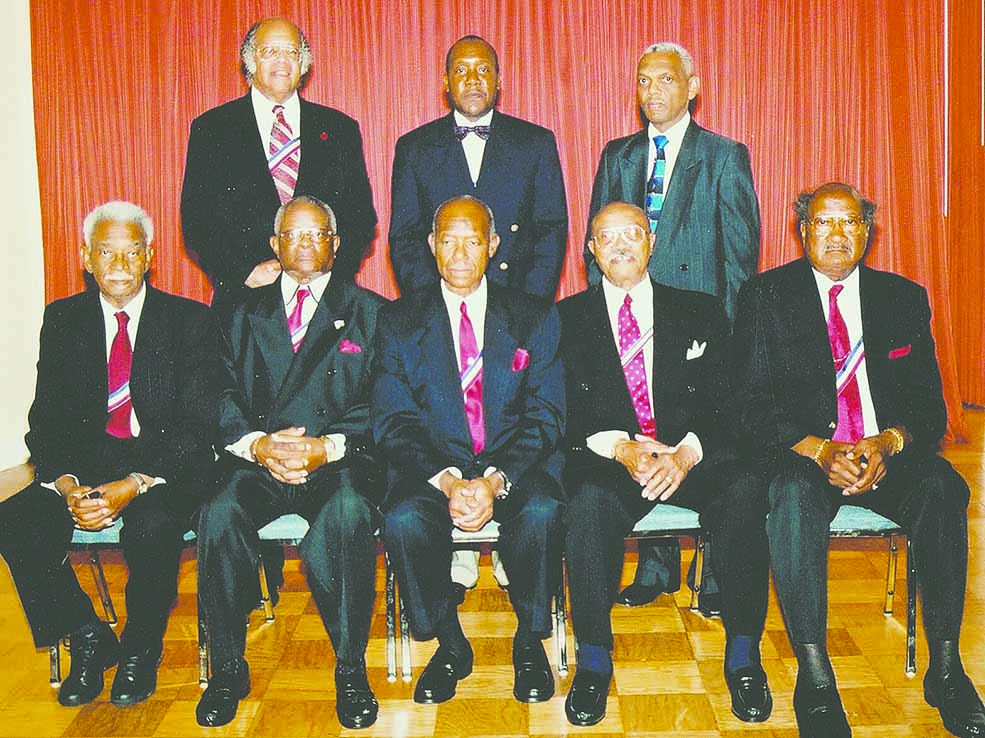 Social and civic clubs were also a core of African-American life during segregation. Newspaper articles frequently highlighted the activities of these diverse associations. Various reasons motivated the founding of these social and civic clubs; some were founded to reinforce and support a Christian lifestyle, some to offer emotional comfort and companionship, some were established to improve the status of women and their image in a white world and others to promote civic, cultural, educational and social activities.
Whether stimulated by personal need or societal conditions, these organizations reinforced relationships among African Americans.
I AM Douglas "Tim" Jamerson, consummate trailblazer. In 1982, I was the first African American to be elected to the Florida Legislature from Pinellas County. I represented District 55 in the House of Representatives for 11 years. In 1993, Governor Lawton Chiles appointed me as State Commissioner of Education. I was the first African American to hold this position. I also served as State Secretary of the Department of Labor from 1995-98. The Douglas L. Jamerson Jr. Elementary School is named in my honor.
I AM Adelle Vaughn-Jemison, educator, social worker, and warrior who attacked the inequalities in education from many battlefronts. For almost 40 years, I worked in public roles helping children. I started as a school social worker and worked my way up to the district's assistant superintendent for the office of equal opportunity.
After the sanitation workers' strike in 1968, I, working with others, founded the Chamber's Community Alliance. I am one of the co-founders of the Concerned Organizations for Quality Education for Black Students.
I AM Vyrle Davis, iconic advocate for education. Teaching was in my blood. My grandfather established the first school for black children in Jackson County. I began teaching at 16th Street Elementary and Junior High in 1960. I was named assistant principal at Gibbs High in 1971 and two years later became principal at St. Petersburg High School.
In 1986, I became the county's first black area superintendent, a job I held until my retirement in 1995. I founded the Ebony Scholars program in 1984 and raised thousands every year to support it. I also co-founded the African-American Voters Registration and Education Committee and the Concerned Organizations for Quality Education for Black Students.
I AM Olive B. McLin, educator, community activist, cultural arbitrator and accomplished pianist. As a teacher of English and literature for over 40 years, my influence extended to more than three generations of St. Petersburg students. I founded the acclaimed St. Cecelia Choir, the first choral group at Gibbs High School in 1932. This group won distinction and honors for their performance on the local, district and state levels.
I served as president of the Metropolitan Council of the National Council of Negro Women and was a founder of the Greater St. Petersburg Council on Human Relations. I was always in the forefront for the great equalization fight and was one of the crusaders for equal salaries for black and white teachers. The Black Box Theatre at Gibbs High School bears my name as does the Olive B. McLin Community History Project at USFSP and Operation PAR's Olive B. McLin Center.
I AM Lew Williams, teacher, administrator and school board member. I came to Pinellas County in 1970. My first job was as a social studies teacher at Dunedin Middle. In the next 35 years, I went on to teach and lead schools at every level. I also worked as the district's director of school operations, was an associate superintendent for pupil assignment and retired as a regional superintendent in 2005. In 2010, I was elected to the District 7 seat on the Pinellas County School Board. The Lew Williams Center for Early Learning bears my name.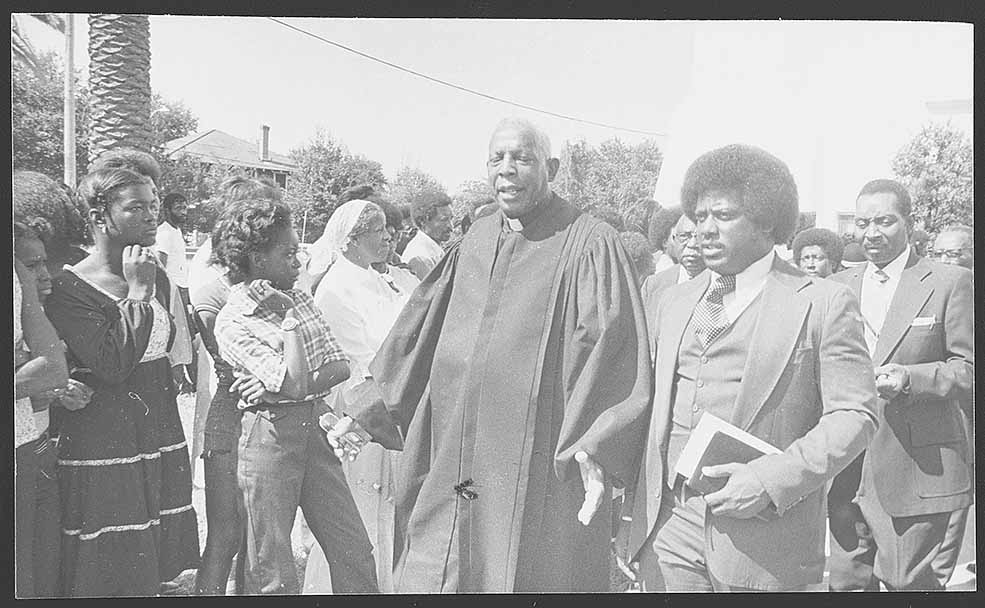 Churches and Pastors — Throughout St. Petersburg's history, black churches have served as symbols of hope in the community. The church was so essential to African-American life that it was the first institution established in St. Petersburg. The church not only served the spiritual needs of African Americans, it became a platform for ministers to confront social inequalities. Individual church ministers have been active in civil rights activities since the 1930s and ministers remain powerful initiators of change.
I AM Cleveland Johnson, Sr.
I was the first African-American realtor in Pinellas County and sold homes to many of the leaders in the black community from my office on what is now affectionately called the Deuces.
I AM Robert James Swain, Jr., a pioneering oral surgeon who led drives to break down racial segregation barriers, most notably for African-American Major League Baseball players. I began practicing dentistry in St. Petersburg in 1947 and built the first African-American dental clinic in St. Petersburg in 1954.
My first noted action against local segregation was my challenge to Section 3 of the City Charter which established separate residential limits or districts for whites and African Americans. My second and most noted contribution to the advancement of desegregation was related to the construction of the Swain Apartments in 1956, which would house African-American Major League Baseball players denied housing with their white teammates during spring training from 1957 through 1961. This action would provide the catalyst toward desegregation of major league baseball's spring training sites.
I AM Freddie Dyles, educator and basketball coach. In 1964, I joined Gibbs High School as a teacher and a coach. In 1966, Gibbs became the first all-black school to compete in the all-white Florida High Schools Athletic Association. One of the most electrifying sports events in St. Petersburg history occurred on December 30, 1966. All-black Gibbs played all-white Clearwater in the final game of a holiday tournament at the Bayfront Center to a crowd of about 7,500 spectators. At the time it was said to be the largest crowd ever to attend a high school game in Florida. We won 70-66. In 1967, the Florida Constitution barred blacks and whites from associating in the same classroom. But it didn't say anything about the basketball court, and it was on the courts where we waged our own battle for integration.
I AM Fred Alsup, physician and community activist. In 1952, I became the first black person in Pinellas County to gain membership to the Pinellas County Medical Society. I admitted the first black patient to Mound Park Hospital (now Bayfront Medical Center) in 1961.
Working with the NAACP and the Citizens Cooperative Committee, I was the plaintiff in several famous civil rights cases among them was Alsup v. City of St. Petersburg filed by six blacks in 1955 who declared their constitutional rights were violated when they were not allowed to use Spa Beach and Pool. This case resulted in the opening of city-owned public beaches to African Americans.
A community of caring. African-American midwives were among the first to bring medical care to a growing community. They assumed many responsibilities that were generally reserved for physicians. The opening of Mercy Hospital, in 1923 on 22nd Street, continued in a formalized way the community's tradition of caring for its own. Dr. James Ponder, staff physician, and other black pioneer physicians: Doctors Ayer, Alsup, Taliaferro, Wimbish and Rose along with a few white physicians cared for their patients at Mercy Hospital.
The community of caring involved much more than healthcare. Elected officials, activists, community leaders and others cared about the community and pursued various avenues to strike at the very roots of "Jim Crow" and the long arm of racism. They fought the fight for justice and equality on every front: the street, schools, strikes, courts, churches, lunch counters, department stores, and even city hall.
I AM Willie Lee McAdams, first lady of Trinity Presbyterian Church. I was the prime mover behind the establishment of Happy Workers Child Care Center, which is credited with being the oldest social service agency in Pinellas County. I decided such a place was needed after I saw toddlers running unsupervised in the street while their parents worked. We opened in 1929 to take care of the children of working Negro mothers. There were five children in our first class and their parents paid 25 cents a week.
I AM Chester James, Sr., minister and community activist. I came to St. Petersburg in 1911 and worked tirelessly for people for decades. On the civil rights front, I campaigned to register voters. President Lyndon Johnson honored me for registering a thousand voters. In 1968 at the age of 84, I marched with the sanitation workers when they went on strike for better wages.
My life exemplified concern, dedication, service and integrity so much so that the city council changed the name of Methodist Town to Jamestown when redevelopment work began there in 1974 and named me its unofficial mayor.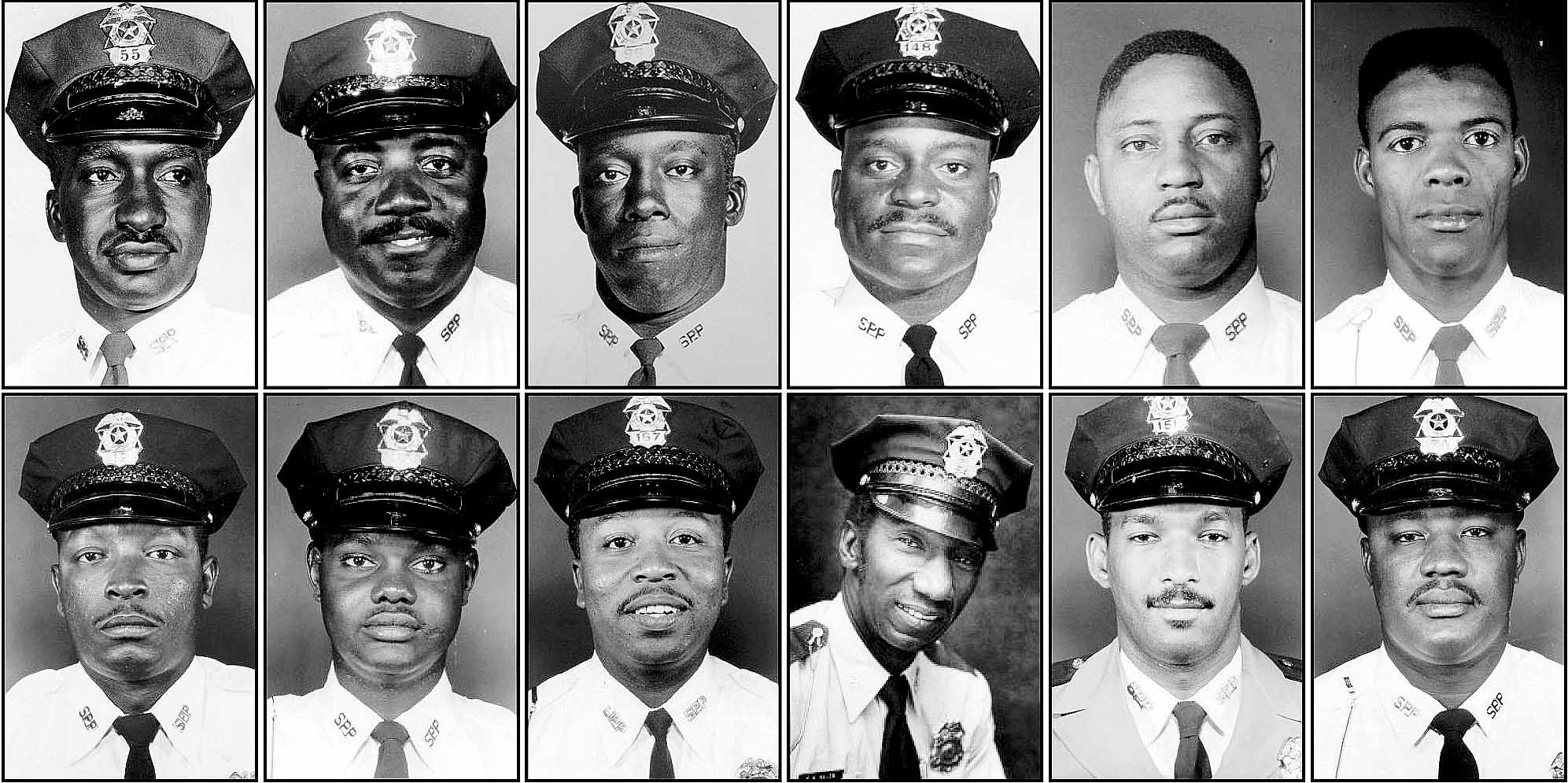 I AM Officers Baker, Holland, Crawford, Nero, King, Styles, Lewis, Jackson, Wooten, Killen, DeLoach and Keys and we are the Courageous 12. During the 1960s, there were only 15 black officers on the St. Petersburg Police Department and they were forced to work under a different set of rules than their white counterparts.
Black officers were neither allowed to work in white neighborhoods nor could they arrest whites. They could not work behind the front desk and blacks on the force were forbidden from taking the sergeant's exam to move up the ranks.
Then, in 1965, 12 of the 15 officers decided enough was enough and turned to the courts. They enlisted the help of civil rights attorney James B. Sanderlin, who took the case without hesitation but only after warning the 12 officers of the potential fallout. Speaking out could have cost them their jobs, or worse, their lives. But it was a risk they were willing to take – a bold step that led the men to become known as the Courageous 12.
***
"In planning this event, it was tasked to identify those who have made contributions to the community," said Pettiford. "Although the list was remarkably long, three people were selected for the inaugural Impact Award for no reason other than their uniqueness, giving hearts and accomplishments."
Dr. Tonjua Williams was not honored for being the first African-American president of St. Petersburg College, nor was she honored for being the first woman president of the college. She was honored for being the little engine that knew she could.
"Dr. Williams, we salute you for taking the road less driven and staying the journey to success," said Pettiford.
Unable to attend the event, she pre-recorded her acceptance speech.
The second award of the evening went to Terri Lipsey Scott, who volunteers as the board chair for the Dr. Carter G. Woodson African American History Museum. She could have received the Impact Award for spearheading the efforts to keep the museum community ran or for helping the Woodson become a place where history is not only recorded but made.
"But, Terri is being recognized tonight for her heart of community service, her spirit of gracious giving and her gift of advocacy to give a voice to the voiceless, hope to the hopeless and insurmountable love to the community," Pettiford stated.
The third Impact Award was presented to NFL wide receiver Louis Murphy, Jr. He was not honored last Friday night for his accomplishments on the gridiron, but instead he was recognized for his organization called 1st Downs 4 Life, which hosts free annual football camps for Tampa Bay area youths and many other events and initiatives to further its mission and impact, such as treating breast cancer patients and their families to a day of fishing.
Lyn Johnson, publishing editor of The Weekly Challenger newspaper, personally presented Senator Rouson with the first Cleveland Johnson, Jr. Legacy Award for providing the opportunity for the paper to be immortalized forever with funds secured to digitize and preserve the paper's history and legacy of recording African-American life in Pinellas County.
"My dad believed in hard work and fighting for those who could not fight for themselves and he would be so proud of Darryl if he were here today," she said.
Mayor Kriseman also received an award for lending the city's resources for the event, and Johnson was given the key to the Pinellas County by Commissioner Ken Welch.
Johnson ended the evening by acknowledging Mayor Kriseman, Deputy Mayor Tomalin, elected officials and city administrators, singling out Gaskin-Capehart "for working so hard and breaking some rules to make this night possible."
She acknowledged all committee members, both honorary event co-chairs, Rev. Watson Haynes and Anne Drake McMullen, the Host Committee Chairs, Rouson and Gypsy Gallardo, the Planning Committee, USFSP and the Poynter Institute.
Sponsors for the event included Hospice Foundation, Pinellas County Urban League, Power Broker Media Group, Regions Bank, R'Club, Rouson & Associates, Rick Baker Campaign, St. Petersburg College, Tampa Bay Rays Foundation, USF Foundation, First Baptist Institutional Church, Mt. Zion Progressive and the title sponsor was Duke Energy.
A special thank you was given to Deborah Figgs-Sanders for planning the event, the James B. Sanderlin Center for being the fiscal agent and Dr. Goliath Davis for his continued support.
Planning Committee:
Cory Adler, Carla Bristol, Lisa Brody, Dr. Goliath Davis, Tyna Dyakon, Rick Edmonds, Jessie Navarro, Nikki Gaskin-Capehart, Michelle Mann, Dexter McCree, Mary Jane Park, Gwendolyn Reese and Arthurene Williams.