BY GWEN REESE
Emanuel M. W.  Stewart was an educator, role model and leader. Educated in a one-room school near Ocala, he was certified to teach after graduating as his high school's valedictorian. He taught in Marion County and Crystal River while studying at Bethune Cookman College during the summer.
Stewart served in an all-black unit in the South Pacific in World War II leaving as a first lieutenant. He then attended Florida A&M University on the G.I. Bill. He went on to earn a master's degree from Teachers College, Columbia University and did post-graduate work at Columbia and the University of Kentucky.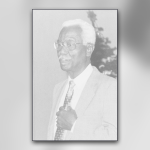 Stewart served as principal of Jordan Park Elementary School from 1951-57 and eight years later was named principal of Gibbs High School. During his administration (1958-1969), Gibbs received its first full accreditation and became a member of the Southern Association of Colleges and Schools. Gibbs was one of the first three black high schools to meet the rigorous accreditation standards. He also established a National Honor Society at the school.
After leaving Gibbs, he went on to direct administrative services for Pinellas County Schools where he worked with at-risk students for another twelve years before retiring.
Aside from his administrative duties he participated in various civic and social organizations. His affiliations include Alpha Phi Alpha fraternity, Phi Delta Kappa fraternity, the Ambassadors Club, the Police Athletic League and the American Cancer Society.
In 1987, he was named St. Petersburg's first African American "Mr. Sun." He served as a deacon at First Baptist Institutional Church for more than five decades and was designated Deacon Emeritus in 2008 for meritorious service.
Information provided by family members.