Rosa Jackson served Thanksgiving dinners for 23 years to anyone who was hungry until her death in 1996 at the age of 73.
By Gwendolyn Reese
In 1973, Rosa Jackson, a retired dietary worker, started a family and community tradition of serving Thanksgiving dinner to the public. In an article written by Jon Wilson in 1998, her oldest grandson Darryl Jones is quoted saying, "My grandmother retired in 1973 and decided to combat loneliness by having people over for Thanksgiving."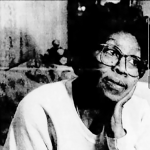 Mrs. Jackson often said, one day as she was sitting on her porch feeling lonely and sorry for herself, God spoke to her. Being a good servant, she was obedient, and every year since that day she cooked and served the dinner without charge.
She served about 50 people in her home the first year. Each year the number of people coming for a free, home-cooked, and delectable meal increased. Eventually, the crowd outgrew her home and the annual dinner was moved from her home on Eighth Avenue South to Campbell Park Recreation Center.
Initially, Mrs. Jackson incurred the cost of the meals herself but as the numbers grew each year she started receiving donations of money and food. The dinner was open to anyone and what a dinner it was; turkeys with all the trimmings, hams, an array of vegetables including collard greens, mashed potatoes, and gravy and punch to wash it all down.
Everyone was welcomed. Many of the people who came together to eat and fellowship had no family to share the holiday with while others may have been homeless. Leftovers, if any, were taken to a local nursing home. In 1996, Mrs. Jackson told a Times reporter, "There are two reasons I keep doing this. One, for people who have nobody and nothing, and two, this is a family I've created and it's an enjoyment for me to be with them."
Mrs. Jackson continued the annual tradition of serving Thanksgiving dinner for 23 years and it did not end when she died in 1996 at the age of 73. Grandson Darryl continued the tradition for many years. She was the matriarch of the family and the family saw the dinners as her legacy.
In the article referenced above, grandson Darryl talks about the amount of planning needed to make sure everything would go smoothly. Darryl's mother, Eloise Jones, continued to prepare the grocery list and shop as she had done when her mother was alive. The food was prepared in Darryl's home and transported to Campbell Park by volunteers. Often more than 60 volunteers helped with the dinner. In 1998, 200 to 300 people were expected to attend.
In Feb. 2013, Darryl died from cancer 10 days before his 51st birthday. But the tradition continued with his son Darryl, Jr., two daughters, and a younger grandson Allen Jackson. I recently met Allen on a Saturday afternoon at Gallarie 909 in the Skyway Mall. I was told by gallery owner Carla Bristol that Allen makes the best funnel cakes. During our brief conversation, he asked if I knew Rosa Jackson. My response was a resounding YES and because of that chance encounter, I was inspired to tell you about this phenomenal woman. Thank you A.J.
Sources: St. Petersburg Times 1996, 1998 and 2002