BY J.A. JONES, Staff Writer
ST. PETERSBURG — This Saturday, Feb. 24 from 6 to 9 p.m., The B.I.G. Entertainment Group will hold their second daddy-daughter dance titled "A King and His Princess" at Pinellas Technical College's St. Pete campus.
Kelly Sims, who founded B.I.G. Entertainment along with his wife Kahlya, is excited about their sophomore event.
"This year I think we're going to get a more diverse participation," Sims predicted. "The first year we just reached out to the community of the south side, but the vision has been to make it county wide. Through networking and being more involved in the community, I've been exposed to a larger audience," added the former pro-footballer-turned-minister and philanthropist.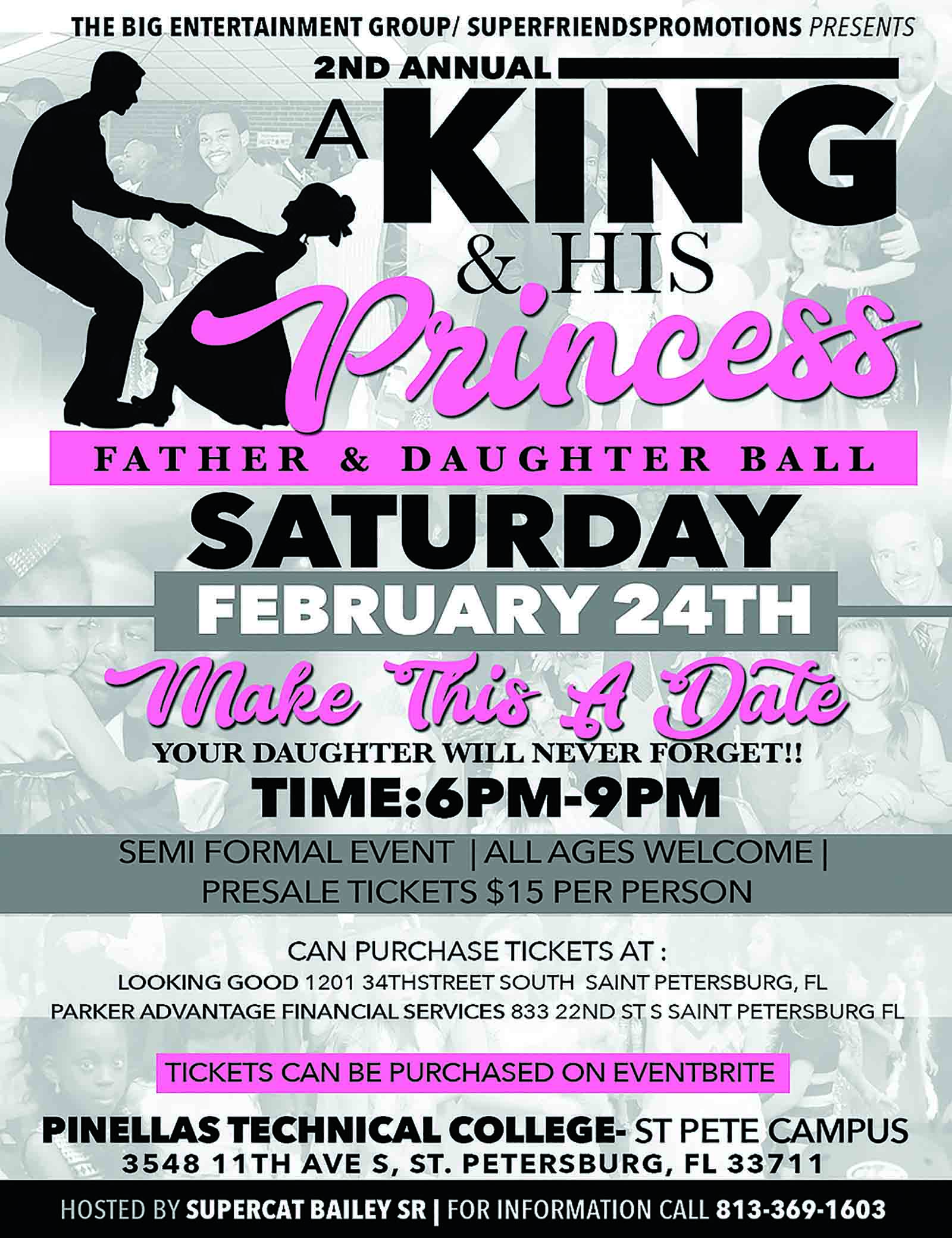 This year's event boasts St. Pete's own DJ Blind on the turntables, a storyteller, a poet and some spoken word. The storyteller will talk about love and the poet will speak about the relationship between girls and their fathers.
Some of the proceeds of the ball will help supplement a youth mission traveling to Belize from Mt. Zion Progressive Missionary Baptist Church, where Sims is a pastor. Another portion will support the church's annual youth retreat.
This Saturday's dance is just the first of a series of events the B.I.G. Entertainment Group has planned over the next year.
"We built out our calendar to try to do one event every quarter," Sims stated.
The next event will be a track meet at Gibbs High School on July 21. Sims' nonprofit will be partnering with a charitable organization for disabled veterans and another that supports adaptive sports. The event will be sanctioned by the Amateur Athletic Union and will bring together the two groups in an event accessible to both populations.
B.I.G. Entertainment will also offer another family event in the spring. "When we did the first daddy-daughter event, the mothers asked, 'What about us and our sons?' So, in the springtime we're going to have a mother-son event."
Sims is well aware of the challenges black families face, and when asked, acknowledged that today's rate of absent black fathers is inordinate.
"Absolutely, it's not only a crisis in my church, in many churches, it's a crisis in our community."
But for the Sims, the dance has become a way to combat the unsavory images of black males and absentee dads.
"I just think there's so much negative press in our community when it comes to black males and the stereotypes, all saying that we're an endangered species," he said. "And we are, in some aspects. But there's enough of the negative – we want to do something big and create some benevolent inspiration and have fun doing it."
The spirit behind B.I.G. Entertainment lies in the three words that make up their acronym: "B" is for benevolent, "I" is for inspiration and "G" is for gregarious, or the fun and excitement the events engender, all while boosting the positive experiences of those who come out to take part.
Sims' intent for the dance is clear. He wants to provide a solution that would inspire dads to have a relationship with their daughters and give them an event that's plug and play.
"All you have to do is show up," he remarked.
When the fathers and daughters arrive, they will walk the red carpet, get their photos taken and be formally announced.  Participants will be able to dance, interact and do fun activities with their daughters.
"Since the first time we did it, my daughter has been on me: 'Daddy when are we doing it again, when are we doing it again?'"
Sims related that it wasn't just dads that attended the first dance – it was grandfathers, uncles and other males in the community who simply "showed up" to help the young attendees have the time of their lives.
"We want to promote father figures and get to the point where if there's a need for someone to step in to be a father, we have that. We have a lot of programs in our community that are men-centric and there are male role models out there that don't mind stepping up; I'm just trying to connect the dots."
And while the joy and excitement were evident on the faces of the pint-sized princesses, the event was a great success for the men who accompanied them. Many of the men who attended had never taken their daughters out to an event.
Sims mentioned that one of the great surprises of the last dance was the number of grown women who showed up with their dads. To Sims, it just proved: "You're always daddy's little girl, even when you're grown."
There has been great excitement and feedback brewing around this Saturday's dance. For instance, one dad is thrilled to go, but his daughter is making him wear pink, a definite sacrifice.
 "The coordinated outfits, getting limo rides, they're just going all out for their kids to create those memories."
 A King and His Princess Daddy-Daughter Dance will be held this Saturday from 6 to 9 p.m. at Pinellas Technical College, 3548 11th Ave. S. Tickets can be purchased at Looking Good men's store, 2201 34th St. S or Parker Advantage Financial Services, 833 22nd St. S.