Photos courtesy of Jabaar Edmond. The Rev. Al Sharpton, Atty. Benjamin Crump and the McGlockton family held a press conference and rally calling for the appeal of the stand your ground law Aug. 5.
BY RAVEN JOY SHONEL, Staff Writer
CLEARWATER — St. John Primitive Baptist Church was at standing room only capacity last Sunday when national civil rights activist the Rev. Al Sharpton descended on Clearwater to call for the badge of Pinellas County Sheriff Bob Gualtieri and to repeal the "stand your ground" law enacted 13 years ago.
"He [Michael Drejka] killed an unarmed black man who was standing up for his family. Lock him up or give up your badge," exclaimed Sharpton.
On July 19 outside of a convenience store in Clearwater, Markeis McGlockton, 28, and his five-year-old son were in the store when Drejka, 47, approached their car that was parked in a handicap space. Inside was McClockton's partner, Britany Jacobs, with the couple's two other children.
Drejka and Jacobs began arguing over whether she was allowed to park in the space. McGlockton came out of the store and pushed Drejka to the ground. As McGlockton took a few steps backwards, Drejka pulled out a gun and shot him in the chest. McGlockton then stumbled back into the store. He was taken to the hospital where he was pronounced dead.
Gualtieri said the authorities will not charge Drejka for the shooting, citing Florida's stand your ground law, which states: "A person is justified in using or threatening to use deadly force if he or she reasonably believes that using or threatening to use such force is necessary to prevent imminent death or great bodily harm to himself or herself or another or to prevent the imminent commission of a forcible felony."
Sharpton said Gualtieri's decision not to arrest Drejka "sends a very dangerous message that 'open season' is OK, and that the next person in a parking lot can kill and get away with it."
Speaking to State Attorney Bernie McCabe, Sharpton said it is not the sheriff's job to determine whether stand your ground applies.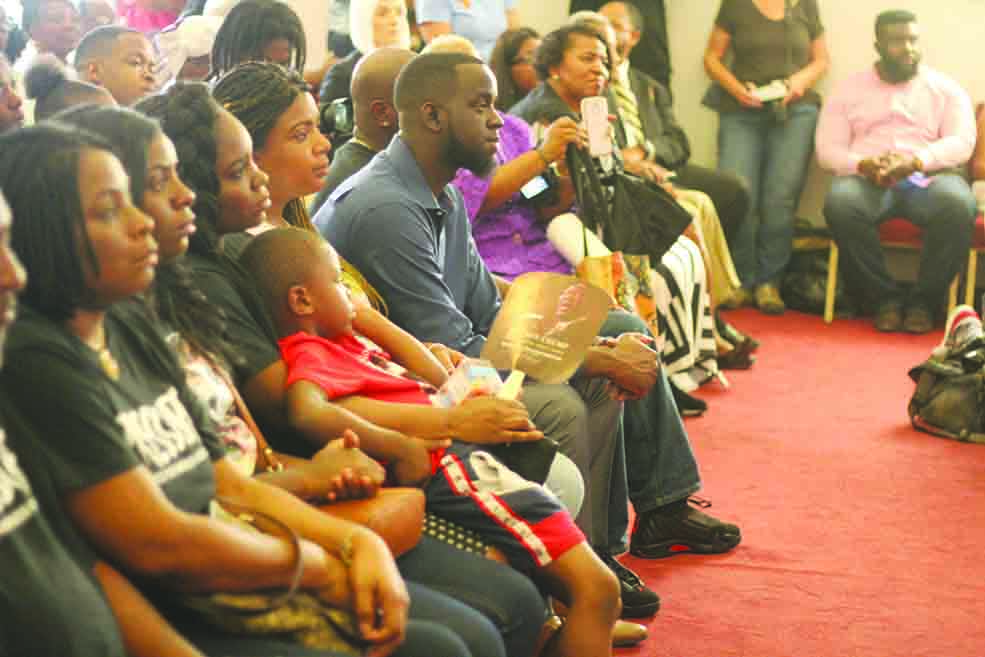 "That ought to be decided in a courtroom and in a state attorney's office," he said. "If you get to the scene of a crime and there's a dead body and only one person with a gun, that man should have been arrested on probable cause right then."
Sharpton said the state attorney's office needs to move immediately with getting the evidence before a jury.
"If you got to the scene, Mr. Sheriff…and Markeis had been standing over the white man, you would have cuffed him and taken him in jail," said Sharpton.
At the 100 plus years old church was Sybrina Fulton and Tracy Martin, the parents of 17-year-old Trayvon Martin who in 2012 was gunned down by George Zimmerman, a neighborhood watch volunteer who used the stand your ground law to escape conviction.
"I stand with you now, today and forever. I'm going to stand with you in solidarity and unity," said Fulton to the McGlockton family. "Fight for your son like he was still living."
Tracy Martin has been sadly counting the days since his son was killed. As of last Sunday, 2,352 of them to be exact.
"The State of Florida is responsible for Markeis McGlockton's death. The State of Florida allowed the killer of our son to be acquitted on a stand your ground law," said Tracy Martin. "They took your husband; they took your son; they can't take his memories.
Civil rights attorney Benjamin Crump, who represented Trayvon's parents and who is now working for the McGlockton family, has called on Sharpton throughout the years to bring national attention to cases in Florida. Starting with the Martin Lee Anderson case in 2006 where a 14-year-old black child died while incarcerated at a boot-camp-style youth detention center in Panama City.
Six years later, Crump called on Sharpton for the Martin case, and now, another six years, both men are working to get the stand your ground law appealed.
"Stand your ground is a racist, Jim Crow law that gives white people a license to kill unarmed people of color," Crump said, adding that McGlockton did what his parents taught him to do, which was "to defend and protect his family."
Sharpton called the stand your ground law a modern-day version of the Black Codes, which were laws passed in southern states after the Civil War to restrict the freedom of African Americans.
"You cannot have a law that functions on the imagination of paranoid folk that all they've got to say is, 'I thought I was in danger.'"
All five Democratic candidates running to replace Gov. Rick Scott took on the controversial stand your ground law discussion, vowing to repeal the law if elected.
"I can speak for myself and all the Democratic candidates for governor when I say that if any of us become governor, we will repeal this horrible law–stand your ground," said candidate Phillip Levine.
Sharpton said it was a "real disgrace" that President Trump did not mention once what happened to McGlockton when he visited the area a few days before. He said the president "ignored the fact that these three children will grow up without a father."
As of now, there has been no arrest, and that has prompted weeks of protest. Less than two miles from the church, protestors lined the streets calling for justice for Markeis.
"The protest just validated that the community will not rest until the killer, Drejka, is behind bars, stand your ground is no longer a law and when black and brown lives are actually valued by the legislation," said Yuchabel, a member of the Bay Area Dream Defenders.
Activist Jabaar Edmond said Sharpton and the gubernatorial candidates' speeches were powerful, but he is concerned that people are making it about Sharpton's participation.
"It's a distraction that even allies are participating in – even friends of the black community are using Al Sharpton's participation as a bad thing."
At an unrelated news conference on Monday, Gualtieri said he didn't care what Sharpton had to say.
 "Go back to New York. Mind your own business," he said, sounding like a throwback from the civil rights era when southern sheriffs would tell northerners to stay out of their towns.
And as for the Democratic gubernatorial candidates, Gualtieri told them to "learn the law" before they voice an opinion.
Gualtieri was appointed by Gov. Scott in 2011 and endorses Republican candidate for governor Adam Putman.