ST. PETERSBURG — On the heels of her two sold-out WNMF Tribute to Aretha Franklin shows last fall in the Tampa Bay area, by popular demand, musical showcase producer and jazz, R&B and soul song stylist Katt Hefner will be presenting a series of three new legends concerts this season, paying homage to the rich melodic legacies of jazz siren Nancy Wilson, disco queen Donna Summer and R&B and pop icon Natalie Cole.
On March 28, Katt Hefner will kick off the series with "Sweet Nancy: Katt Hefner Sings Nancy Wilson" at the St. Pete Palladium's Side Door Cabaret, accompanied by the popular bluesy jazz Heffner & Hefner Band consisting of Hammond B-3 master Stan "the Man" Heffner, Gregg Jordan on guitar, James Varnado on drums and Mike Miner on saxophone.
Although Wilson earned popularity predominantly as a jazz singer, she was given the titles of "the complete entertainer" and "consummate actress." Her songs are primarily based on jazz, R&B, pop, blues and soul genres. During this special tribute, Katt Hefner will perform some of the greatest hits of this incomparable vocalist.
"Last Dance: A Tribute to Donna Summer" is the second show of the series, to be presented on Saturday, May 18, at Manatee Performing Arts Center. During this dazzling show, Katt Hefner will recreate The Queen of Disco's energetic stage presence through her spot-on renditions of such Summer classics as "I Feel Love," "Bad Girls," "Hot Stuff" and "MacArthur Park," which have been known to transport audiences straight back to the '70s.
The third musical legend tribute in the series is set for July 13 when Katt Hefner presents "Sophisticated Lady: The Songbook of Natalie Cole," also at the Manatee Performing Arts Center. Cole's career spanned several decades and genres, from R&B to pop. Her greatest success was her "Unforgettable… with Love" album, originally made popular by her father Nat King Cole, which sold more than seven million copies.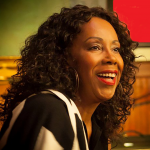 Katt Hefner is considered by many to be one of today's international jazz sirens to be watched. Her credits include musicals, television, movies, records and concerts that span the world, including the renowned Jazz in the Heritage Gardens festival in Moscow, the Clearwater Jazz Holiday, Sarasota Jazz Festival, Ringling International Art Festival's Jazz by the Bay and at many regional jazz clubs throughout the country.
She has shared the stage with such musical greats as Patti LaBelle, Ronnie Spector, The Count Basie Quartet, The Temptations, Sandra Reaves, Luther Vandross, Buster Cooper, to name a few.
From dark, sultry jazz to energetic pop, Katt Hefner has produced goosebumps from Japan to her hometown of Ford City, Pennsylvania, through a passionate ebb and flow of sonic energy, engagement and a voice that comes right out from her soul directly to her audience.
Nancy Wilson tribute show tickets are available by calling the Palladium Box Office at (727) 822-3590 or visiting www.mypalladium.org. The Palladium Side Door Cabaret is located at 253 Fifth Ave. N. in downtown St. Petersburg.
Tickets for both the Donna Summer and Natalie Cole tributes are available online at www.manateeperformingartscenter.com or by calling the MPAC Box Office at (941) 748-5875 which is located at 502 Third Avenue West in downtown Bradenton.