Legacy Week 2019 honored some of the community's brightness minds Saturday, Feb. 2 at Empath Health. L-R, Karen Pritchett, Thomas "Jet" Jackson, Dr. Allyson Watson, Bob Devin Jones, Dr. Ray Arsenault and J.C. Pritchett
BY RAVEN JOY SHONEL, Staff Writer
ST. PETERSBURG – Each year, Legacy Week celebrates the accomplishments, power, strength and courage of leaders in the community. This year's highlights included lecturer Dr. Susannah Heschel, professor of Jewish Studies at Dartmouth College, a golf tournament, and of course, the Legacy Awards Dinner where this year's theme was the Family Reunion.
When you think of a family reunion, a smorgasbord of food may come to mind or maybe pulling a hamstring trying to keep up with the younger generation playing football. However, as Legacy Week, Inc. board member and mistress of ceremony Karen Pritchett expressed, family reunions are much more meaningful.
"It's a time to connect, a time to be reflective, a time to mend broken relationships and to start a new relationship," she said as she invited the community–or family–to celebrate the legacies of the honorees.
Each year, the Legacy Awards recipients are lured to the banquet under false pretenses and surprised when their names are called, but sometimes that plan backfires. Rev. Clarence Williams, senior pastor of Greater Mt. Zion AME Church, was not there to collect his Community Champion Award.
Rev. Williams is most certainly a community champion, however, having open the Cross & Anvil Human Services, where the goal is to close the educational, digital and wealth gap in underserved communities.
Although Rev. Wayne G. Thompson, senior pastor of First Baptist Institutional, was made aware of his honors, he was glued to his ailing mother's bedside. Good friend Loretta Gilstrap accepted his Faith Award.
"The first Saturday in Feb., if your family and friends are encouraging you to come to a Black History Month event, there is a chance you may be recognized," said Legacy Week, Inc. President Rev. J.C. Pritchett
Rev. Thompson is credited with introducing the concept of One Church One Child, a private, non-profit, faith-based organization that provides adoption-related services and works in partnership with the Florida Department of Children and Families and churches in Florida. He eventually became state and national president.
Thomas "Jet" Jackson was honored with the Public Service Award. Working for the City of St. Petersburg for more than 50 years, he is credited with teaching thousands of youth to swim. He broke down the walls of segregation to foster an equitable playing field in the city's Parks and Recreation Department, wherein 2014 he was honored with a recreation center dedicated in his name.
This year's Legacy Award for Business went to James Pritchett Sr. Decades ago before you could stream or download your R&B or gospel music, even before you could buy it at Walmart or Best Buy; Pritchett Sr. served the black community with one of the few records stores in the city that catered to African-American music.
Still an entrepreneur and consummate businessman, Pritchett Sr. is one of only two black grocers in St. Pete.
Dr. Allyson Watson, dean of the College of Education at the University of South Florida, St. Petersburg legacy in this town goes back generations. Her great uncle, Dr. Gilbert Henry Leggett, is remembered fondly as an African-American dental pioneer and a civil rights activist, who during the 1940s led the legal action that struck down the white Democratic primary in St. Petersburg.
As an educator, Watson focuses on STEM literacy, targeting young ladies. She has a reputation as a thoughtful, innovative educator.
"The whole purpose of a legacy is to pass on what you've been given. The whole purpose of a family reunion is to reinvest in young lives that stand before you," said Watson, who revealed she has accepted a post at Florida A&M. "I know that I was here for a reason and a purpose and it doesn't mean that it's over; it's just beginning."
Dr. Raymond Arsenault, the John Hope Franklin Professor of Southern History and Chairman of the Department of History and Politics at the University of South Florida, St. Petersburg, has taught there since 1980.
He has published such works as "Freedom Riders," which is considered the definitive account of the 1961 freedom rides, which was a crucial development in the Civil Rights Movement, and "Arthur Ashe: A Life," the first comprehensive and authoritative biography on the tennis icon and civil rights activist.
Arsenault was honored for valuing the power of language and honoring the value in African-American heritage.
In his years a graduate student studying civil rights, he said he built up a lot of guilt because he was too busy studying and couldn't go out in the trenches.
"I felt like I built up a real debt, and this city has given me the opportunity to at least pay back some of that debt," he said, mentioning his work with the ACLU, the Carter G. Woodson African American History Museum and the Association for the Study of African American Life and History.
Bob Devin Jones was also honored, but could not figure out why. Well, let's see. He's the co-founder and artistic director of The Studio@620, where the celebration of diversity and expression lives. He doesn't know the meaning of the word "no," and therefore will open his space to anyone in the community.
Jones has embraced a village of diverse artists, community members and organizations in his 15-year tenure at the performance space. And he has, indeed, created a place and a space for the "family of man" to create learn, and share in.
Guest speakers for the evening were the husband and wife duo of Rev. Andrew Wilkes and Pastor Gabby Cudjoe Wilkes, both principals of Wilkes Advocacy Group and pastors of The Double Love Experience in Brooklyn, New York.
Spirited and anointed, the Wilkes had the audience on the edge of their seats with their speech entitled Black Legacy Matters.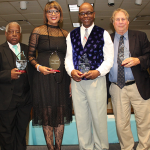 "Legacy is not just leaving wealth; legacy is leaving tricks of the trade, best practices, letting your loved ones know how to get over, how to get by, how to make it over," said  Cudjoe Wilkes.
"How many of us have some fathers who couldn't write a blank check and tell us that everything was OK, but they could tell us how to budget what we have? They could tell us how to pick up a trade, a skill set and get yourself a job and prepare for yourself. That is legacy. Legacy is what we do now to ensure that those coming behind us have it a little bit easier than what we did. And that is why we submit to you tonight that legacy matters."