Emerging Leader 2019 Fellow – Michael Shorter
ST. PETERSBURG — The 2020 Plan, City of St. Petersburg Department of Urban Affairs and One Community's Emerging Leaders Fellowship & Intern Program have engaged 11 young adults ages 18-40 who have expressed a desire to grow in community leadership.
The program will provide training for the fellows and interns then supervise them to serve as an active force in community advancement initiatives with introductions to many community leaders. Our community needs leaders to continue positive movement in community activism.
In partnership with The Weekly Challenger, the 2020 Plan would like to introduce another dynamic member of the Emerging Leaders Inaugural Class 2019 Fellow Michael Shorter.
A native of St. Petersburg, Shorter is always seeking to conquer tough challenges, align with or create something unique and engage others. After graduating from Gibbs High School's Business, Economic and Technology Academy, he started a Bachelor of Arts degree in Business Marketing.
Shorter followed his passion of becoming a licensed funeral director and received an Associate of Science degree from St. Petersburg College in Funeral Services in 2010. As a licensed funeral director, he has been serving the families of Tampa Bay for the past seven years.
In 2005, Shorter became the first Eagle Scout from Troop 223, based at his home church of Mt. Zion Progressive Missionary Baptist Church. He has since strived to increase his involvement in community and civic service throughout St. Pete.
His present involvement and leadership roles include being the executive director of Louis Murphy Jr.'s 1st Downs 4 Life, a minister at Mt. Zion Progressive Missionary Baptist Church, director of generationRESTORED Young Adults, board member of The Rotary Club of St. Petersburg and committee member of International Conference of Funeral Service Examining Boards.
In Oct. 2015, Shorter achieved one of the highest honors as a professional and obtained his Certified Funeral Service Practitioner designation from the Academy of Professional Funeral Service Practice, further exemplifying his dedication to life-long career learning.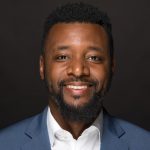 Shorter is currently the location manager of Anderson McQueen Funeral Home in northeast St. Pete and owner of Shorter Services LLC, a company that focuses on leadership development, strategic planning and operations solutions for business startups and nonprofit organizations.
He lives in St. Pete with his wife of eight years, Ashley, their three-year-old son, Michael III, and one-year old daughter Sarai.