Mayor Rick Kriseman and city officials raised the Carter G. Woodson flag outside city hall to mark the beginning of Black History Month
BY RAVEN JOY SHONEL, Staff Writer
ST. PETERSBURG – For the last four years, each Feb. 1, the first day of Black History Month, Mayor Rick Kriseman and city officials have raised the Carter G. Woodson flag outside city hall to mark the beginning of Black History Month.
The precursor to Black History Month was created in 1926 when historian Dr. Woodson and the Association for the Study of Negro Life and History announced the second week of Feb. to be "Negro History Week." This week was chosen because it coincided with the birthday of Abraham Lincoln on Feb. 12 and of Frederick Douglass on Feb. 14, both of which dates black communities had celebrated together since the late 19th century.
The celebration was expanded to a month in 1976 when President Gerald R. Ford urged Americans to "seize the opportunity to honor the too-often neglected accomplishments of black Americans in every area of endeavor throughout our history."
More than 40 years later, the City of St. Petersburg is the only city in the country to raise the Carter G. Woodson flag over a government entity in recognition of Black History Month.
"So on days like this, I like to reflect on how far we've come as a city, as a community," said Mayor Kriseman, noting that although we don't always see eye to eye that "our shared vision of creating a city of opportunity" will always help us see common ground.
This year's flag raising came one day after what would have been Jackie Robinson's 100th birthday, and weeks after what would have been Dr. Martin Luther King, Jr.'s 90th birthday.
"Two men who altered the course of history, who we celebrate this month and who we should be thankful for each and every day, every month," said Kriseman.
Not to be too political, Kriseman mentioned that this year's flag-raising ceremony coincides with the announcement of two African Americans running for U.S. president, Senators Cory Booker and Kamala Harris.
"Just think about our progress. For all resistance African Americans still meet, for all the evil they still endure, our nation is, in fact, changing for the better when black people run for president, not as a novelty but as a norm," he asserted.
Kriseman also mentioned the "unprecedented advancements" in the City of St. Pete where so many African Americans occupy positions of leadership, both within the government and the community.
Before the flag was raised, Terri Lipsey Scott, executive director of the Carter G. Woodson African American History Museum took to the podium.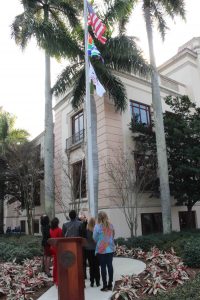 "As we are joined here today, it is our hope that we will not only raise the flag, but raise our conscious awareness of the countless contributions that African Americans have made to ensure the success of not only this city, this state but this nation," she avowed. "The history we are writing today will be celebrated for years to come."
Lipsey Scott said by raising the flag over City Hall to commemorate Black History Month demonstrates a "vow to this community of respect and inclusion." Ending with a quote from Dr. Woodson about how the loss of inspiration comes from the loss of your history, she said, "Let us forever work to ensure that the contributions of our brothers and sisters are never lost, silenced, edited or eradicated as we preserve the legacies of African Americans."