Louis Murphy, Jr., former NFL player, native son and owner of Tropical Smoothie in south St. Pete, threw the inaugural Troppin Out Back-to-School Giveaway last month.
BY DEXTER MCCREE, Feature Writer
ST. PETERSBURG — Parents and students filled Tropical Smoothie, 4621 34th St. S, for the first Troppin Out Back-to-School Giveaway last month.
Louis Murphy, Jr., former NFL player, native son and owner of Tropical Smoothie, smiled as his shop was bursting at the seams with community members for the first back-to-school giveaway.
"Our Tropical Smoothie location has been open for two months, and we are here to serve the community," said former Buccaneer Murphy, Jr. "One part of our vision is to create jobs for young kids to keep them off the streets but to also create a thousand careers for families to support themselves. It was great seeing the people, young and seasoned, come out."
The children received books to help promote literacy and reading. Haircuts were provided by Tae Do The Barber and Chill Will Fresh Cutz, the mobile barber, and free smoothies were also given out. More than 400 backpacks were given away, and each child went home with a smile.
Camry Brown just happened to be out for a Saturday afternoon drive from Tampa when she noticed a crowd at one of her favorite eating spots. She stopped in to get her favorite drink, not realizing what was going on. She was soon amazed by what she saw.
"This is a great networking event. It was great meeting the owner, Louis Murphy, Jr., Gibbs High School Principal Barry Brown and the Pinellas County Schools Police Chief Luke Williams together in one place serving kids. That is amazing," remarked Brown.
Zeta Upsilon Omega Alumni Chapter, Alpha Kappa Alpha Sorority, Inc. was on hand to support the community effort. The sorority sisters greeted patrons and helped pass out the supplies.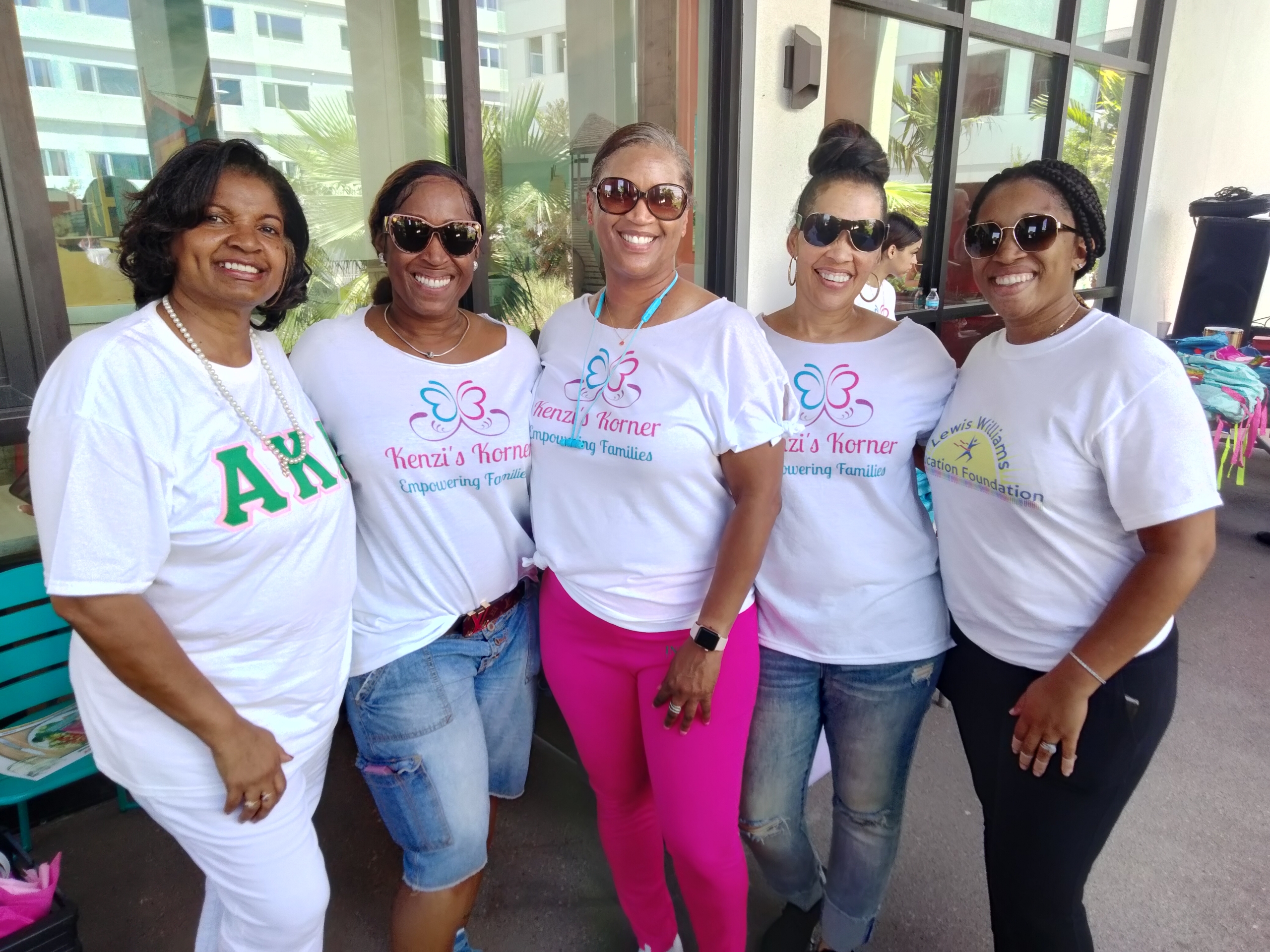 "I really want to create jobs in urban communities, especially safe environments, and teach kids hard work. I was blessed to play in the NFL and be able to start this business," stated Murphy, Jr. "It is only so many players that will make it to the NFL or the NBA. So, I thought when I retired that I could make an impact on the next generation. All the kids here today are potential impactful leaders for our community."
The event sponsors included:
Kenzi's Korner, founded by Mykenzi Davis-Cowart and Delphinia Davis
Chill Will the Mobile Barber
The Lewis Family Education Foundation
Kidz World Preschool, founded by the Williams family.
Door prizes, food, and haircuts were provided for all those who attended. Entertainment was provided by social media star Yung BBQ along with MC Hype Man, Eric "EB" Butler and DJ Blind.

Louis Murphy, Jr., former NFL player, native son and owner of Tropical Smoothie in south St. Pete, threw the inaugural Troppin Out Back-to-School Giveaway last month. Pictured above with Chill Will Fresh Cutz

Pinellas County Schools Police Chief Luke Williams

Gibbs High School Principal Barry Brown