Marcus 'Big Cheese' Calvin is headed to Kansas to play football for the Jayhawks.
BY DEXTER MCCREE, Feature Writer
ST. PETERSBURG — On exam day in Pinellas County Schools, Marcus Calvin faced the biggest test thus far this year. For Marcus, it was selecting the correct multiple-choice answer to where he will spend the next four years.
It was college scholarship signing day for athletes making post-high school plans. Students and supporters filled Gibbs High School gym in anticipation of Marcus' announcement to play college football.
"After a lot of praying and crying, I will be taking my talent to the University of Kansas in Lawrenceville [sic]," said Marcus while shuffling college hats before landing on the Kansas Jayhawks.
The crowd erupted with cheers in support of their fellow teammate and classmate. Marcus is a 6'2", 308-pound senior lineman who sports a 3.0 grade point average. He is a school ambassador who is a favorite among the student body and faculty.
"Marcus is a great leader and role model for all our students," said Barry Brown, Principal of Gibbs High School. "He is a student-athlete with high academic standards who displays tremendous leadership skills. Every month he goes to the school board as a student representative to talk about issues related to schools."
Marcus is a versatile athlete who also plays power forward on the Gibbs High basketball team. He is a tough rebounder on the court who uses his big body to box out his opponents. He is a strong defender and, offensively, has an excellent shooting touch.
During the Northside High School Christmas tournament, he helped the Gladiators seal a win when he dove on the floor for a loose ball with 56 seconds remaining, helping his team keep possession of the basketball. It was a display of his heart and hustle that attracted the football "Rock Chalk Nation" Kansas Jayhawks.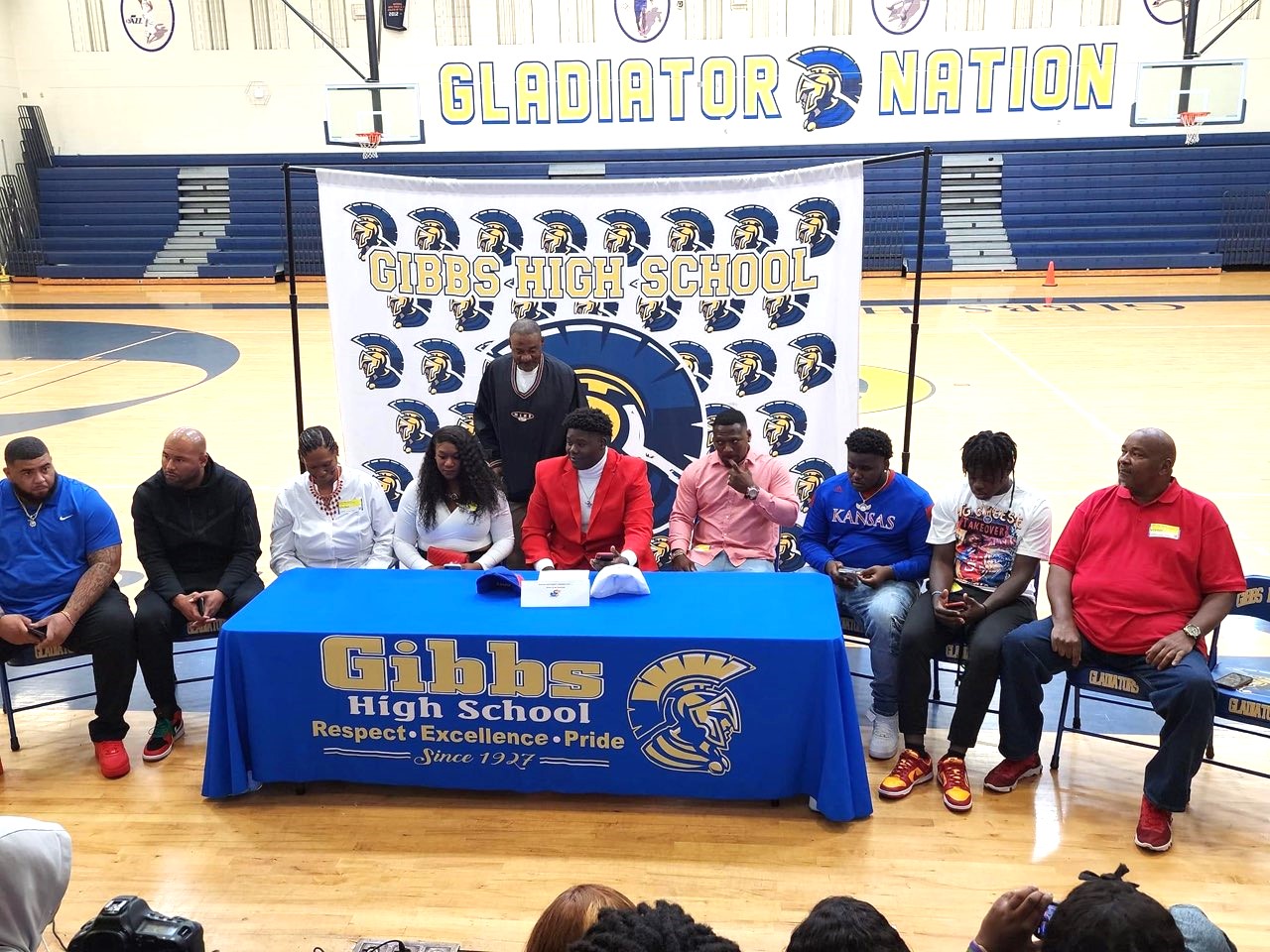 Gibbs Head Football Coach Louis Murphy, Jr., reflected on three years ago when he met Marcus, also known as the Big Cheese.
"Every year, you brought your hard hat and lunch bucket to work. Stay focused, keep God first, and stay close to your family. Thank you for laying the foundation for other students in high school."
James Jones, Gibbs' OL/DL Coach, called the occasion momentous. He remembers when things were at a low point in football but reminded Marcus how staying with it, setting the standard and looking within pays off.
"Cheese did not know if it would happen, but he kept working, and today is an example of what happens when you do your work in school and on the field. This is what comes out of it!"
Marcus' mother, Ashley Platt, expressed how grateful she and Darian Platt, Marcus' father, is for all the help and support shown to their son throughout the years.
"The Man above sent people to us, and we are overjoyed, excited and just overwhelmed," exclaimed Ashley Platt. "It was his decision to go to Kansas and he feels good about it. We made a couple of visits, and as a family, we instilled in him to make his own life choices but to be smart with them."
When Marcus took the microphone, the crowd erupted with applause. He thanked his coaches, friends, and family and sent a special shout-out to his Gibbs math teacher Ms. Corbin, and his grandfather, Stanley Haugabook, his first coach. Last, but not least, Marcus thanked and acknowledged his mother and grandmother, Deborah Haugabook.
In Kansas, Marcus will play defensive tackle. The Big Cheese is a 247 Sports and Rivals three-star recruit who recorded 76 tackles with 63 solo stops and 13 assists his senior season. His senior year also saw seven sacks, six quarterback hurries, three forced fumbles and two fumble recoveries.
Marcus was named to the Pinellas County Athletic County Football South Division Team and named the Defensive Line MVP of the 28th Annual Pinellas County All-Star Game.
He has strong family support, which is vital to his progress. Once again, they showed up for this important day.
"We have prayed for this day and are super proud of you. Hold your head up high because this is just the beginning," said Haugabook. You are a role model for our family and for the Black students in the community. Thank you to the crew (community supporters) who helped to raise Big Cheese. You were there to serve his big appetite, and we are forever grateful."
Wrapping up his final season of high school basketball, a semester of academics, his ambassador role with the Pinellas County Schools and semester exams, Marcus will head to Kansas to play college football. The Gladiator is now a Jayhawk! Rock Chalk!
Marcus is the eldest of four kids. His siblings include his younger brothers, Jordan Calvin, 13, and Darian Platt Jr., 3; his sister, Jamiylah Platt, 10; and Maryah Ajeatas, 8, his younger cousin whom his parents are raising.