Dr. Mendee Ligon
By Dr. Mendee Ligon
As a longtime resident of the Greater Pinellas Point area for more than 25 years, we would like to help raise awareness of the connection between medical conditions and how they affect oral health. The same dental conditions when left untreated can also cause medical conditions to worsen or become more challenging to treat.
Asthma, allergies, cancer psychological disorders, hormone imbalances, thyroid disorders, diabetes and high blood pressure are some medical conditions that may affect your oral health and create these common questions:
Why do my teeth seem darker?
Why am I losing my sense of taste?
Why does my mouth feel dry?
Why do I see my gums drop and color changes in my tissue?
Why am I developing cavities?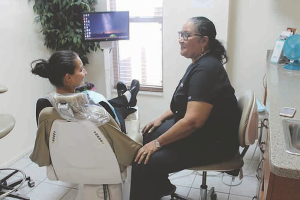 If you have been diagnosed with Diabetes Type I or II, your risk of developing periodontal disease increases significantly.
Research has shown by decreasing the bacteria that live in gum pockets, blood sugar levels can be managed better. Some studies indicate people with gum disease when compared to people without gum disease were more likely to develop heart disease.
Other studies show that women with gum disease are more likely to deliver premature and low birth weight babies. While we did not know that gum disease causes these conditions, research has established a connection.
In the meantime, it is a fact that controlling gum disease can save your teeth. Whether periodontal gum disease is stopped, slows down or worsens depends a great deal on how well you care for your teeth and gums daily.
The main goal of treatment is to control the infection. The number and types of treatment will vary depending on the extent of the gum disease, and any treatment requires that the patient keep up good daily care at home.
The doctors may also suggest changing certain behaviors such as quitting smoking and improving or modifying home care techniques as a way to improve treatment outcome. Antibiotic therapies may be started orally or placed locally in the gum pockets routinely to control infections.
Periodontal conditions, whether caused by a bacterial infection or adverse reaction to medications, can make it difficult to eat, swallow, taste and even speak. Periodontal disease or inflammation can be caused by certain medical conditions and the use of medications. Some of the most common are:
Diabetes Type I or II
Bronchodilators (typically used for asthma)
Decongestants (usually used for colds)
Diuretics (typically used to increase flow of urine)
Muscle relaxants
Narcotics analgesics
Sedatives (typically known as tranquilizers)
Anti-anxiety medications
Anti-depressant medications
Anti-hypertensive medications
Anti-parkinsonian medications
Oral contraceptives and hormone replacements
Thyroid medications
Cancer treatments (radiation and chemotherapy and medicines)
All of these can cause swelling, sensitivity, abnormal bleeding, changes in the teeth and other oral issues.
It's important to let your dentist know about all your medical conditions and your medical history. Your dentist needs to know if you have been ill or in the hospital recently.
They also need to know the herbal medicines, over-the-counter products, prescriptions, doses and frequency that you are taking as well as the name of your physician. This will ensure that your dentist can treat you in the most safe and effective way possible.
Ligion & Ligon D.D.S., P.A.
5201 Central Avenue
St. Petersburg, FL 33710
727-321-7880