William Walker (right) talked about his pioneering family and the meager amount his father received from the city for his property.  Walker's uncle Charles McNorton (left) joined in the conversation.
By Frank Drouzas
ST. PETERSBURG — Hundreds of Black families, businesses, churches, and community spaces were displaced or destroyed by the construction of Tropicana Field. Former residents of the Gas Plant and Laurel Park neighborhoods and their descendants share memories of a safe, supportive, and thriving community and the lasting impact of its demolition.
The story of the Gas Plant and Laurel Park neighborhoods is unique to Pinellas County and has a history repeated across this country and generations of Black and Brown communities. If we are to move forward with race equity, we must know, understand, honor, and be changed by our collective past.
William Walker's great-grandfather, Charlie Williams, was a pioneer in St. Pete's Black community as he was the founder of St. Pete's first Black-owned drugstore. His father, William McNorton, grew up in the Gas Plant district, and Walker likens the removal of that area's residents to the government's upheaval of the Native people from their lands.
Walker, who was in his teens when the city "tore everything down," explained that the area was "taken by eminent domain." He noted that white settlers — and ultimately the federal government – legally ousted the indigenous populations from their own land.
"I think it's the same thing with the Gas Plant," he said. "So, they used the law to take the land of the people that were there. They did give him compensation for it, but it was only a tenth of the value of what it was really worth — especially now, and how much is worth now."
Walker said his perspective as a younger descendant of the Gas Plant area is that he understands the city had to move forward in what was best for the city, "but not particularly best for the residents."
Walker noted that his father and his siblings received compensation from the city, but only a meager $1,000.
"And that money was probably gone in the week!" he said.
He recalled his father telling stories of his great-grandfather's drugstore and speculated on how times change. He hopes his kids can "see the difference in the way things are."
"Generations go on," Walker said. "We get older, and we move on."
Click here to watch videos of residents recalling their gas plant memories.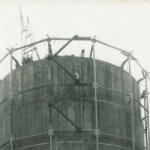 William Walker recorded his memories of growing up in the Gas Plant District on Dec. 12, 2021, at the Gas Plant/Laurel Park Reunion.