Dr. Roy Kaplan
BY FRANK DROUZAS, Staff Writer
ST. PETERSBURG – Held last Sunday at Congregation B'Nai Israel, the 2019 Dr. Martin Luther King, Jr. Interfaith Memorial Service was themed "True Love Brings the Human Spirit Together."
Rene Flowers, chairperson of the Pinellas County School Board, presided over the afternoon while Interfaith Tampa Bay President Rev. Doral Pulley and Rabbi Philip Weintraub of Congregation B'Nai Isreal offered opening remarks.
"Today is a day of blessing but also a day of memory," Weintraub said. "And we stand here united to memory, but not only to remember, to look ahead."
Weintraub noted that Dr. King at one point in the early '60s was gravely disappointed in the "white moderate," whom he saw as more of a stumbling block in some ways to the African Americans' strive toward freedom than the overt racism of the Ku Klux Klan.
The white moderate was more devoted to order than to justice and preferred the absence of tension rather than the presence of justice. Weintraub quoted Dr. King, saying "'Lukewarm acceptance is more bewildering than outright rejection.' "
Those words do not live in the past, the rabbi said, as we still see gerrymandering, anti-Zionism and anti-Semitism, Muslims viewed as terrorists and Native Americans pushed off their land–not 100 years ago but last year.
"Standing together here today," Weintraub affirmed, "we expose injustice. Standing together, we don't claim to agree on every single issue or every single idea, but we know that we can talk together, we can work together, we can argue and speak respectfully."
Mayor Rick Kriseman offered his greetings, and told those on hand that his message was simple: "We must always have faith," he said.
"Faith in our institutions, faith in our community, faith in each other and faith in who we pray to. And while we continue to face difficulties today, and most certainly will in the future, we must keep the dream, the hope, the faith alive."
Despite the difficulties, the mayor noted, that we have made much progress thanks to Dr. King and to the social justice warriors he inspired throughout cities across the country.
University of South Florida Professor Roy Kaplan, the event's keynote speaker, was the executive director of the National Conference of Christians and Jews for Tampa Bay and served as an advisor to President Bill Clinton's race relations taskforce from 1997 to 2000.
Kaplan explained that there are many areas that separate us today, including economic, racial and religious divisions. Sexual identity and politics are others, and these areas include lifestyle choices known as cultural wars that are principally fought over moral issues, Kaplan noted.
"In cultural war struggles," he said, "we often lose sight of the underlining humanity as affected by other people's choices."
A big part of our problem today is learning to live together, Kaplan said. We are social animals, as our even our Paleolithic ancestors gathered in groups for mutual interaction and protection. They realized that it's easier to get along with one another than to be constantly at war.
"I think some of us have lost sight of this," he said.
Through the ages, there have been struggles for power and privilege, and democracy has evolved, yet white men have sought to maintain their agenda of control over women and people of color, "depriving them of their inalienable rights and privileges that were supposedly God-given."
It took years to bring the power of the vote to African Americans and to women, and some people are still working on it, Kaplan said, referring to the passage of Amendment 4, which only recently restored the right to vote to ex-felons.
"And yet there is still some reticence on the part of some people in leadership capacity to restore these voting rights," he said. "We have to work on this thing!"
The majority of people who will have their voting rights restored are white, he noted, but one in five African-American citizens in Florida have been denied their voting rights under that kind of previous policy.
"Twenty-percent of black people could not vote prior to the passage of this amendment," Kaplan said, adding that we should encourage everyone to exercise their right to vote.
The struggle has also been complicated by the development of a "materialistic ethos," which prioritizes things over people.
"In our rush to satisfy our own needs," Kaplan said, "we may lose sight of the fact that people can only survive if we respect one another and collaborate to achieve mutual goals."
Another complication is something Kapan calls the "death of truth." Thanks to the corrupt behavior of business, clerical and political figures, we no longer know who or what to believe, he said, referencing Presidents Nixon and Clinton, sex scandals of Catholic priests and companies like ENRON.
According to the Washington Post, Kaplan added, President Trump has lied over 7,000 since taking office. And in the days of spurious news sources such as Fox News, there is fact and there is fiction, and it's up to us how we look at and analyze information.
Kaplan went on to say that he is very proud of the City of St. Pete for being a sanctuary city, and a city of compassion and peace that welcomes immigrants.
"It is a city that is a model for other cities around us in the state of Florida," he said.
People disagree with one another but the way to break down the barriers and create opportunity for getting along is to create a dialogue, he said, where people can find common ground among their differences.
Reading prayers at this year's memorial service were Imam Abdul Q. Aziz, Tampa Bay Area Muslim Association; Rev. Dr. Frank Tedesco; Kamran Rouhani, Baha'i Community, Quaker Nancy Tait, St. Petersburg Meeting and Rev. Canon Katie Churchwell, Episcopal Cathedral Church of St. Petersburg.
"Being white is easy in this country, and it's easy to find yourself a Christian placing it before the love of God, before the love of neighbor," said Rev. Canon Churchwell before asking the congregation to pray with her.
She expressed how easy it is to go to bed as a white person in this country and not have to worry about the safety of your family.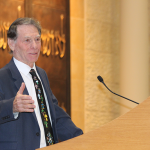 "I think it is well beyond time for white people to remember who is it that we serve," she avowed. "Who is it that we love, and when we find ourselves willing or unknowingly stepping away from our values and stepping away from the love of our God that we repent, that we turn."
Closing remarks were given by Imam Abdul Karim Ali of Tampa Bay Area Muslim Association, and musical presentations were provided by Lumina Aurora Children's Choir and by Congregation B'Nai Israel.