ST. PETERSBURG – Need a financial tune up? Trying to teach your child the value of a dollar? Well, the members of Alpha Kappa Alpha Sorority, Incorporated®, Zeta Upsilon Omega Chapter in partnership with the Youth Development Foundation of Pinellas County will host the annual financial literacy workshop entitled "Money$ense."
Held Saturday, Feb. 17 at Pinellas Technical College, 901 34th St. S, from 9 to 12 p.m., the workshop will include financial specialists from 21st Century Financial, Junior Achievement, Pinnacle Financial Restoration, LLC, Roy James Insurance and Financial Services, Inc.
The Money$ense workshop will span across educating adults and the youth on personal financial health to building and establishing sound financial competency for all ages.  Additionally, topics will include establishing credit, managing a budget and improving credit scores.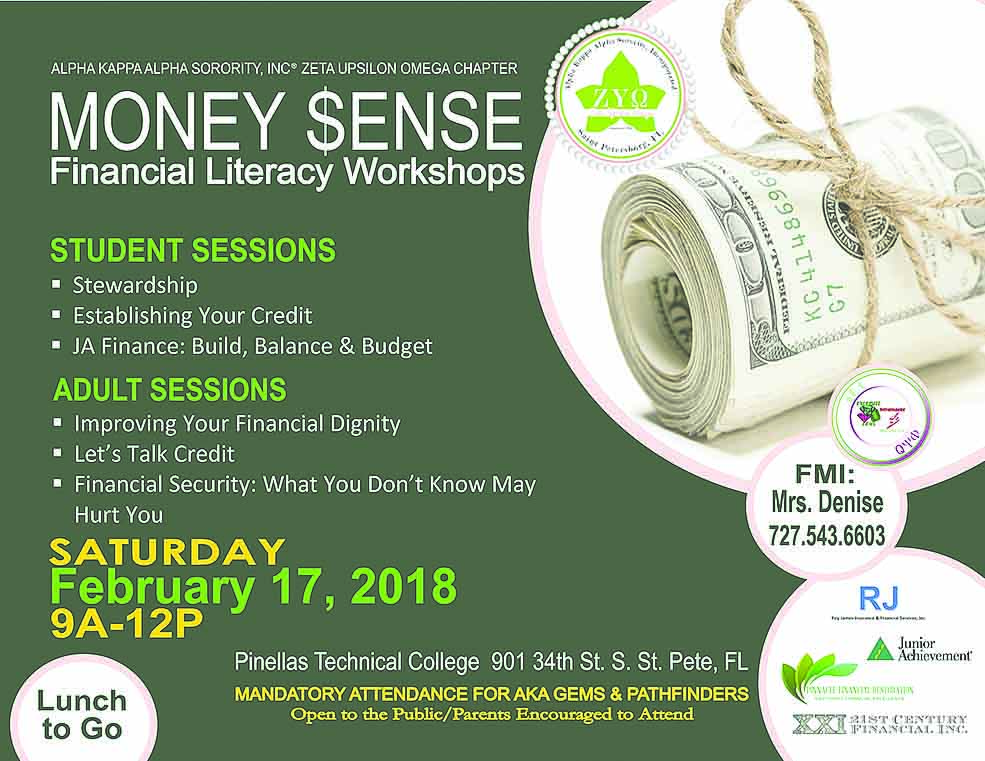 The financial literacy workshop forum represents Target III-Family Strengthening a national focus of Alpha Kappa Alpha Sorority, Incorporated®. The Target III-Family Strengthening includes eradicating childhood hunger, providing seasonal wraps for those in need and increasing the awareness of financial literacy.
This event is in collaboration with the members of Omega Psi Phi Fraternity, Incorporated®, Eta Rho Chapter and is FREE and open to the public.
About Alpha Kappa Alpha Sorority, Inc. 
Alpha Kappa Alpha Sorority, Inc. is the oldest Greek-letter organization established in America by black women and was founded on January 15, 1908, at Howard University. Led by International President Dorothy Buckhanan Wilson, the organization connects thousands of college-trained women who give of themselves to support community service projects and scholarship programs.
For more information, visit

www.zuochapter.org

and follow them on Facebook.