St. Petersburg College (SPC) recently formed a partnership with the nationwide organization Year Up.
The mission of Year Up is to close the opportunity divide by providing urban young adults with the skills, experience and support that will empower them to reach their potential through professional careers and higher education.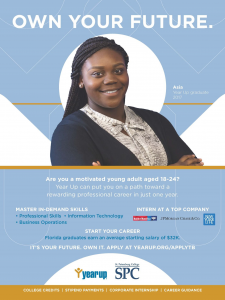 This program provides young adults between the ages of 18-24 a unique opportunity to join a highly selective, paid, one-year business or technology training program at SPC Midtown.
If you know any young adults who may be interested in this program, Year Up staff members eagerly await your call. Openings for the spring semester are filling up quickly! Here are a few details about the program:
In just one year, you can jump-start your career by participating in six-months of PAID intensive training and a six-month paid corporate internship in the Tampa Bay area
Students will intern with companies like Raymond James and Bank of America
Students will acquire in-demand technical skills and soft skills such as public speaking, networking and interviewing
Graduates earn an average starting salary of $32,000 per year
For more information, please contact the Year Up Recruitment Manager La'Kesha O'Neal at LOneal@yearup.org or 813-597-7728. To apply, log on to www.yearup.org/apply.
Now accepting applications for classes starting in Feb. 2019! Look for Year Up at:
www.yearup.org
www.facebook.com/yearup
www.twitter.com/yearup
www.youtube.com/yearupinc
Till next week,
God Bless.
Rev. Dr. Robert L. Harrison, Ph.D.
pastorrobharrison@gmail.com,
@drrobharrison (Twitter)
Robert Bob Harrison (Facebook)
District Elder | Pastor – True Holiness Worship Ministries – 2800 41st Ave. N, St. Pete  – www.opendoortrueholinesschurch.org
Church of God and True Holiness, Intl.  www.trueholinesschurches.org
The Gathering of Pastor Member – Chairman, Outreach and Political Action Committee
Chaplain – SCLC of Pinellas
Parent Support for Education Council Executive Board Member
Chaplain – Dept. Juvenile Justice for Circuit 6