ST. PETERSBURG – On Nov. 7, city and community leaders will mark the launch of Inclusive St Pete – a new partnership forged by The 2020 Plan, the Florida State Minority Supplier Development Council (FSMSDC) and a host of partners to expand supplier diversity efforts in St. Petersburg.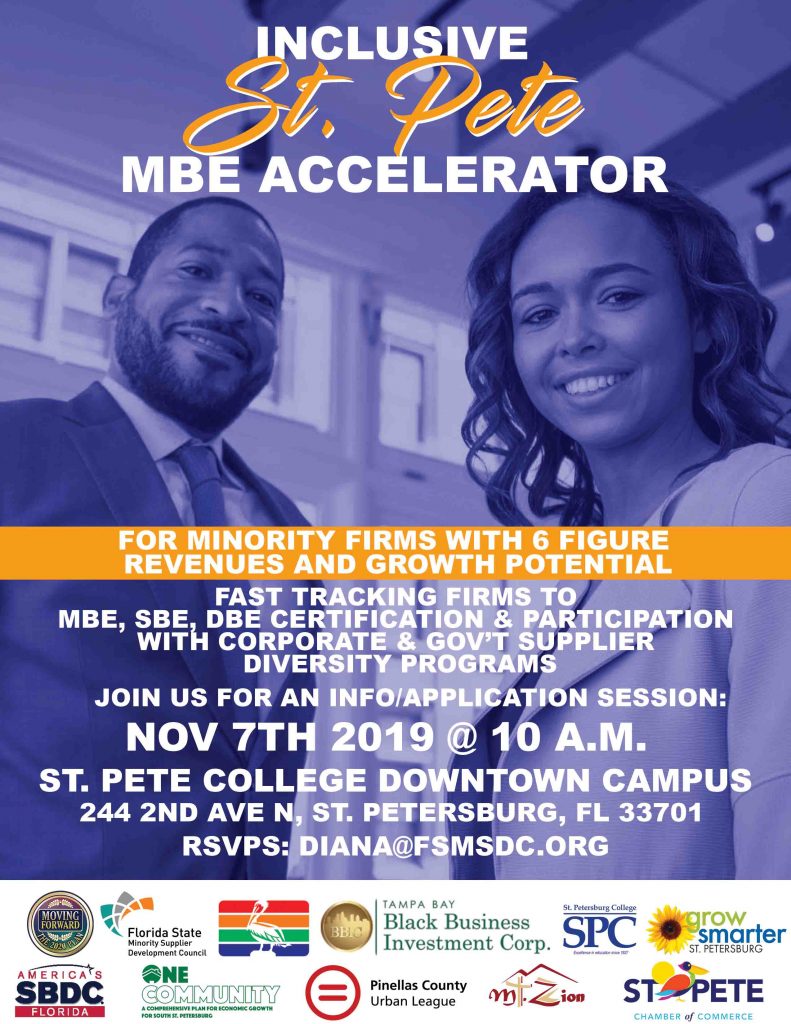 The Inclusive St. Pete Initiative has two goals over the next year:
To fast-track 20 minority-owned firms in St. Petersburg through certification and participation with corporate and government procurement programs
To help five local corporations and anchor institutions to enhance or start supplier diversity and inclusion initiatives in partnership with the FSMSDC
The ultimate goal is to support more commerce between "the community" and our largest "corporate citizens," both local and national, says Pastor Louis Murphy, who sits on the board of The 2020 Plan, Inc.
The Nov. 7 unveiling of Inclusive St Pete is a two-part event (both co-hosted by St. Petersburg College and the St. Petersburg Area Chamber):
8 a.m. – A first session invites local corporate and business leaders to learn how they can work with the FSMSDC to create or enhance supplier diversity efforts by their organizations. Corporations already active with supplier diversity programs include Duke Energy, Raymond James and Nielsen Media. The meeting will invite other large employers to get active in the field.
10 a.m. – The second gathering is tailored for minority entrepreneurs interested in joining the new Inclusive St. Pete MBE Accelerator, which is an eight-week intensive training and coaching series designed to fast-track more minority-owned firms to certification and participation with corporate and government supplier diversity programs.
The current and incoming Chairs of the St. Petersburg Area Chamber Bill Kent and Ryan Griffin will anchor both events. The Chamber is a partner to Inclusive St. Pete, along with the Grow Smarter initiative for equitable economic growth (housed at the Chamber).
Keynote speakers for the Nov.7 sessions are FSMSDC's CEO Beatrice Louissaint, speaking on The Business Case for Supplier Diversity and Dr. Cynthia Johnson, Director of the Pinellas County Office of Small Business & Supplier Diversity, a sponsor and partner to Inclusive St. Pete.
Dr. Johnson spearheaded the County's work over the past year in overhauling its small business procurement program. The new Small Business Enterprise (SBE) program launched in 2019 and has already significantly increased County procurement with local small businesses. One third of SBEs winning contracts in 2019 were also minority-owned firms.
Others joining forces for Inclusive St Pete are the Florida SBDC, Tampa Bay Black Business Investment Corporation, City of St. Petersburg, Pinellas County Urban League and the St. Petersburg Greenhouse. These groups will provide training and technical assistance among MBE Accelerator participants.
Financially supporting the effort are Mt. Zion Progressive Missionary Baptist Church and Eckerd College ASPEC member Ernie Mahaffey, along with the Foundation for a Healthy St. Petersburg.
The concept is creating a buzz among local firms. Elizabeth Siplin is one of the minority entrepreneurs who plans to take part in the MBE Accelerator series. Her firm – EMPACT Solutions – recently won a County contract under the new SBE regulations.
Elizabeth says "So many of our firms need to become involved in the certification process with federal, state and local organizations. These are on-ramps to opportunity for veterans, women-owned firms, minority business owners and mainstream firms alike to build their businesses."
Her firm has already secured two of the six certifications being promoted through the MBE Accelerator, and Elizabeth plans to use the Accelerator experience to secure federal 8a certification.
The MBE Accelerator will help participants secure certifications through the following programs:
National/Florida State Minority Supplier Developer Council (MBE certification)
Pinellas County Office of Small Business & Supplier Diversity (SBE & DBE certification)
City of St. Petersburg (SBE certification)
State of Florida Office of Supplier Diversity (MBE certification)
Florida Department of Transportation (DBE certification)
Federal 8a certification
The rigorous certification processes entail vetting of all facets of firms' operations to get them ready to secure contracts with government agencies and corporations. For NMSDC certification, entrepreneurs complete a series of screenings, interviews and a site visit before a committee approves the certification.
Once certified, MBEs have access to a range of matchmaking, networking, training and technical assistance resources offered year-round by FSMSDC, which is a recognized national leader in facilitating contracts with minority-owned firms. The organization has facilitated over $30 billion in procurement from MBEs since its founding.
The Pinellas County Office of Small Business & Supplier Diversity offers a similar range of training and technical assistance resources, including capital access and contract matchmaking opportunities.
"We will need to be intentional about shifting the status quo to get more buyers and suppliers connected," said Rev. Murphy, who spent close to a decade in corporate procurement before becoming a pastor at Mt Zion Progressive Missionary Baptist Church. He worked as a purchasing agent for the St. Petersburg Times, Florida Power, and St. Petersburg Housing Authority. "Inclusive St. Pete is a major step in the right direction."
For more information on the Nov. 7 convenings, please email Diana@FSMSDC.org or locally, reach Gypsy Gallardo at OneCommunityPlan@gmail.com.