Educator or politician: Who is the most qualified to represent Pinellas County School Board District 7?
BY FRANK DROUZAS, Staff Writer
ST. PETERSBURG — Two of the candidates running for the Pinellas County School Board District 7 squared off in a virtual forum sponsored by 8 Kingz Collective and the New Deal for St. Pete. Caprice Edmond and Karl Nurse talked about their experience, their visions and what they'd like to accomplish as board members.
Other candidates running for the seat include Dr. Sharon Jackson and Corey Givens Jr, neither of whom participated in the July 18 forum.
A lifelong St. Pete resident, Edmond has worked with children in education for 18 years. She has worked with youth in foster care and provided respite for special needs children. An educator herself, she wants to see more equity in the school system.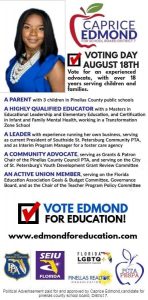 "As a parent and educator," Edmond said, "I know exactly how we can move the needle towards ensuring that all students are provided a great opportunity to learn."
Regarding current challenges facing public education in Pinellas, Edmond cited COVID-19, the budget and the academic success of all students.
"We're trying to figure out what reopening our schools will look like," she said.
She advocates using funds to incorporate safety measures due to the pandemic, noting that of the $1.5 billion budget, 62 percent of it is spent on general operating funds.
"Our school board members are going to have to really look at what's a 'need' and what's a 'want,' and what area should we really prioritize," Edmond pointed out.
She cited some strengths of the district, including those in the district office working on the reopening plans and applying to the CARES Act and FEMA grants to ensure necessary funding. Unlike other districts, Edmond said, District 7 is not in a deficit.
Former St. Petersburg City Councilman Nurse lauded the Summer Bridge program, established to provide engaging activities for students to help prepare them for the upcoming school year, as a strength of the district.
"The superintendent saw that we had thousands of kids that were falling behind," he said. "He did not have a new resource or funds for this, but he made it happen."
Nurse noted that since the Failure Factories stories appeared in the news three years ago, the school system has probably "doubled the effort" in the most challenged schools. During his tenure as a city councilman, which spanned almost a decade, Nurse represented a district that had three of the five most challenged schools in the county.
"When you're in a hole," he remarked, "just because you're not all the way out doesn't mean you're not going in the right direction. I think we are heading in the right direction, but we have quite a ways to go."
Concerning needs that the district should address as priorities, Nurse noted the disproportionate number of rookie teachers and principals brought in to fix the most challenged schools.
"The principal gets moved, the teachers get pushed out of the school, and then they do it again," he said. "They did that a few times, so I think we need to do a much better job mentoring young teachers."
Nurse added that the legislature has been allocating too little money toward public schools and shifting more funds toward private schools. For Edmond, equity in education is a priority.
"We have to include equitable funding and resources for all schools," she said, adding that schools need to have a better recruitment and retention plan.
Edmond agreed with Nurse concerning the legislatures, stating that they are passing bills that negatively impact public schools. She's also a champion of parent engagement, having helped re-charter the PTA and gain parents' membership.
"Something else that I've worked on is the County Council PTA patrons and grants chair," she said, "where we earned the national PTA grant for transformative family engagement."
Nurse has also pushed for parent engagement, holding family dinners at Melrose Elementary that also served as meetings. He helped organize a neighborhood association for neighbors to "emotionally adopt" the school, and encouraged school pride among students.
"We bought t-shirts for the kids at Melrose," he said, "and they were various t-shirts for honor rolls and that sort of thing, but it was all about building pride in the school and connecting the community."
Regarding the county holding parents accountable for students as they would for a magnet or fundamental school, Nurse said that one of the negative impacts from magnet school is that the most engaged parents and children gravitate toward the magnets.
"And then if you don't have a strong magnet at the schools that are left," he said, "they really struggle. Years ago, it was Northeast High; it was the weakest high school in the city because it had no magnets…you've got to have a strong magnet at every school, or it really hurts you."
The county should provide additional accountability to all parents, Edmond said, even though the county understands that some families have challenges.
"It's going to take everybody to do their part in order to ensure that every child is learning," she said, adding that magnet schools take away resources from other neighborhood students. "So having a strong magnet school doesn't always benefit all of the students."
Edmond said that if elected, she'd like to host community meetings and urge school board members to tour the different schools in the district.
"Because I'm a representative of District 7, I do think it's important that my colleagues understand or see some of the issues that we're facing," she said.
Nurse said he'd like to work to close the educational gap among the youngest students and present options to high school students after graduation.
"I think we do a terrible job connecting high school kids who are not pursuing a four-year degree with a middle-class living," he said, adding that it's important to connect them with post-high school learning, whether it's an apprenticeship, certification or perhaps a two-program at a junior college.
Edmond said that we need to see more diversity from the curriculum to the educators. She pointed out that the district currently has equity champions and culturally relevant professional development.
"What I'd like to see is that that professional development becomes mandatory," she said, "so that everyone's receiving training to address unconscious bias, learn more about equitable grading and practices so that we can better support our youth."
Nurse agreed, saying that history is written by the victors and advocates getting new books and materials which would give fair representation to various viewpoints, such as those of African and Native Americans.
Concerning the presence of armed school resource officers (SRO) in schools, Nurse said their fundamental purposes are not only to prepare for possible mass shootings but also to have "a positive experience between students and a police officer."
Edmond agreed that the presence of SRO is important; she would also like to see a better relationship between officers and students and a clear distinction of their roles on campuses.
Nurse leaned into the city council experience that he brings to the table as a candidate for the school board.
"On a school board of seven members," he said, "there should be somebody on a school board who has balanced more than their own budget."
Edmond replied, "You don't need 40 years of experience on city council to look at a budget when we have many people qualified in working at our district-level doing that work. We need somebody that truly cares about our kids and is going to work for us."
The Primary Election is scheduled for Aug. 18. To request a mail-in ballot, visit votepinellas.com or call 727-464-VOTE (8683).
Click here to watch the Complete Mail Ballot Process video from VotePinellas.com.
To reach Frank Drouzas, email fdrouzas@theweeklychallenger.com