By J.A. Jones, Staff Writer
ST. PETERSBURG – On Labor Day weekend, the Deuces celebrated the end of summer 2018 with a block party thrown by social media production company

On the Beat – St. Pete

(OTBSP) and Platinum Divas, an organization of business women founded by Shawandra Bell.
Part of the event's goal was to bring "music vitality" to the community, while also raising awareness for

#TheBurgCares

, a non-profit organization committed to highlighting the importance of a community devoted to educating and supporting its residents in all aspects of life and wellness.
The event was emceed by comedian Barak Amen, with music supplied by 99.1 FM Jams and deejays Supa Dave and D.J. Lethal.
Founded by Sharlene Emmanuel in 2016, On the Beat – St. Pete is "dedicated to uplifting the image, voice, and culture of the black community."
Rounded out by members Shundra Allison, Andrea "Andee" Peaten, and Demarcus Holden, OTBSP regularly holds community events including its popular bi-monthly event "

He Say She Say

" which focuses on relationships, family, and

sexuality

.
"We're out here with Platinum Divas, and we came up with the idea because we thought it would be fun – we love doing things for the community. Especially doing it on the Deuces…this is our street, this is our block," Allison shared at Sunday's block party.
"What better way to spend the end of summer weekend than outside on the Deuces?" added Emmanuel.
#TheBurgCares focuses on assisting St. Petersburg residents to become self-sufficient and achieve better health outcomes, and like OTBSP, was founded to instill pride and belonging for community residents.
The evening featured performances by Competitive Edge Dance Company, and bounce houses for the kids were supplied by Joe's Moonwalk.
Vendors included Her Perfect Pieces $5 Jewelry & Accessories, Mizz Sunshyne Boutique,

Elijah Lee

Afrikan adornments, Maxine's Fashions, and artisans of the Red Tent Women's Initiative, including Audrey Meyers, Mozella Callaway's Mozz Hand Made Jewelry, and Tresea Lewis of The Hat Box.
Food offerings including "A"Mazing Creations/J'Marie's Sweetz n Treatz, Fabian's Homestyle Cooking, and For De Soul Catering sponsoring food for the VIP Tent.
The event drew young and "mature" alike, and one of the most enjoyable moments to watch was the impromptu "dance-off" between young Competitive Edge dancers and 68-year-old Kinsmen Dandy.
Dandy (who proudly noted that he is the nephew of

William Dandy

, the first African-American deputy superintendent of Broward County schools) went "toe-to-toe" with the agile, purple-clad girls, who giggled and postured while mirroring at the senior's moves and grooves.
Dandy shared some wise words to parents afterward. "Parents have to know how to listen and let children express themselves. They might express themselves through dance or music – and if you can't understand what they're saying through dance and music, then you can't know your child. If you can't listen to them, how can you educate them, how can you help them? Communication is the most important thing…because your children are your future."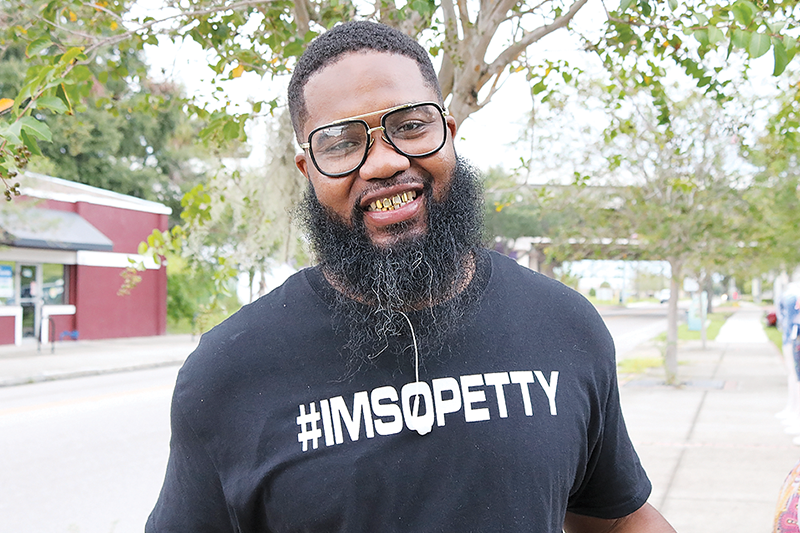 Comedian

Barak Amen

, sporting a shirt proclaiming "#ImSoPetty," served up jokes on the mike, but later added, "I've really enjoyed myself, seeing the community come out. So many vendors and merchants, people coming together and enjoying themselves. It's good to see the kids and youth out intermingling and mixing with the adults, and to see that positivity in the community. I can't wait to be out here for the next one…it was a great event."
Check out Sharlene Emmanuel as she brings the topical conversations from "He Say She Say" live and on-air events to her Challenger

blog

.
To reach J.A. Jones, email jjones@theweeklychallenger.com.