Two weeks before school started, Melrose Elementary educators took a tour of Midtown to better understand the children that come from the area. Pictured here at the Royal Theater
BY RAVEN JOY SHONEL, Staff Writer
ST. PETERSBURG – Before parents happily dropped their children off for the first day of the 2018-19 school year last month,

Melrose Elementary School

educators learned a thing or two about that the students that would be sitting in their classes.
School Board Chair Rene Flowers

conducted a tour for educators of Melrose so that they could better understand where their students are coming from.
"I believe it is important for individuals to understand the rich history of our community, and sometimes when you understand that history and you see the community, you begin to better understand some of the issues that your students bring with them to school."
From returning educators to Melrose newbies, a charter bus was packed with teachers, administrators and support staff ready to learn more about the community they serve.
As the bus twist and turned through the streets of Midtown, Flowers gave short history lessons and anecdotes on the black community where most of their students live. Starting with

Davis Academy

(later named Davis Elementary School), which was the first formal educational institution for black children. Located at 944 Third Ave. S, the school opened in 1910.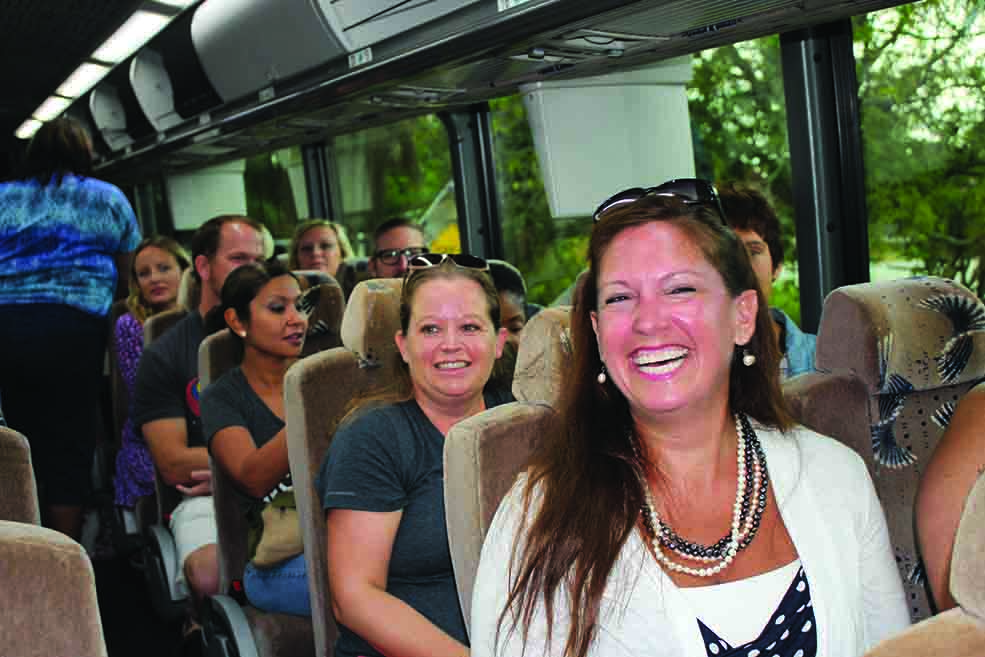 The bus toured through

Jordan Park

housing complex where Flowers lived until she was 21 years old. Built between 1937 and 1942, the land was donated to the city by a former slave turned businessman to address the housing needs of African Americans. The last remaining original units are set for demolition by year's end.
Flowers made sure not to skip the Thomas Jet Jackson Recreation Center (formerly known as Wildwood) where the Jennie Hall Pool opened in 1954. African Americans could only swim at the South Mole Beach and in the Jennie Hall Pool until the city desegregated its public facilities.
As the bus drove down the 22nd Street Corridor, she pointed out the historic train station, now the

Morean Center for Clay

, and the

Manhattan Casino

, where the great black entertainers of yesteryear performed such as Ella Fitzgerald, Duke Ellington and James Brown.
She also made mouths watered when she described her former eating haunts up and down the Deuces.
"You know how you get the munchies in the middle of the night and you want to come get some chicken fried real quick—greasy delight is what I used to call it—some gizzards with some ketchup and hot sauce and white Wonder Bread and some milkshakes," Flowers said, describing the greasy fare bought at Sno-Peak, which sat across the street from the Manhattan.
She explained the "great dividing line" of Central Avenue. Some of the educators were not aware that African Americans were not allowed on the north side of town after sundown unless they were employed in the area.
"When I was younger, if it was dark, you were not on the north side of Central Avenue," she said. "For some of us, Central Avenue still holds some pain."
Panama City native George Wells teaches Exceptional Student Education (ESE); he's taught at Melrose, but this was his first time on the tour. He feels that students should also be invited on the tour so they can learn more about their heritage and the history of the area.
"I didn't know half of this about St. Petersburg," adding that he didn't think the morning would be that extensive.
Wells knew about the razing of the Gas Plant neighborhood to build Tropicana Field, and he was familiar with the blight the interstate brought to the area, but he was unaware of the harsh level of segregation.
"The culture in St. Pete is deep, but I did not know the extent of segregation. I did not know that St. Pete was a sundown town," he said, referring to the policy of not allowing black people into certain areas after dark.
The bus stopped at the historic Royal Theater (now the Boys and Girls Club) and the educators were able to tour of the building.  Opened in 1948, the Royal Theater was one of two movie houses African Americans could attend during the Jim Crow era.
Director Eldon Hollomon and his pint-sized 11-year-old junior leader, Sinai Dunbar, gave the group a tour of the facility along with a little history.
After desegregation, the Royal Theater closed in 1966, and the building housed a laundromat for a time and also stood vacant, according to city records. In 1975, it became a youth center, and in 1977 was sold to the Boys and Girls Club.
In 2004, three years after it was designated a historic site by the city, the Royal got a $1.2 million renovation that restored some of its previous glory. The restoration was financed by the city, with additional funds from philanthropist Bill Edwards and St. Pete native and acclaimed actress Angela Bassett.
Once a single, open hall that held 700 seats, the building got separate rooms in the renovation – classrooms, computer rooms, a state-of-the-art recording studio, offices and a staging area for productions.
During the school year, the Boys and Girls Club now offers afterschool homework help taught by certified teachers. The children are also able to participate in their signature programs after homework is complete.
The tour group then headed across the street to

St. Petersburg College's Midtown campus

. La'Kesha O'Neal, community relations coordinator and college recruiter, encouraged the teachers to bring their students on field trips to plant the seed of higher educations.
"A lot of students haven't been introduced to college in this community, and for them to be introduced to college in the fifth grade, it gets them thinking about all of the possibilities for their lives."
O'Neal looks at each teacher as an information board for the community. Teachers can help inform parents and caregivers about the services the Midtown campus offers, such as free access to computers with internet service, free tutoring and free courses for members of the community over the age of 60. Also, the Midtown campus will now offer STEM (science, technology, engineering and math) activities for children.
"I want you to be able to relay that message," she said. "You'll be armed with knowledge when you leave. Hopefully, you'll be able to encourage parents…about these programs that are really just down the street."
O'Neal also encouraged the educators to inform the parents about the free PITCH Program offered by SPC and the City of St. Petersburg. It provides healthcare and technology training to African-American males between the ages of 18 and 24.
PITCH students will be able to enroll in GED classes, A+ Certification, Mobile Device Repair, Clinical Medical Assistant and Phlebotomy.
The tour group headed over to the

Poynter Institute

to participate in a press conference given by the Wendy Wallace, the institute's director of advancement and Gretchen Letterman,

Journeys in Journalism

advisory committee chair.
This school year, Melrose will begin teaching the principals of journalism in all of their classes, and what better place to get some pointers than at the Poynter Institute—the global leaders in journalism.
Melrose educators learned how and why elementary school children could benefit from teaching journalism.
"Journalism is a profession that's changing so you're not necessarily creating future newspaper reporters, but you're teaching skills that will help young people succeed in school and in life," said Wallace.
In 2001, a partnership between Pinellas County Schools and the

Tampa Bay Times

, who is owned by the Poynter Institute, formed to create Journeys in Journalism. The first coordinator of the program, the late

Cynda Mort

, along with author and journalist Gelareh Asayesh, helped start the journalism magnet program at Melrose and built an

awarding-winning

program that spread to

John Hopkins Middle

and

Lakewood High Schools

.
Journeys in Journalism is a hands-on training program that teaches students to be reporters, photographers, videographers, editors and page designers. Melrose's Manatee Messenger, in fact, actually rivals a few local publications.
"When you are, starting in kindergarten, taught to interview somebody and look them in the eye and ask thoughtful questions, you are becoming a better citizen, and you can do anything you want," said Letterman, who is the former coordinator of the program.
Melrose educators will receive help incorporating journalism into their lessons from the new Journeys in Journalism Coordinator Crystal Pruitt, Melrose's writing teacher and the media specialist, who will all work together to help the teachers "breathe journalism" into their lessons, averred Letterman.
"Do me a favor. Don't call me in February," she warned. "We celebrate black history 12 months out of the year, and I find it offensive that my calendar fills up and my phone is blowing up because people just want to address black history in the month of February."
She asked the educators to "creatively give thought on how you can incorporate African-American history in your studies."
When asked if they knew who

Carter G. Woodson

is (the historian who started Black History Week in 1926 and is considered the father of African-American history), many of the educators had no clue. Lipsey Scott suggested that they have basic knowledge of where they are taking their students on field trips.
After eating lunch at the museum, Melrose staff was dropped off at the school to continue planning for what will be an exceptional school year. Teachers are ready to incorporate journalism into the classroom and feel that it will only help teach their subjects.
Larona Morehead teaches math and feels that incorporating journalism will go smoothly because she's already teaching what every good reporter must have—the Five Ws: Who, what, when, why and where. Those questions go hand in hand when solving a math problem.
Third-grade math and science teacher Jennifer Bowens also feels the transition will be seamless. Since science is inquiry-based, she has always taught the Five Ws.
"Then the kids are also journaling down their answers. They're writing their answers down, so journalism does impact science," Bowens stated.
Yolanda King-Byrnes teaches all subjects in her first-grade class. She's been incorporating the principals of journalism since she's worked at the school. Each morning, she has her students tell her what they did the night before, what they'd like to do and what they are looking forward to, all while incorporating the Five Ws.
Coming from Virginia by way of Indiana, Cheryl Orr learned a lot about the history and culture of the area. Having taught at Melrose last year, she realized how important it is for her students to understand their history for them to move forward in life.
Melrose Principal Donnika Jones said that to turn the school into a successful magnet, they would have "to build the capacity of the magnet within the teachers," so that it will be sustainable. Instead of the journalism program being supported by a coordinator and facilitated by one teacher, all teachers must own the process.
As the new journalism program coordinator, Pruitt plans to incorporate more aspects of journalism. In doing so, all three schools—Melrose, Lakewood and John Hopkins—will be integrating more multimedia functions such as social media; producing video and writing news briefs that can be published instantly online as well as in their quarterly publication.