Douglas Land
I had the opportunity to attend the recent city council, as well as Public Arts Commission (PAC) meetings when this future project regarding the Courageous 12 was discussed. It appears there is an agreement to move forward to evaluate an art monument for these 12 police officers, perhaps near and outside the new police station.
The PAC on Tuesday, Oct.1 indicated they wished to appropriate $100,000.00 in funds to begin the evaluation process. I have taken the opportunity to research the men and their lawsuit, which was important in fighting racism and injustice of the mid-1960s.
I read the Feb. 2, 2016, article in The Weekly Challenger. These men put a lot on the line with their lawsuit, and for their courage and perseverance, there were changes to the law not only for St. Petersburg but also for the United States.
It is good the city is looking to go beyond the new plaque to recognize these outstanding citizens of our community. I might suggest that the city provide public funds of $1.5 million to go along with other art and private donations to accomplish this project.
This may seem like a large amount of money but is actually under $6 per citizen in St. Petersburg. This monument can be an artistic representation of the struggle of not only these men and their community but their triumph over an unjust and hurtful system of laws and behavior.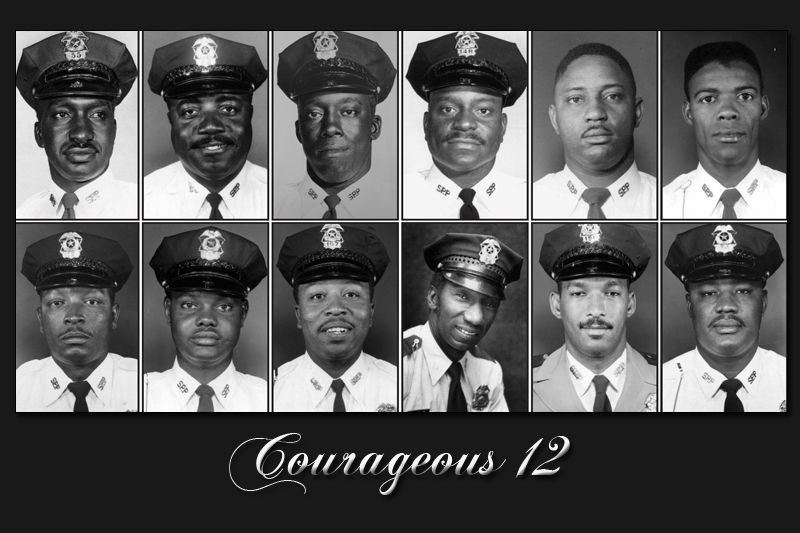 These 12 police officers had assistance from their families and community. Attorney James B. Sanderlin brought the lawsuit, and the NAACP assisted with the successful appeal. With this in mind, using the $100,000 initial funds from the PAC, we might consider each person and entity as a key component, with a total of 15 parts.
Thus, we again arrive at the sum of $1.5 million of public funds. This is not unreasonable as there is a new statue of Elder Jordan Sr. for the city, and at the meeting of PAC on Oct. 1, there had been an active continuing discussion of buying four benches downtown from the artist for $120,000.It appears this is not going to occur now as the money has been set aside for this project.
I will also bring up the signature art from Janet Echelman for downtown as part of the new pier project. My research indicates the city had allowed $1.5 million for the infrastructure for the art, and the rest of the money is from the PAC and private donors.
The city also directly contacted the artist and worked out the contract and project. It is my understanding that several additional artists with art on the new pier will also be receiving about $480,000.
It seems the city has the ability to raise money for the arts and projects when necessary. Mayor Kriseman mentioned both the Elder Jordan statue and the "beautiful plaque" in his Oct. 1 "Tuesday Afternoon Thoughts" on Facebook. He mentions there is now a community conversation about creating a monument in addition to the plaque.
Echelman indicates her colorful outdoor art called Bending Arc is about  inclusion, "embracing everyone to come to this place." The total cost of her art may exceed $3 million.
An artistic monument for these 12 officers and those who assisted them is for actual accomplishment and hard-won change. With the city emphasis on the arts and these new pier projects, I believe the community deserves and needs a project by a world-class artist.
I might suggest contacting several well-known and successful artists about a monument. Kehinde Wiley just placed a large statue in Times Square in New York City called Rumors of War. This is his first significant piece since painting the portrait of President Obama.
Well-known artist Kara Walker in 2017, created The Katastwof Karavan. Rashid Johnson's art is often about time and history. An example is Antoine's Organ in 2016. St. Petersburg is well-known now for its art community, and this could be an excellent addition to our city.
There was an article in the HuffPost by John Gascot dated Jan. 11, 2018, titled "Everyone's a Critic: Investing in Public Art." Bob Devin Jones, who is a public art commissioner, director of Studio @620 and active in the local arts community, was quoted discussing the investment for the Janet Echelman art with "The price is actually quite fair for a major iconic piece such as this."
Jones further states:  "If we acquire this sculpture the tide will raise all the boats. This piece will cement internationally our place in the art world."
The city is now recognized for its art, and the monument and recognition for these outstanding police officers should be reflected in artistic representation.
At the candidate forum last month, there was a question to the five candidates attending about reparations. One current candidate, Eritha Akile Cainion for District 7, has often brought this up. This memorial will not be about financial reparations, but I believe it can show how we value and respect the accomplishments of all of our citizens through our city history.
Great people succeeding at important moments in history deserve fine monuments. An outstanding piece of art can educate, honor and inspire. I might suggest that all the elected and appointed leaders of our city, as well as the PAC members, should consider this proposal and go on record with their thoughts.
This might begin the discussion and conversation with any committee that is formed to consider this art monument project for development. It might also assist in improvements to the city's black history trail. Issues were noted about the decline of this history trail in a Tampa Bay Times discussion with Gwen Reese on Oct. 1.
I often attend PAC meetings, including subcommittees, and am often about the only member of the public there. On Oct. 1, I saw the power of about two dozen members of the public in attendance supporting a monument to the Courageous 12.
Some spoke, including Senator Darryl Rouson and Terri Lipsey Scott, director of the Carter G. Woodson African American Museum. I saw City Council members Ed Montanari and Lisa Wheeler-Bowman in the audience. Councilmember Gina Driscoll was onstage with the PAC and spoke well of the project, encouraging the committee to move forward.
It is good to see the ability of a dedicated group of citizens to assist in getting this project started. The city council and PAC seem solidly behind this project, which can be outstanding with a public and private partnership.
Douglas Land
Information about these projects is primarily based on articles I have read from the Patch, Tampa Bay Times and Tampa Bay Business Journal.